Tony Cummings reports on the Nashville-based alternative hard rock band WE AS HUMAN
We As Human
The alternative hard rock band We As Human are a clear demonstration that not every Nashville-based act travels the routes of CCM pop or country. Their self-titled full length album on Atlantic Records, released in the US in June, made number eight on Billboard's Hard Rock charts and number three on the Christian album listing. Their rising popularity has been slow but sure and ignoring the inaccurate publicist's claim that the band were "discovered" by Skillet's John Cooper (We As Human were formed in 2006 and had independent releases before Cooper recommended them to Atlantic) the future looks rosy for Justin Cordle (vocals), Jake Jones (guitar), Justin Forshaw (guitar), Dave Draggoo (bass) and Adam Osborne (drums).
The band were originally from Idaho and their first album, released in September 2006, was 'Until You're Dead' followed by the independent EP 'Burning Satellites'. Those early years were tough for the band as they struggled to get gigs and develop their sound. But it was their EP that brought them to the attention of John Cooper. Justin Cordle told rockedition.com, "Our road manager was working a Skillet show and ended up getting an EP that we had done into the hands of John Cooper and he listened to it. It was crazy because you hear stories about that, but I didn't think that actually happened anymore. We got it into his hands and he got ahold of his manager directly and told him, 'I think you should manage this band, get ahold of them and work with them.' Their manager's name is Zach Kelm, and Zach told him that he would do it. They got together to get ahold of me and I thought I was getting prank phone calls or something. There's no way that Skillet is digging my band - that's crazy! But sometimes it's true, you know?
"So I got ahold of John and flew out here to Nashville and met with Zach and he asked if we would like to work together. I said yes and that kind of started this relationship we have now. They said they had some labels they wanted us to look at and Atlantic was interested. That was a dream come true. I had always thought we would sign with a label, but I never thought in a thousand years that it would be a huge label like Atlantic Records. We went and showcased for them and actually showcased for them three times. They came out and saw us the first time and said they really liked us and moved us up to their bosses. So the next thing you know we're showcasing again for [Atlantic's head of A&R] Pete Ganbarg. He liked us and asked us to come out to New York and showcase one more time and the rest is history. Skillet was hugely involved in coming up with our record label and we're really grateful for it."
The band released the EP 'We As Human' in October 2011 through a newly launched imprint label partnership between Cooper, longtime Skillet manager Zachary Kelm and attorney Todd Rubenstein. The group's aggressive, stadium shaking sounds were produced by Grammy Award winner Nick Raskulincz (Foo Fighters, Deftones) and attracted immediate attention. The EP reached 27 on Billboard's Heatseeker chart. Cordle told newreleasetuesday, "We wanted people to get to know us with these four songs on the EP, and they are meant to establish us first and foremost as a rock band with a big, massive sound. We love big guitars, big drums, soaring vocals and everything about the whole rock 'n' roll experience. We love getting out and doing live shows, hanging out with our fans, getting to know them and having them get to know what we're about."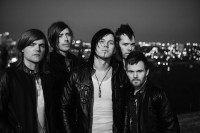 In 2012 the band began working with one of the world's great producers, Howard Benson, on what was to be their full length debut. Cordle told epidemicnation.com, "We moved to Hollywood for six weeks and recorded this album at Bay7 Studio with the amazing Howard Benson. We spent our days in the studio recording, our nights out doing tourist stuff all over LA and our days off hiking all over Southern California. We loved working with Howard. He has produced some of our favourite albums, so it was definitely a dream come true being able to record a record with him."
Justin spoke to artistdirect.com about the theme of the album. "The theme is exactly what's represented on the cover of our album. It's how life is. I've found we're all connected through the series of choices we make. Whether they're big or small choices, none of them are inconsequential. They all have consequences and reactions set in place when we make them. Do I get married? Do I not get married? Do I have kids? Do I not have kids? Do we move to Nashville or not? We all have questions about God, faith and our lives as well as what kind of people we are versus what kind of people we want to be. That plays into why we put that giant door on the cover of the album. It represents that huge decision we all have to make. What do we believe about God, faith, marriage, society and justice? I found that each song talks about those choices we have to make in our lives. That seemed to be really cool."
The album is full of powerful themes including "Sever", a song about Justin's late nephew, Tyler Cordle. He explained, "My nephew fought neuroblastoma cancer for two years before he passed away. He was incredible. I remember many times seeing him after his chemo treatments trying his hardest to smile and play with his cousins. He was so strong, I think he got it from his dad - a firefighter - and his mom - a redhead! Ha! She's going to smack me for saying that! I heard his mom (Kristine) talking, shortly after his passing, and she said, 'I don't like when people say Tyler lost his battle with cancer. I understand what they mean, and they are trying to be kind and encouraging, but I don't believe Tyler lost his fight with cancer. The cancer is dead, and Tyler is now happy and healthy in a much better place.' That is what inspired this song. I always think of TyTy when I'm performing it."
Another powerful song on 'We Are Human' is "We Fall Apart". Justin told newreleasetuesday, "I wrote 55 songs for this new album over a period of a year. I was right at the end of songwriting and I wasn't sure what I had left. I thought I had written everything. I went to visit a friend and he said, 'How about you write the song you've been afraid to write?' I wasn't really sure what he was saying, but he asked me what I hadn't ever written. I told him that I'd never written a song with the word beautiful in the song. I had these personal rules about finding other words to express that description. Since he challenged me to break my own rules, I came up with this lyric in my head, and my friend was writing down everything I was singing. I started with 'The world's on fire, but we're all smiling, though it's all our fault.' We finished the song in about 20 minutes.

"The whole idea of this song is to live and enjoy our lives despite the imperfect lives we live. It is based on the words of Solomon in Ecclesiastes where he is teaching everyone to 'eat and drink and find enjoyment in all the toil (toil = exhausting physical labour) with which one toils under the sun the few days of his life that God has given him, for this is his lot.' Ecclesiastes 5:18. Solomon actually describes this hard labour and striving as 'God's gift to man'. Ecclesiastes 3:13. 'You're a liar but I'm a coward so I can't throw a stone' comes from John 8:7: 'Let him who is without sin throw the first stone.' We're so imperfect but so worth it because we're not alone' is from Isaiah 43:2: 'I will be with you... When you walk through fire you shall not be burned and the flames will not consume you.'"

The opinions expressed in this article are not necessarily those held by Cross Rhythms. Any expressed views were accurate at the time of publishing but may or may not reflect the views of the individuals concerned at a later date.
About Tony Cummings

Tony Cummings
is the music editor for Cross Rhythms website and attends Grace Church in Stoke-on-Trent.
We welcome your opinions but libellous and abusive comments are not allowed.