Keyword search Music News
Browse by Genre
Aaron and Jesse Sprinkle form Blank Books outfit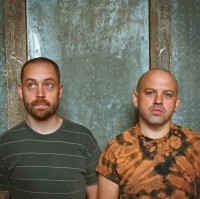 TWO IMPORTANT figures in '90s alternative rock music, Aaron Sprinkle, who became a producer of many successful releases on Tooth & Nail Records, and his brother Jesse Sprinkle, who was the original drummer for metal band Demon Hunter, have joined forces to record an EP under the name Blank Books. The six-song 'EP1' is issued independently. Read a review, "Their debut EP establishes Blank Books as an indie rock act with pounding drums, plenty of power chords and understated vocals. . . For the most part the material is dark, though not in a heavy-handed way, thanks to Aaron's sincerity and no frills approach to both singing and songwriting."

The opinions expressed in this article are not necessarily those held by Cross Rhythms. Any expressed views were accurate at the time of publishing but may or may not reflect the views of the individuals concerned at a later date.
We welcome your opinions but libellous and abusive comments are not allowed.