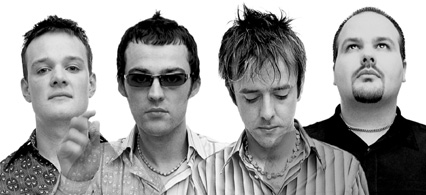 Please note: this artist is either disbanded or deceased.
Kato: Survival Songs
There's nothing glamorous about the gritty ministry of KATO. Yet they've turned out a superlative album as Tony Cummings reports.

[01.11.02]
Kato: Britain's popular rockers featuring frontman Keith Ayling
Tony Cummings quizzes KATO's leader Keith Ayling

[01.05.01]
Kato: The British indie rockers
Indie pop rock team KATO have clocked up a wealth of experience. Their lead singer Keith Ayling was quizzed by Lukas Willcocks.

[01.02.00]
1999 Rock Album:
Kato - Home Movie: The Acoustic Sessions
Read review
Mister Keith: A bowler-hatted purveyor of songs of pain and healing
Tony Cummings spoke at length to the one-time frontman for Kato, Keith Ayling, who has re-emerged as MISTER KEITH

[22.06.16]
Freeslave: The Hampshire-based alt-rock group
Tony Cummings spoke to FREESLAVE's lead singer Haydon Spencely.

[01.09.03]
Kindle: British pop-rockers release their debut album
With their debut album for Alliance Music in the shops now and a major tour with Kato modern rock band KINDLE are well set up. The band's lead singer spoke to Helen Knight.

[01.03.02]

Jonah: Pop rock band from Chesterfield
JONAH's lead vocalist and guitarist Jonathan Coper exchanged words with Mike Rimmer.

[01.07.01]
Greenbelt '06: The Music Reviews
Our comprehensive review of the music at Cheltenham's arts festival GREENBELT concludes. A total of 17 reviewers filed 70 reviews. Read and be amazed.

[29.08.06]
Artists database
Artist ID: 4510
Style:
Rock
Approach:
Performance
Contact Address
St Annes
Lancashire
Country: United Kingdom
Website:
www.katoworld.com

At Cross Rhythms
we are constantly working on our artist and music database to make it as complete and comprehensive as possible. However sometimes we do not have full information for an artist and on occasion there may be omissions or mistakes. If you think that there is a problem with this entry, please help us by emailing
admin@crossrhythms.co.uk
.