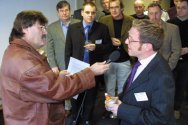 Every December for three years running, up to 30 local civic and business leaders attended a special radio programme broadcast live on Cross Rhythms City Radio across Stoke-On-Trent.
They were live Christmas buffets and Champagne parties with contributions from all 30 leaders. Each person looked back at the year and celebrated the year by sharing for a few minutes on air something that in their opinion had been successful and worthy of celebration in Stoke-on-Trent.
Something to Celebrate took place in 2003
On the up took place in 2004
Building On Foundations took place in 2005

More in Past Community Celebration Events..