WE'RE MOVING ON UP
By David Johnson, Sentinel Newspapers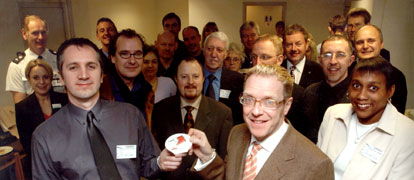 Jonathan Bellamy, Cross Rhythms General Manager, presents a commemorative plaque to Stoke-on-Trent Elected Mayor Mike Wolfe
Thirty political, religious and community leaders have backed The Sentinel's On The Up campaign during a special Christmas broadcast. The show was organised by Hanley-based Christian radio station Cross Rhythms and featured influential guests highlighting reasons to be optimistic about the future of Stoke-on-Trent.
The Sentinel's campaign was launched in October to spotlight the positive changes taking place across North Staffordshire and South Cheshire - including huge regeneration projects, jobs being created by inward investment and schemes aimed at boosting the skills of the workforce.
Mike Wolfe, elected mayor of Stoke-on-Trent, said it was important that both leaders and residents of the city carried the upbeat message to the rest of the country.
Mr Wolfe said: "The last year has seen the whole of the city on the up. Building work in the city centre and major district centres has been seen alongside environmental improvements across the city and, most important of all, the engagement of record numbers of people in community activities such as our local forums.
"I'm convinced that is only the beginning, and that the plans we have been formalising in the last year will take us to new heights in the next few years."
Many of the speakers highlighted the £2.3 billion housing improvement programme being co-ordinated by Renew North Staffordshire as a key element in Stoke-on-Trent's future prosperity.
Andy Tharp, communication manager at Renew North Staffordshire, said: "There is no point having really good housing without having good jobs, education and transport, and all these things are being taken into account.
"The most exciting part is that in the New Year people will have even more opportunity to influence the housing renewal agenda by getting involved in the master planning process.
"People right across the city will be able to influence the way their communities develop."
Religious leaders highlighted increased unity between the 226 congregations in the county and community involvement across all faiths. The article as it appeared in the Sentinal
Brian Ward, Independent leader at Stoke-on-Trent City Council, told listeners about new retail outlets in Longton and said the transformation of Trentham Lakes would be a catalyst for regeneration.
The city council's community wardens scheme - aimed at curbing anti-social behaviour - was also singled out for praise.
Jackie Grant, manager of Burslem South community wardens project, said: "The scheme is expanding and wardens will be there to support communities and make sure they can access all the information, services and help they need."
Meanwhile David Carr, chairman of Stoke-on-Trent Local Strategic partnership and managing partner at architects Hulme Upright Manning, said there was record interest from companies looking to invest in Stoke-on-Trent.
Mr Carr said: "The city centre is lagging behind that of, say, Nottingham and we are working to address that.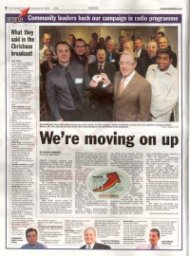 The article as it appeared in the Sentinal
"We want to encourage city centre living and if we can achieve that it will make such a huge difference to Stoke-on-Trent."
WHAT THEY SAID IN THE CHRISTMAS BROADCAST
Andy Tharp, communication manager at Renew North Staffordshire.
"The housing market renewal programme is adding such huge amounts of investment into North Staffordshire and the city which is going to improve not only housing but also regeneration as a whole."
Andrew Colclough, manager of Staffordshire Buddies which supports AIDS patients.
"More people in Stoke-on-Trent are talking about AIDS and acknowledging that there is a problem.
"I'm really pleased to see some of the stigma and prejudices being blown away."
James McAteer, Media Action Group for Mental Health.
"We have made strides in encouraging people to access, engage and understand mental health issues.
"We are seeing a level of unity across different churches that we have never seen before which is having a real impact on communities.
It speaks of a real sense of destiny and it is encouraging to see so many people together."
Brian Ward, Independent leader at Stoke-on-Trent City Council.
"I am very proud of what is happening from the ashes of the old pit where my father used to work at Trentham lakes. The development can only be good for the area and good for jobs."
Jonathan Bellamy, general manager of Christian radio station Cross Rhythms.
"Stoke-on-Trent is rising from the ashes of the past. We are seeing in the leaders of our city a new spirit of hope for the future and we are aiming to play our part in building unity and helping that vision become reality."
David Carr, chairman of Stoke-on-Trent Local Strategic Partnership which co-ordinates schemes to improve the well-being of residents.
For the first time in many years I see a tremendous interest in the city from the private sector and developers looking at all sorts of schemes.
"I see a lot of very exciting times ahead for us."
Jackie Grant, manager of Burslem South Community Wardens Project.
"The desire to get involved in the community is growing and more residents' associations and local groups are coming together.
"They focus on their own lives, but in doing so they boost the image of everyone who lives in Stoke-on-Trent."
The Reverend Patrick Parkes, manager of the Hope Centre in Hanley.
"The Hope Centre itself is a living example of regeneration in action and joined up thinking.
"It includes a number of agencies, not just religious organisations, and we have health, education, employment and social services all in one building."
Mike Wolfe, elected mayor of Stoke-on-Trent.
"For too long we have seen ourselves as a city that is sandwiched between other cities and not a real competitor. If you say that often enough people begin to believe it. But if you look at the facts you see we are very well placed geographically, you see available land and you see the energy of our people making us almost uniquely competitive."
David Bailey, spokesman for Staffordshire Police.
"Forces from other parts of the country like Northern Ireland and the South West are all coming to Stoke-on-Trent to find out what we are doing and how communities are working with us."
Paul Breeze, Independent councillor for Northwood and Birches Head.
"Community forums are getting residents more involved, the streets are cleaner, housing renewal will benefit the whole city and jobs are slowly coming to the area."
This article was originally printed in The Sentinel newspaper, and is reproduced here with permission.

More in Past Community Celebration Events..