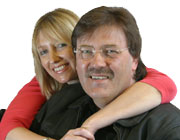 Over 30 years ago, Chris and Kerry Cole started Cross Rhythms. They saw that a media voice for the Christian faith was vital to get the Christian response to society's ills back into the marketplace of everyday lives.
The radio began in 1983 with a half-hour programme on Plymouth Sound, an ILR station in Devon. The magazine was first published in April 1990, the first festival was held in 1991, the website was initially launched in 1995, the first Community Radio licence was awarded in 2002, the Media Training Centre was launched in 2012 and a Cross Rhythms supported online radio station in Bethlehem was launched in 2015.
Through all these mediums, Cross Rhythms is typified by using contemporary Christian music that can culturally engage with people who are outside the churches in today's society. Cross Rhythms has also looked to communicate the Christian faith in a language that is accessible to contemporary culture but doesn't water down it's truths. Please visit the various pages in this history section to get a better overview.

More in History..