The roots of Cross Rhythms magazine go back to the winter of 1989 when Tony Cummings, with a lifetime experience of music journalism (Record Mirror, Black Music, Billboard and What Hi Fi) formed a business partnership with printer Mark Golding. Remembers Tony, "God clearly spoke to me about starting a Christian music magazine, he even gave me the magazine's name and although I suspected it was a licence to lose money, I was able, with Mark's help, to get a small bank overdraft and we went ahead and printed the first issue."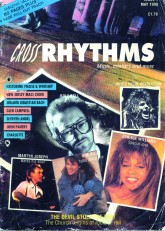 Issue 1 of Cross Rhythms, published in April 1990, was hardly a commercial success. Two thirds of all Britain's Christian bookshops refused to stock it, even on a sale or return basis! But despite only securing a readership of less than 1,000, God began to move in some unexpected ways. "With the last money we had we went off to a big Christian event where I bumped into an old friend whom I'd last seen when we both worked for the Christian magazine Buzz. This friend had gone into business for himself and totally unexpectedly gave me an unsecured loan so that issue 2 could be printed! Even more spectacularly, when we were facing imminent closure after that issue had come out, I had a call from a reader who'd just phoned to say how much he enjoyed the new magazine. When he heard we were about to close he sent a train ticket for me to go and see him and as a result of our meeting together handed me a cheque for a very large amount of money which secured the future of the magazine for the next couple of issues! That man is today the Chairman of the Cross Rhythms trustees."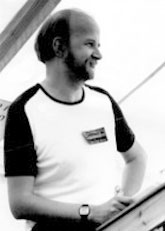 A youthful Tony Cummings
at Greenbelt in 1984
In 1991 God really spoke to Tony Cummings about handing the magazine over to Cornerstone House, a small Plymouth-based business and ministry run by entrepreneur and broadcaster Chris Cole. Comments Tony, "Few people would accept the gift of a magazine losing at least £10,000 per issue but, praise God, Chris had sufficient vision to see this was indeed a publication born out of a revelation from the Lord. These were extremely hard times for Maxine and me. We had huge financial struggles to overcome personally, not to mention a burglary and some extraordinary production problems, but somehow Chris and the Cornerstone House team kept the magazine alive."
A turning point for Cross Rhythms was in December 1993 when the magazine was able to increase its price and include with each issue a cassette of hot new Christian music tracks, presented radio style by Chris Cole. By the time that tape became the Experience CD in February 1999, Cross Rhythms magazine was growing to become an informed and authoritative, music magazine and in particular, one which endeavoured to explore the deeper spiritual issues relating to the music itself.
In 2000, the cassette became a CD and, in 2001 Cross Rhythms took another significant step in totally overhauling the design and feel of the magazine to become more accessible for a younger audience without minimising a depth to the written content.
The 15 years of the Cross Rhythms magazine existence have been tough. It has never made a profit, until the Mar/Apr/May 2005 issue, which was a miraculous occurrence, confirming to us at the time that God wanted it to survive for that issue.
Then finally, in the Summer of 2005, following the unprecedented success of the Cross Rhythms website re-launch we took the unexpected decision to cease publication of our national Christian music magazine, after more than 15 years publication.
We were not saying that the magazine had come to an end though. In fact we believe that one day it will return. However we also believed we were being clearly focused on the direction to mature the role of our website and that this was vital in the future of this ministry.
Originally the magazine was the primary tool for communicating about the music, but with the arrival of radio, tv (increasingly) and the website these other media forms do a better job at profiling the variety of music more immediately. No longer does a consumer need to wait every 2 or 3 months for ten articles and 100+ reviews (sometimes of product many months old). Instead articles, reviews and news can be updated every day.
So do we still see a future for the magazine? You might like to read our magazine vision!...

More in History..