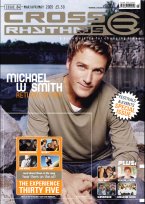 To get the context of this vision you may like to read the magazine
history
first.
Our decision to cease publication of our national Christian music magazine with the Summer 2005 edition, after more than 15 years publication, does not mean that we don't see a vision for a Cross Rhythms magazine.
It was following the re-launch in June this year of our website and its unprecedented success that prompted us to take the unexpected decision to put Cross Rhythms magazine on hold.
With the re-launch of the website one thing that emerged was its strength to communicate about Christian music. Gone are the days of waiting 2 or 3 months for your CR mag to pop through your door, and give you a limited number of reviews and only ten articles. Now every day music news, articles and reviews are added to the Cross Rhythms website. And if you want information on just one artist you can upload all the info we have on one page - articles, reviews and news stories from the last 15 years of writing about them in Cross Rhythms magazine! Plus, there's audio samples of radio playlist tracks, contact details and of course the ability to buy product right there and then (at the cheapest of prices, most being at only £9.97!).
It is so much more versatile.
We do believe however there is a role for the magazine in the Cross Rhythms future. Historically the Christian music market in the UK has been very small, and thus the readership of the magazine has been small and hard to sustain the publication. With our energies focussed on building up the radio and website audiences we believe the market will expand significantly.
One day the market will be large enough to sustain a publication that gives more in depth features on the music artists that people are interested in.
In addition a primary vision of Cross Rhythms is to produce Christian music and media that stands up in the marketplace outside the Christian church, as well as within. It is our opinion that when the magazine returns it will also be better able to engage with a readership who do not attend church but love the music they hear through Cross Rhythms. We believe at the right time, the magazine will indeed return again, fresh, new and relevant for that time. As Winston Churchill once declared 'This isn't the end, it's not the beginning of the end, but it may well be the end of the beginning.'

More in Vision..