To get the context of this vision you may like to read the
Contemporary Christian Music history
first.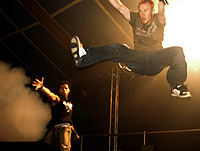 Thebandwithnoname @ CR festival
Cross Rhythms use of contemporary Christian music is unfortunately still pioneering in the UK in the early part of the 21st Century. Generally the response from the churches is that it's great what we're doing but 'we don't like the music'. However the biggest response we receive from those of similar ages outside the church is they 'love the music'. This is all to do with culture. Our church culture is still in general not as progressed as mainstream culture so our attempts to re-engage with people relevantly are few and under-resourced.
At Cross Rhythms we also recognise though that our style of music played on our radio station is very contemporary, even from a mainstream perspective. Why? you may ask. Well we believe that this is part of being pioneering, part of challenging the pervading culture to sit up and take notice and explain with genuine surprise and respect 'this is Christian?!'.
This will be part of the continuing adventure for us at Cross Rhythms. To keep expanding the parameters of involvement and influence in the mainstream music and media arenas.
We also believe that given the freedom and encouragement from church leadership (and arguably in spite of it) that the emerging generations will continue to mature and express the growing discoveries of their faith and the move of God in our nation, through music. In the old testament it was Praise that led the armies into battle and music plays a vital role for the re-emerging church in the west in the 21st century.
For more insight and evidence of an emerging new youth army please read 'Audacious - .Revolution'.

More in Vision..