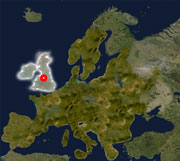 At Cross Rhythms we see ourselves as an arrowhead.
As media our mandate is to be strong and piercing into situations in our locality of North Staffordshire, into our nation and even globally. However we don't see the whole picture. The heart of Cross Rhythms as an organisation is deeper than that. We believe in collaboration with other organisations whose impact on society is different from our own. As God says he blesses unity and partnership this is vital if we are to really see a difference made in our communities, nation and world.
In this section you will read of the vision we have for some of our Cross Rhythms activities and also key relationships we have as an organisation.

More in Vision..