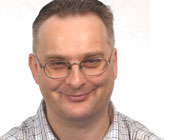 Mark Goodge
Cross Rhythms got into the internet very early on. Mark Goodge was running a Christian bookshop in Ely and with a strong interest in the then early days of website design, was producing a website for his bookshop. Recognising that Cross Rhythms was producing hundreds of music reviews he approached Chris Cole with an offer to produce a site for Cross Rhythms in return for being able to use the CR reviews on his own site.
The very first Cross Rhythms internet page appeared way back in 1995. By 1996 Mark noticed that people were more interested in the Cross Rhythms pages he had produced than the bookshop ones and so Cross Rhythms got a more serious site of its own with more content.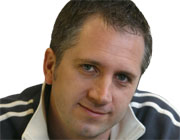 Jonathan Bellamy
In 1998, for the first time Cross Rhythms had it's own domain name www.crossrhythms.co.uk and the promotion of the website started to develop. Back at Cross Rhythms headquarters in Plymouth they were getting more aware of the growth in the internet and that it was time to start to coordinate the development and positioning of the Cross Rhythms website. The web address was promoted on the front cover of the CR mag and increasingly mentioned on the radio programmes.
In 2000 and 2001, Jonathan Bellamy (General Manager) and Mark spent hours and hours (days and months!), taking the website to the next level, making sure it conveyed every aspect of the rapidly expanding Cross Rhythms ministry, and developing new aspects such as the online directory and radio audio samples.
By now, the original part time site had become a significant part of the whole CR operation and it was time to take two important steps.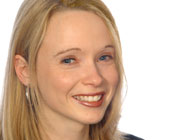 Heather Bellamy
Thus in 2001, the responsibility for the direction and content on the site came under the CR marketing department and the leadership of Heather Bellamy (the current website director), and secondly Mark Goodge made the move from Ely to Stoke-on-Trent to become a full time employee and ensure we could continue to, in particular, technically develop the site. Mark also expanded his role by taking on the setting up of Cross Rhythms Direct.
In the four years from 2001 to 2005, the website continued to expand in terms of pages and also in terms of users. Live Radio streaming, webcam, forums, chatrooms, online magazine, music news and many other features contributed to its user value and by mid 2004 the site was independently ranked as the most popular UK Christian site.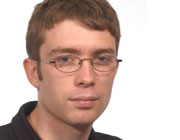 Sam Oliver
As the Cross Rhythms technical department grew in strength it became time in 2004 to bring the website technical activities under the direction of IT manager Sam Oliver, forming a formidable website team of Heather, Sam and Mark, with numerous contributions from other members of the CR team.
With growing effectiveness, it was recognised that the website would require a massive overhaul. So for a whole year, the Cross Rhythms website underwent a major redesign, redevelopment and re-envisioning, coming out with the current strong emphasis on Music & Life.
We hope you like it!
To find out more about where we are going from here with the CR website, visit the CR Vision pages.

More in History..