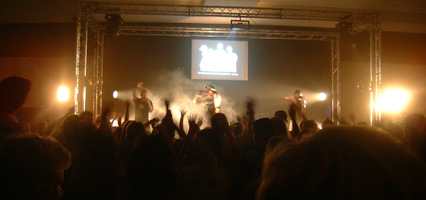 As well as running music festivals Cross Rhythms has regularly hosted gigs with bands and artists. In the early years Chris Cole (CR Founder) organised concerts in Plymouth with The Rez Band (from the USA) and Heartbeat (UK chartmakers). In later years we have done many gigs and national tours with Australia's David Evans and Band; plus UK contemporary worshippers Phatfish, rockers V12, and the intense rap nu-metal outfit Thebandwithnoname.
Other gigs hosted by Cross Rhythms
Onehundredhours at The Rigger, Newcastle-under-Lyme (2005)
V12 at The Rigger, Newcastle-under-Lyme (2004)
Phatfish at The Rigger, Newcastle-Under-Lyme (2003)
thebandwithnoname, Stoke-on-Trent (2002)

Cross Rhythms has held gigs and tours across the country, but the majority have been in our home city of Stoke-on-Trent.

More in Gigs..