Mike Rimmer spoke to the award-winning Christian singer ASHLEY CLEVELAND about her new book, Little Black Sheep: A Memoir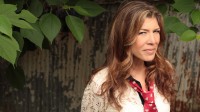 Ashley Cleveland
In 1991 a bluesy-voiced Ashley Cleveland emerged onto the music scene with a debut album through Atlantic Records. It seemed to fall between the mainstream and Christian music scenes, garnering critical appreciation but not the commercial success that was expected. Switching to CCM, Ashley signed with Reunion Records and in 1996 won a Grammy for her 'Lesson Of Love' album in the Best Rock Gospel category. She won further Grammys with 'You Are There' (Warner, 1998) and 'Before The Daylight's Shot' (204 Records, 2006). But behind the scenes all was not well with the Tennessee-born singer. Here and there information about her struggles dribbled out in interviews. But it is only now with the publication of her autobiography, Little Black Sheep: A Memoir, that Ashley's long-time battle with alcoholism has finally been fully revealed.
In these days where Christian music artists seem reluctant to communicate the struggles of life in the midst of creating music and communicating faith, it's refreshing to read an honest book from a Christian musician that invites the reader into their private world, their personal struggles and the continued brokenness. Ashley opens up about her life growing up in Tennessee where her family were very good at keeping up appearances, but a lot of dark things were going on underneath. "I am from the southern part of America," she explains, "and in the South there is a great emphasis on keeping up appearances. Not that it doesn't happen everywhere to some extent, so it was not unusual to have your public face and your private face. My father was gay and was very much not public about that and I don't think he had really admitted it to himself because he was very intent on being married to my mother and having a family, but that didn't work out over time. My parents were quite accomplished and really very extraordinarily beautiful people but they were also both alcoholics. The drinking wasn't really on the radar though their behaviour was. So my family collapsed fairly early on and my mother moved from Tennessee to northern California. It was very advanced culturally and very different. Suddenly we're in this strange place where it was just very different. It was beautiful but it was very different and I didn't have any frame of reference for it. I was already a very broken-hearted kid so things kind of spiralled downhill from there for me."
The shadow of alcoholism would continue to have an influence in her adult life because she had her own struggles with alcohol. "I would say that my family was somewhat of an alcoholic dynasty," she says simply. "There was quite a bit of alcoholism in my family on both sides so I would say that I have quite a strong genetic predisposition for it and then environmentally I was quite right for it because I was vulnerable and so yes I did, I became an alcoholic and a drug addict myself."
If her upbringing was characterised by the act of keeping up appearances in her family, then Ashley's decision to lift the lid on her life experiences and write a memoir is the very opposite of that. The book is a candid account of her struggles, mistakes and the personal cost of addiction. Does she feel like she's gone in the opposite direction? "In a way yeah but you know I am something of a transparent person. I thought if I am going to do this, one of the things I wanted to accomplish with the book was to really show people what addiction looks like. Because I think there is a lot of misunderstanding here in America. A lot of people think it is just a moral failure, they don't recognise it as an illness. I think some of that is because so much of the addict or alcoholic's behaviour is so hurtful and it's really difficult not to take it all personally and I understand that but it was important to me to show how the alcoholic loses power of choice in life and they become really caught in this cycle."
She continues, "One of the things that kept me from writing the book was I really loved my family and I have no axe to grind. Nobody needs forgiveness more than me and so it was really important to me not be hurtful with this story and if I could have only told my own story I would have done it because that was the story I wanted to tell. But I didn't grow up in a vacuum. So by the nature of it I tell pieces of other people's stories. My father has been dead for many years but the person I was most concerned about was my mother who I was very close to. So I called my mom when I finished writing the book and before it went into copy editing. I said, 'Mom, I'm going to send you a copy of the galleys and I want you to read it. If there is anything in there that's upsetting to you or that you don't want published just tell me and I'll take it out.' And I couldn't get her to read it. Eventually I said, 'Mom, in about 30 days it is going to be out of my hands and I really am starting to feel uncomfortable about this, I really want you to read this.' She said, 'Oh I know honey, I'm just so busy,' and so finally two weeks before I had to turn it in she called me and said, 'Well honey, I've been reading your book and I'm really enjoying it.' And she said, 'But there is something I need to talk to you about.' I said, 'OK, what is that?' She said, 'Well, I need to talk to you about your punctuation.'"
Ashley doesn't think her mother has ever read the book. "I think she kind of just flipped through it a bit. But then she said something very generous to me later when she came from my youngest child's high school graduation. I told her it bothered me that she hadn't read the book and she said, 'I know you and I know that you wouldn't hurt me deliberately and I think I really wanted you to have your say in your own way.' And I thought that was just unbelievably generous."
Having described the alcoholic dynasty of her family, I wondered about raising her own family and breaking the cycle of addiction. Has it been an issue or a challenge for her or her husband Kenny? "Well Kenny is not an addict," she points out. "By the time I got into really deep recovery because, as the book points out, it was certainly a long process for me. Today I'm a little over 16 years sober. My two younger children, one is 21 and the other is 18, they virtually don't really know me as a drinker and even when they were really young, I was in a phase of my drinking where I was trying to prove that I was not an alcoholic so there was a lot of insanity in my head and a lot of controlled drinking. So it wasn't quite as catastrophic or chaotic as my earlier years."
She continues, "But part of the greatest blessing of my own recovery has been the opportunity to be the kind of mother to my children that I had wanted to be but didn't know how to be. My oldest child is an addict unfortunately, she is 31 and so she was right in the middle of the worst parts of my struggle and so as far as parenting, that has been really hard for me. She has suffered terribly because of my illness and the choices I made during that time. One of the hardest things for me has been to really receive forgiveness about that. I understand I have been forgiven but it has been really hard for me to receive it because I feel responsible. But I have also learnt along the way that if I live in that guilt then I tend to do more damage to her because it prevents me from thinking clearly, because I tend to rescue her, I don't want her to struggle any more than she already has."
One of the things that comes out in Little Black Sheep is the way that Ashley has spent a great deal of her life in brokenness and suffering and yet can reflect and see how all her experiences have changed her. She confesses, "Suffering made me, you know, whatever is good about me, whatever is valuable in me, that comes from a deeply broken place. And so as much as I love my children and I want to rescue them and protect them from suffering, that's the thing that builds what is good in us. That is biblical. I feel like not receiving forgiveness for whatever wrongs that I have done in Rebecca's life, that's my oldest child, have really prevented me from parenting her well. I've got lots of help over the years and I continue to really work at that because I want to get out of her way so that she can experience the love of the living God that I know. Because I am not her God and I can't rescue her. It's very interesting to be on the flip side where I am now a parent of an addict."
Many people will find it very surprising, shocking perhaps, that Ashley was to a large degree doing Christian music whilst being a functioning alcoholic. She reflects, "I was an alcoholic and so I drank and then I had been seven years sober when my husband and I got married. Then I relapsed and during the period of time when I was making records and when I had left the secular music arena and moved into Christian music, that was during that relapse and I was trying to prove that I was not an alcoholic. I'd got so much help, so much therapy, so much treatment, and you know I was in a very good church, I had a lot of support and I was intent on proving that I could be moderate. Most of the time I didn't drink a lot because I was trying to prove I wasn't a problem drinker. But what convinced me that I was a severe alcoholic was the insanity that went on in my head because regardless of how much I was consuming, it was the only thing I was thinking about. I would wake up in the morning and would think, well I had two drinks yesterday, will anybody notice if I have three today? Or just something along that kind of insane loop, and that would continue until I lay back down that night, and that's part of what the book is about. I mean, it is a very subtle illness, it has been defined as an allergy of the body and an obsession of the mind and I understand both of those things quite clearly. So I was in the obsessive part. I rationalised it thinking, well I'm a moderate person so nobody should have any issues with me, but my husband had a lot of issues with me!" she laughs.
I imagine that if she was struggling with all of this and doing Christian music, it must have been amazing for her to see God using her to help other people whilst all of this was going on inside her head? "There is an enormous precedent of that," she responds, "from Genesis through to Revelation to get the job done, I mean God really likes broken people! And that is a great bit of news for me, and that is really at the heart of the book, and that is one of my primary points. The two things I wanted to say about the Lord is that first of all he was so different to what I thought. I thought he was a performance loving God, I thought he was looking for heroes, I thought he was vindictive too. I encountered a level of mercy that I can't even define! And also this inexplicable experience where I am the most unlikely candidate, there are so many more worthy people than me, that the Lord should choose to spend his time on, and yet I didn't go and find him. He came and got me, and that is extraordinary to me, I still don't get it, I still don't understand that but I know that it's true."
She continues, "The great thing about that is that it makes a level playing field. It means that anybody is eligible. The other point that I wanted to make was that when I had felt that I had really crossed over and given myself to God and to sobriety and to a way of living that was devoted to service, I was still that broken person. I am that person today. I would often say to the Lord, would it be such a big deal to make me a little less broken? Because it just seemed like it would leak out of me at the most inopportune times and I would say something offensive or do something offensive or just be a jerk. I always felt like the Lord would say to me, 'No, I really want you more broken, that's when you're useful.' So that's really one of the other primary points of the book, that it is in my brokenness that I feel that he is most pleased because that is the thing that keeps me tied to him and not operating on my own power, which I don't really have anyway. And that's the thing that gives me empathy and compassion for other people and you know it really helps me be useful. If I have an awareness of how wounded I am, that's a really good thing. It's when I think I have something going for me that I am liable to do the most damage."
I asked Ashley to tell me about the process of how her relationship with God deepened over her life. The book tells how she was brought up to be religious and to keep up appearances so how did her relationship with God change? What was it that helped her to dig deeper and to realise how much grace and mercy and love there was from God for her? The reply wasn't what I was expecting. "It was an unplanned, unmarried pregnancy. And I was probably in the deepest part of my alcoholism and drug addiction. I was really ill. This was back in the early '80s and back then, alcoholism and alcohol and drug treatment weren't part of the public lexicon at that point. Certainly they existed but you didn't hear such candid talk about it. And so I didn't know what to do. I would go to church, I would go to various different denominations and different churches and pray for deliverance. I was terrified, I didn't want to hurt the baby but frankly I didn't want to have the baby either because I didn't think that I had any qualifications to be a mum."
Ashley continues, "But I was too afraid to do anything so I just stumbled through this pregnancy. I had a lot of support from people and I did have a really strong church, but they didn't understand addiction. So I had lots of support but I didn't have any alcoholism treatment and so I had terrible slips early in my pregnancy and I was so afraid that God would punish me for that and that my baby would be harmed in some way or that she would have some form of birth defect. My baby's father did not want to be involved and so my mum walked through that pregnancy with me. We had been at odds in other parts of my life but boy she was stellar, she just stepped right on up. When I had my daughter I had a C section which is really hard on the mum. So when she was born I had barely seen her and I was by myself in a recovery room recovering from the surgery and my mum came in and said, 'I have seen her and she is just lovely.' I said, 'Well, is she OK?' and my mum said, 'All is well, all is great, she is great!'"
And that was where things started to change for Ashley. She remembers, "My mum left, and it felt to me in that moment that the God of the universe had parted the curtain between us and leaned down to me and in the kindest possible way said, 'You see I am not who you think I am!' And I thought, well I don't know who you are. Once again this makes no sense to me at all, but at that moment in my life, I knew I was loved, and deeply loved. I didn't know why, and it was many years before I fully got sober and so it wasn't that I jumped up out of recovery and embarked on the hero's journey, I did not. But it was love, day after day, year after year that changed me and utterly transformed me."

The opinions expressed in this article are not necessarily those held by Cross Rhythms. Any expressed views were accurate at the time of publishing but may or may not reflect the views of the individuals concerned at a later date.
About Mike Rimmer

Mike Rimmer
is a broadcaster and journalist based in Birmingham.
Reader Comments
We welcome your opinions but libellous and abusive comments are not allowed.