Friday 14th December 2012
Lins Honeyman catches up with the London Community Gospel Choir's founder and principal BAZIL MEADE
Bazil Meade
When Bazil Meade set up the London Community Gospel Choir for a one off event 30 years ago, he could scarcely have imagined that his creation would be regarded as one of Europe's most loved and recognised gospel outfits three decades later. Thanks to his uncompromising hard work, drive and sacrifice and the sheer talent of the numerous singers that have passed through its books, LCGC's collective skills have been honed through countless live performances, worldwide tours and a vast amount of session work over the years as well as a prolific back catalogue of recorded work including the memorable 2003 release 'Live At Abbey Road' which succeeded in capturing the power, passion and beauty for which the choir has become famous.
Recent times have seen LCGC cement its position in the nation's consciousness through numerous appearances on big television events such as X Factor and Royal Variety Performances while the long established aggregation have become the choir of choice for pop luminaries like Sir Elton John, Sting, Madonna and Kylie Minogue.
The remarkable journey from humble beginnings to keeping company with superstars has been documented in Meade's well-received autobiography, published by Monarch Books in 2011, A Boy, A Journey, A Dream in which the LCGC principal charts his early upbringing in Montserrat and his subsequent relocation to England as a schoolboy as well as shedding some light on the significant challenges that he faced before and since forming the London Community Gospel Choir in 1982. In addition, Bazil has released a solo album to accompany his book whilst this coming year sees LCGC take part in events such as world record attempts, reunion gatherings and the ambitious 30 Choir Festival which will see 1300 singers gather at London's South Bank to help celebrate LCGC's 30th anniversary in style.
I caught up with Bazil Meade in a break from his hectic schedule to ask if he could believe that it's been 30 years. "The time has just flown," he reflects. "There have been times when it's been difficult but, thank God, there was light at the end of the tunnel and here we are 30 years down the road."
Bazil Meade with LCGC
For a choir that was originally set up for one event, it seems even more remarkable that LCGC are still around after all this time. "I feel that this is the mission God has given me for my life," he advises. "There were times when it was really tough and folks would tell me to give it all up but I don't believe that God gave me this commission for me to set it down. I found the strength and determination to continue because I sincerely feel that the job is never finished. There's always something else to achieve and I enjoy what I do. I love to see people being empowered, realising their own dreams within my dream and I experience something new every year."
In his autobiography A Boy, A Journey, A Dream, Bazil gives an honest reflection on the opposition he faced - almost solely from church people, sadly - when he originally set up the choir. "There were times when we got a lot of criticism," he confirms. "Some of our members were having a hard time in their own churches and were being slandered for being involved with LCGC. They were accused of back-sliding and were criticised for performing amongst what these people claimed were ungodly people. They thought that born again people shouldn't go on TV or be in clubs or festivals where there were non-Christians. When my choir members brought these reports to me, I just wondered where these people were getting their Bible from! God's word tells us that getting out there is exactly what we should be doing. We've been given a wonderful tool to communicate the love of God to people."
A by-product of Bazil's determination for LCGC to get out there has been the opportunity to rub shoulders and collaborate with some of the biggest stars of the music world. I wonder how LCGC became the choir that the likes of Sir Elton John, Blur and Madonna call upon when the need arises. "Through our early TV and session work, we began to show the music world that there were gospel choirs out there who could be professional," comments Bazil. "Once we had established that reputation, people started coming to us when they needed a gospel choir because they knew we were able to conduct ourselves well in a studio and that we behaved in a professional manner. We didn't have a textbook to learn from - it was all learning on the job."
I ask Bazil who he's enjoyed working with the most. "Well, Elton was pretty good to work with on 'The Circle Of Life' from Disney's The Lion King", he confirms before casually namedropping the likes of Luther Vandross, Diana Ross, Stevie Wonder, Michael Bolton and Mariah Carey. "I have a great relationship with Damon Albarn from Blur," he continues. "He loves a choir and, whenever he needs one, he'll give me a call. We loved working with Kylie at BBC Radio 2's Proms In The Park concert and, when she found out that we were going to be on the bill, her management got in touch and asked if we would be happy to sing with her. We agreed immediately - simple as that!
"It's so important that we maintain our reputation," continues Bazil. "The quality and standard we have means people within the music industry recognise that we put on a great show. They are also aware that we are Christians but we don't come into their environment preaching fire and brimstone. Instead, we have a time of devotion before we go on stage and some of these artists will come and join us. They probably never ever get that opportunity anywhere else but they come into our space and they see how we prepare and I think that sows a seed into their hearts."
Despite getting the opportunity to perform in front of hundreds of thousands of people at events such as Proms In The Park, the 2009 FA Cup and singing with Madonna at 2005's Live8 at London's Hyde Park, I suggest that LCGC are just as at home in a more intimate setting. "The smaller venues are where I'm in my element," Bazil enthuses. "In these places you have an audience who are hungry to hear you and you can also look into their eyes. They're tapping into the spirit of what you're doing and you can see the effect it's having on them. It's electric - you might have bought a ticket to see the performance but you can't buy the experience that you gain from it. When it comes to making music in front of an audience, I'm in heaven!
"I also love the challenge of performing to people who have never heard of us before," he adds. "Over the last 10 years, we've performed a lot in Morocco and we played in Beirut last year and we're booked to go back there again. We get people together in their churches and communities to do things they've never done before like sing a song called 'Perfect Harmony' which has the line 'isn't it good to be as one, living in perfect harmony, sharing the good things God has done'. There are tears when things like that happen, I can tell you."
I press Bazil for what he considers to be some of the standout moments of his time with LCGC so far. "Probably the most moving for me was back in 1996 when we were asked to sing when Nelson Mandela visited the UK after he came out of prison," he offers. "It was at Brixton Recreation Centre in London and Prince Charles introduced Mandela to the audience. The world's media was there and we performed the national anthem as he was presented to the audience. It gives me the tingles when I think about it - it was the most amazing experience.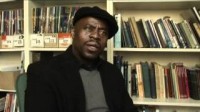 "Then there was the time when we were touring Scandinavia and our lives were miraculously spared in a horrific road accident in Norway many years ago," continues Bazil. "We went on to perform the following day to fulfil our contract and we shared with the audience what had happened. It was the most emotional and incredible performance. Our bodies were tired but we sang our hearts out and everyone in that place just praised God that we had been spared."
With a wealth of memories such as these to draw upon, was writing his autobiography therapeutic? "Yes but it was challenging at times too," he confesses. "I was made to think and remember about events I hadn't thought about for years like my childhood in Montserrat and moving to England when I was just a boy to start a new life. I had to dig really deep into my memory and emotions to resurrect that stuff. My childhood instilled in me a steely determination that anything is possible."
That steely determination has in part meant that the London Community Gospel Choir has survived and thrived and is still around three decades later. I ask Bazil how he plans to ensure LCGC continues to be market leading in the field of gospel music. "I recognise that our membership is constantly aging so we recruit younger singers and train them up so the choir can have longevity," he advises. "Also, there has to be a business element to what we do so we market ourselves for session work, weddings or whatever the community needs. In order to stay ahead of the game and not get swallowed up, we've had to keep reinventing ourselves and finding other ways of presenting our package. Ultimately, clients come to us for our maturity, quality and experience."
With 30 years of leading one of the world's most renowned and sought after gospel choirs under his belt, I wonder if the thought of retiring has ever crossed Bazil's mind. "Retirement - what's that?" he laughs before adding in closing: "It's not something that's in my thinking and as long as God gives me strength and sends people to me that have the heart for what we do then I will keep going."

The opinions expressed in this article are not necessarily those held by Cross Rhythms. Any expressed views were accurate at the time of publishing but may or may not reflect the views of the individuals concerned at a later date.
About Lins Honeyman

Lins Honeyman
is a Perthshire-based singer/songwriter and currently presents The Gospel Blues Train on Cross Rhythms Radio on Saturday nights from 11pm and on Listen Again.
Reader Comments
We welcome your opinions but libellous and abusive comments are not allowed.