North Carolina rockers BUILDING 429 have built up a major US following. Now they deliver their best ever album. Tony Cummings reports.
The release of the album 'Rise' by American rockers Building 429 seems set to take the band to the next level of popularity. With it has come a new sense of responsibility. The band's lead singer Jason Roy said to Christian Retailing magazine, "We stumbled onto the realisation when we started writing for this record that we have influence, even as new artists. We have a huge responsibility to use that influence well and to own it and step into it. Most of the time as a new artist you spend time watching and keeping your mouth shut, but we all have the ability to influence people."
Building 429, consisting of Roy (vocals, guitar), bassist Scotty Beshears, guitarist/keyboardist Jesse Garcia and drummer Michael Anderson, are often referred to as "new artists". In 2005 the GMA/Dove Awards named Building 429 New Artist Of The year but even then the title was inaccurate. The band were formed in North Carolina in 2000 by Jason and Scotty who later added Paul Bowden (guitar) and Michael Anderson (drums. Over the next three years the band played over 400 concerts, often driving for 16 hours to play to crowds of 30. But all the slog paid off. The band's debut independent album sold 6,000 copies. By 2003 they were the opening act on Sonicflood's 2003 Cry Holy Tour of the US and signed a deal with Word Label Group in late 2003. The band's first record label release, a limited edition EP 'Glory Defined' unexpectedly landed the band a number one Christian radio hit with the title song. Three of the five songs on the EP were then put on the full length album 'Space In Between Us' and that became a major US CCM hit, clocking up sales on 130,000. But the slick, acoustic-tinged sound of "Glory Defined" didn't quite correspond with a band who named the Goo Goo Dolls and Stone Temple Pilots as major musical influences and whose concerts were full on, high energy rock. Jason Roy recently explained the dilemma to CCM magazine, "It became apparent quickly when we went out to play live shows that there was somewhat of a disconnect between who we really were as a live band and who we were on the CD. We'd pull up and roll off half stacks (amps) and (discover) they were expecting an acoustic show. We spent the last two years trying to educate people about who we really are. But the more we really went for it, the more people were saying they wished the record was more like that."
There is no wimping out on 'Rise'. The album is gritty rock 'n' roll, expertly produced by studio maestro Monroe Jones (Black Crowes, Third Day). Admitted Jason, "Honestly, when our A&R guy brought up Monroe's name we thought, 'Why in the world would he want to work with us?' To work with the guy that worked with one of the bands that we respect most. we were like, 'Yeah! Let's do it!'" After hearing 30 potential songs for the record, Jones was more than interested. "He helped us stay focussed when we went off the deep end. But we've never felt the kind of freedom like we did making this record - to create and be artful. He preached that the whole way through. He was telling us not to be afraid to go for it, not to be afraid to go down a rabbit hole and see what we come out with. That's the joy of the record. As you listen to a song, it's going to take a few turns on you. There was a reckless abandonment in the studio that was awesome. We may fall flat on our faces, but we are not going to be afraid. On this record we felt like we were going to have to dig a lot deeper. We said some things on it that were even hard for us to deal with. Some of the songs are very much about remorse for situations in the past."
One of the standout songs on 'Rise' is "Now That It's Over" which contains a distinctly confessional edge to it. Said Jason, "I've been driven all my life. There are times as a leader that I have just cut people loose - just let them go. I decided they weren't worth the trouble anymore. That song is really an apology. It's hard to stand up and tell people that it's an apology, but there are people who I have really run through. They were a part of my life, but they no longer are because I didn't feel like they were helping me get to where I wanted to go. I think what I've leaned is that we are all leaders and we are called to empower other people, not our own ideals. If you crush a person, you've missed the whole point of being a leader."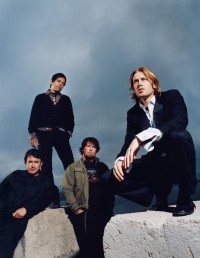 During the autumn of 2005 Building 429 undertook the Lifesong Tour of American with CCM stars Casting Crowns. What the band experienced on that tour made a lasting impact with the band. Remembered Jason, "We saw 13 to 14 thousand people come to know the Lord on that tour. That's more people than live in my hometown! I think that tour really opened our eyes to recognize that true ministry can be found in music. I'm not ever going to say that I'm a preacher or that I'm called to be a Billy Graham-type guy, but it's really exciting to see the impact music can have on people."
The US tour now being put together to promote 'Rise' will be Building 429's first headlining jaunt. Said Jason, "We've been out as an opening act for six tours and, honestly, our fans want to hear us for more than 30 minutes." Supporting the band will be Tait as well as TV communicators/preachers Tim Scott and Will Decker. Explained Jason, "Because we're not preachers, we thought it was important for us to bring someone with us who can clearly convey the message. They take the Gospel to the ends of the earth. They preach it as it is. The whole tour is going to be like a movie. They'll be on the screen behind us, and it will be very interactive with us bouncing in and out of their story. The focus at the end of the night is to challenge kids to rise into their influence, to go out and be fearless for the Lord."


The opinions expressed in this article are not necessarily those held by Cross Rhythms. Any expressed views were accurate at the time of publishing but may or may not reflect the views of the individuals concerned at a later date.
About Tony Cummings

Tony Cummings
is the music editor for Cross Rhythms website and attends Grace Church in Stoke-on-Trent.
We welcome your opinions but libellous and abusive comments are not allowed.