Tony Cummings reports on blue-eyed soul CCM hitmaker DANNY GOKEY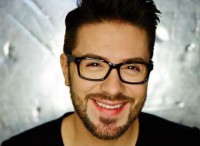 Danny Gokey
Currently one of the best known artists on the US Christian music scene is Danny Gokey. Danny, a former church music director from Milwaukee, Wisconsin, rose to national prominence through the eighth season of the American Idol TV talent search while his 'Hope In Front Of Me' album has made number one on the US Christian airplay chart and his autobiography of the same name is a US Christian bookshop bestseller. His book and indeed his American Idol television interviews dwelt at length on a tragedy that blighted Danny's life when in 2008 his young wife Sophia died unexpectedly during a heart operation. It was Gokey's Christian faith that brought the singer through that tumultuous season in his life and his faith is clearly reflected in the songs on his current album. The self-penned title track goes, "I know in my soul no matter how bad it gets/I'll be alright/There's hope in front of me."
The singer/songwriter spoke about his album. "I wanted to mix hope and entertainment but not in a way that would be cliché or sappy. I want to deliver a message that feeds the soul, but makes you want to move and groove to the music. That's always the goal when I write. I'm a person of faith, so I always want my songs to have a strong message of hope. I want to write them in a way that is fresh. 'Hope In Front Of Me' has got a great message, but it's also got a great groove to the song so you are moving and your soul is getting fed while you are singing and jamming to the music."
Daniel Jay Gokey was born on 24th April 1980 in Milwaukee. Converted as a child, Danny was the fifth of six children. He grew up listening to a wide range of music. Danny remembered, "My dad was my biggest influence for music. We listened to Dallas Holm, Ray Boltz, dcTalk and Sandy Patti, but we also listened to country music like Brooks & Dunn and Lee Ann Womack as well as funk and soul music like the Temptations, the Four Tops, The Chi-Lites and the Average White Band. My dad had really diverse taste in music and it was a great music education." In 2000 Danny joined a Milwaukee church, Faithbuilders. At the time it had 50 members. The pastor, Jeff Pruitt, told a local newspaper how he noticed Gokey's singing. "I was actually leading praise and worship at the time. And I was thinking, 'This guy is really good.'" Pruitt asked a stunned Gokey to take over the worship team. "The rest is history," said Pruitt, as Gokey began to lead the musical side of the church and its sister congregation in Beloit.
Sophia Gokey was a fan of American Idol and had suggested several times that Danny audition for the programme. Danny never really watched the show. However, he was nearing the cut off age of 28 and knew this might be his last shot, so he decided to audition. A month before the audition, tragedy stuck. In 2008, Sophia underwent routine surgery for her congenital heart condition and suddenly died during the operation. Danny was devastated. He says he was angry at God and didn't want to go on American Idol.
The bespectacled singer was an immediate hit with the TV audience and his renditions of song popularised by Seal, Queen, Michael Jackson, the Temptations, Rascal Flatts, Frank Sinatra and Aerosmith took him to the top three in the contest before he was eliminated. In September 2009 Gokey signed with 19 Recordings/RCA Nashville. His debut single, "My Best Days Are Ahead Of Me", was a country radio hit and his album, 'My Best Days', reached number four on the Billboard charts with the best opening week sales by a debut country male artist in 18 years. The album, produced by Mark Bright, was favourably reviewed with Matt Bjorke on the RoughStock website commenting, "From the moment that I heard him sing on Idol, I knew there were only two places for his talent to go after he finished his tenure on the talent contest. Danny could choose to return to his gospel roots and record a Christian record or he could go the secular route and sign a record deal with a country music label."
Looking back on his sojourn in country music Gokey said, "I loved it and had a lot of fun making the first album. It was a big learning experience. I feel like God ordained it and it brought me to Nashville." After leaving RCA Nashville in November 2011 he switched to CCM and began a record/publishing deal with BMG. 'Hope In Front Of Me' was produced by award-winning veterans Keith Thomas (Amy Grant, Vanessa Williams) and Bernie Herms (Natalie Grant, Barbra Streisand) as well as Josh Crosby (Cher) and Aaron Sprinkle (Anberlin). One of the most powerful tracks on the project is "This Is What It Means". Commented Danny, "That song is the most about me. Literally every line in there is written from a true experience. It talks about love and says 'there's fear, there's faith, there's loss, there's grace/I've seen it from both sides/This is what it means to be alive.' It's the truest song on the album."
Website TheSoundOpinion wrote about the album, "While strong lyrically, musically, 'Hope In Front Of Me' is a mixed bag of sonic sounds. One minute, Gokey's ready for Top 40, the next he's squarely in inspo ballad territory, and still the next his feet are planted firmly in '80s pop terrain-the kind of throw-back R&B that is normally played on an oldies mix station in between cuts from Lionel Richie and Celine Dion."
Gokey has now remarried and his new wife Leyicet has presented him with a son, Daniel Emanuel, born on 20th January 2013. The final words from the blue-eyed soul singer and author clearly come from the heart. "Life might not always make sense. There's no justice in it and sometimes it might not seem fair, but it's not the end of the road. Turn the page. Move forward and keep putting your life in God's hands. There is always hope ahead."

The opinions expressed in this article are not necessarily those held by Cross Rhythms. Any expressed views were accurate at the time of publishing but may or may not reflect the views of the individuals concerned at a later date.
About Tony Cummings

Tony Cummings
is the music editor for Cross Rhythms website and attends Grace Church in Stoke-on-Trent.
We welcome your opinions but libellous and abusive comments are not allowed.