Susanne Martin reports on an exciting urban gospel singer from Atlanta, Georgia, DARLENE McCOY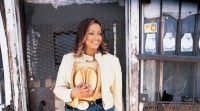 Darlene McCoy
Even in a field as crowded with talent as urban gospel Atlanta-based Darlene has slowly but surely been capturing listeners' attention. EMI Gospel have been putting tracks by the married mother of three on several various artists albums including the huge best seller 'Wow Gospel 2006'. Now the release of her long-awaited self-titled debut album the singer described as "an urban inspirational Mary J Blige" has stepped into the spotlight. Quizzed by Cross Rhythms recently, we began by asking the singer/songwriter/worship leader what she thought about the Blige comparison. "I can say that I absolutely love Mary J Blige as an artist and I see the perspective they are coming from if we have to align my style with anyone. But I do not believe that this would sum me up as an artist because there is so much more to know of me and my ministry than what people have heard of me on this CD."
Darlene has known the Gospel from an early age as she was taken to church with her Christian family since she was born. But it was when the singer, raised in Greenville, South Carolina, was 15 years old that she fully committed her life to the Lord. When she was 22 Darlene married Robert McCoy and in December 1997 the couple went along to Atlanta's New Birth Missionary Baptist Church where Bishop Eddie L Long is Senior Pastor. "My husband and I were looking for a church home and visited New Birth," she recalled. "Bishop Long didn't even preach that day but the preacher gave emphasis on 'there is a sound' and it leaped in my husband and myself. We came back the very next Sunday and Bishop Long preached on that subject again. We realised that he was preaching from a familiar place to us and we joined that Sunday." There she began serving the church as a praise and worship leader. Pastor Long has much praise for Darlene and believes "she has the mandate to lead the Church and the secular world into worship. God has charged her to be a voice singing in the wilderness of this world, outside of the normal means of ministry."
In 2004 Darlene signed with EMI Gospel and started work with producer Dallas Austin (TLC, Janet Jackson). She recorded tracks for some various artists albums. She also recorded a song for the soundtrack to Tyler Perry's successful movie Diary Of A Mad Black Woman. Darlene said, "I was so honoured because I had the opportunity to appear on the same project along with so many artists I have always loved, such as Patti LaBelle, Tamela Mann, Natalie Cole and India Arie."
On her self-titled debut album which with its funky rhythms and streetwise feel is already receiving airplay on both gospel and R&B stations, Darlene has recorded songs which she feels minister to her in the different moods and situations she faces in her daily life. She said, "The track 'I Believe' is a song that presses me into destiny on the days that get hard and I struggle in my circumstances. 'Simply Because' is my happy song and it always makes me smile as I am reminded how wealthy I am to simply have Christ in my life." She described "Adore You" as "that one song that takes me into worship and just speaks my heart toward God for me." But, she is always a consistent fan of "Be With You" because "this song best describes the constant longing in my heart to live in the presence of the Lord."
Darlene worked with a series of different leading producers on the album, including Tommy Sims, PAJAM and EMI Gospel president Ken Pennell among others. When asked how their work differed she said, "I believe that every artist and producer has their own signature sound that is sometimes recognisable in some and unpredictable in others. What amazed me was the fact that we were able to find that special thing in each producer that gave me the sound that would distinguish my sound as an individual."
As well as writing and recording songs Darlene is involved with other projects. Every Sunday morning she hosts her own radio show The Spirit Of Hip-Hop with ministry and worship on Atlanta city's most popular hip-hop station. She also works as the CEO of JENIMAC Incorporated which is a company that specifically ministers to the needs of girls and women. Darlene is also rumoured to be in the running to host a new Christian TV show in the US. With her many projects and increasing work as an urban gospel star Darlene has had to cut back other things. She explained, "With my ministry building and my schedule filling up, I really don't get the opportunity to serve at my church like I used to. But, the Lord has blessed New Birth in such a way that there isn't just one praise leader there. I was always one of a few leaders."
Still, Darlene McCoy is getting excited about the other plans she has for the future. When asked if a trip to the UK to play some concerts was on the horizon, she replied, "Absolutely! In fact, my booking agent is working closely with his UK contacts to get those concerts together." And with that to look forward to, we'll be watching the ministering mum's promising music career with great interest.

The opinions expressed in this article are not necessarily those held by Cross Rhythms. Any expressed views were accurate at the time of publishing but may or may not reflect the views of the individuals concerned at a later date.
About Susanne Martin
Susanne Martin
is studying journalism at Staffordshire University.
Reader Comments
We welcome your opinions but libellous and abusive comments are not allowed.