Elizabeth Cook reports on the heavy metal band Demon Hunter and their rise in mainstream popularity.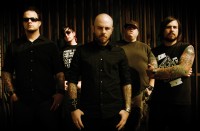 Demon Hunter
They've got a name which is almost a throwback to those confront-the-Devil Christian thrash metal bands of the early '90s. Yet Seattle's Demon Hunter have been getting rave reviews in mainstream mags like Kerrang! and Rock Sound and their stunning latest album 'The Triptych' with its groove-led blastbeats and molten melodic underbelly is being bought by plenty of headbangers who've no idea that their new musical heroes are believers. The band's current line up has quite a pedigree: Ryan Clark (vocals) was formerly guitarist for Focal Point and vocalist for Training For Utopia; Jon Dunn (bass) is A&R, manager of licensing and publishing at Tooth & Nail Records; Don Clark (guitar) was formerly guitarist for Training For Utopia; Ethan Luck (guitar) was formerly guitarist for The OC Supertones and drummer for The Dingees; and drummer Timothy "Yogi" Watts also plays in The Lonely Hearts, who were previously known as Holland.
Ryan, whose day job is overseeing the design company Asterik Studio and being involved in label and artist development at Tooth & Nail, heads a band unafraid to do things that might bemuse detractors and fans alike. This has led to the adventurous music present on 'The Triptych' and the visually arresting artwork that accompanies it. While doing A&R for Becoming The Archetype, a band Ryan signed to Solid State, he came across the work of a British artist called Dan Seagrave, who has a history of working in metal creating often disturbing pieces for the likes of Morbid Angel, Pestilence and Suffocation. After hiring Dan for Archetype's debut album art and seeing the work produced for his protégées, Clark gave Seagrave the job of creating the visual triptych to which his own band's album title refers.
Clark told Rock Sound, "I emailed Dan, we started talking about things, and he understood that this band was not a dark project like he was used to. He was totally cool about it. He did not refuse to work on it because it was not evil enough or anything. He got what we were about and just worked with it. We wanted the album visual to be fine art, something illustrated rather than merely designed, and we were amazed with the results." The concept of a triptych is a work of art that is divided into three sections that are interlinked or interdependent on each other. Renaissance painters loved them and they are mainly found as gothic altarpieces in churches in Europe. With their latest offering, Demon Hunter have engaged complex tricks with the visual form as a metaphor for the band.
The potential controversy of a Christian band using an artist known for his demonic influences and work with seriously off-base bands was not lost even on avowedly secular Rock Sound magazine. With commendable discernment they wrote, "The band are blurring the lines between the worlds of the sacred and profane, something they feel is very important not only artistically but lyrically. That is, to create something that speaks of the faith this band have, but does not do so at such a volume that people are intimidated, disgusted or disqualified by that said belief system. "It has been trial and error," admits Ryan. "With Demon Hunter, by the time we started this band, we had it figured out how we wanted to do this. I think we are outspoken enough that if anyone reads a little or listens to the lyrics there is no denying our faith or anything like that, but there is no Bible-bashing going on so that non-Christians find us overbearing. We have got to a medium point and we know what works; we've been in bands that have been really hush-hush about their beliefs and we have seen bands get no acceptance as they have pushed too hard. We wanted to make sure we did not scare people away with our beliefs, but have a platform to say what we believed in and be outspoken."
When they began, the group chose to keep their names anonymous, but later revealed them when they started their first tour. Demon Hunter's self-titled first album was released in 2002 on Tooth & Nail's hard music subsidiary Solid State. Demon Hunter returned to the studio to record their second full length release, 'Summer Of Darkness', in 2004 which was a huge success, propelling Demon Hunter into the secular market. Their single "My Heartstrings Come Undone" from 'Summer Of Darkness' was selected for the Resident Evil: Apocalypse movie soundtrack.
Demon Hunter's first two albums had a lot of extra electrics and guest singers, whereas 'Triptych' has been stripped down a little and made into a straight up metal album. Ryan explained, "We like experimenting a little bit and exploring different areas but we definitely had it in our agenda to make this one just more straight forward and more metal." The album also contains a re-recorded version of "Snap Your Fingers, Snap You Neck", originally a Prong's song released on their 1993 record 'Cleansing'. Ryan said, "It was totally a favourite record of ours growing up and we got into them right when that record came out. We felt that it would be cool to re-introduce them to a lot of new metal fans and re-do it so that some people who might never have heard of them could hear it and also to kind of pay homage to them for being an inspiration."
Ryan talked a little more about the new album, explaining, "We're aiming more at the legitimately metal end of things. We're always going to have melody and we're always going to do the slower songs and things like that because it's something that we love, but I think that there are small things that draw us apart from what can be really cheesy about new metal and the bands that are within that genre. I think that we have enough diversity and we tackle enough in every kind of genre of metal that we're not too specifically in new metal, so I think that'll help draw a line between just an average new metal band and us."
The band have previously toured with Dead Poetic, Extol and Agony Seeds across the US. They would love to tour Europe. Ryan said, "We've talked about it so much, we're so into the idea that I would assume we will. I don't know how soon but it's all very appealing to us. I wouldn't doubt that we'll be there in the near future."
Strangely enough, metal and Christianity has been one of the most popular collaborations in recent years, yet for more conservative elements in the Church it is a difficult concept. Despite this, Demon Hunter's popularity continues to grow. Even Ryan himself is surprised by the phenomenon. He told Rock Sound, "We were there when it was definitely not as accepted to be Christians playing metal, we felt the wrath for sure. Things have certainly changed, but I think for the most part it is people coming round to the music rather than music changing for people's acceptance." Armed with metal that crosses scenes, styles and spiritual and secular boundaries, Demon Hunter are in a strong position to assert their authority on the heavy music landscape.

The opinions expressed in this article are not necessarily those held by Cross Rhythms. Any expressed views were accurate at the time of publishing but may or may not reflect the views of the individuals concerned at a later date.
Reader Comments
We welcome your opinions but libellous and abusive comments are not allowed.