Mike Rimmer spoke to R&B gospel diva DONNA GARDIER.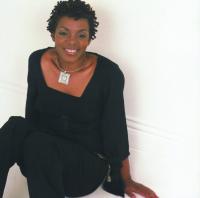 In recent weeks if you've paid close attention to what Radio Two have been playing, you may have noticed a gorgeous soulful gospel version of the old Motown song "How Sweet It Is To Be Loved By You". If you've heard it then you've already tasted the talent of Donna Gardier. She's no stranger to the mainstream scene though. In the late '80s Donna was signed to Virgin and released a solo album called 'Reach Out'. In the '90s she was part of the band Raw Stylus.
The call of mainstream music had a downside in that Donna became disconnected from church. She explains, "I was brought up in church, so that's all I knew. So you fall into the wrong crowd and you start getting inquisitive and wondering what's out there? So you go to the clubs and you do whatever you want. Even so, I never ever really forgot about God."
Raw Stylus were successful on the R&B scene. They had a number one on the American Billboard Charts but things were changing for Donna. "My parents decided they were emigrating. I'm not sure what exactly it was that made me start thinking about church, but I started to realize, 'Okay, my parents are gone.' As a child, growing up in church and with praying parents, you don't have to worry too much because your parents are there praying for you and God's going to listen to their prayers. But then when my parents went, I started to think, 'They're going away now. I need to pray for myself. I need to think about my Christian life for myself. I need to sort this out for myself.' I was hanging out with a girl called Joy-Rose, who was brought up in the same way that I was, and we started talking together. We decided to visit a church one Sunday. It all sort of snowballed from there. I just realised I was just floating aimlessly and I needed to get it back in order. I'd really got involved in rock'n'roll. My life did go right down that road of rock'n'roll and I needed to bring it back to normality and I needed to bring it back to Christ." She came home spiritually and that's why her first gospel album is called 'Home'.
Donna's album has been released through the mainstream company Dome Records. She was doing some vocals for another Dome act when the owner of the company, remembering her from Raw Stylus, offered her a solo deal. She remembers, "At that time, I was going through a stage where I was trying to get my life together spiritually. So I went away and wrote the album. I knew what I wanted to write and I knew what they had already known of me. It wasn't gospel, it was secular, and I wanted to make sure that they saw that I could write what I wanted to write. I didn't want to be dictated to by anyone. So I wrote the album first and I went to Dome and said, 'This is what I am now. This is what I've got to offer.' Thank God they were up for what I had to offer."
I wondered whether she was aware of the resurgence of female gospel singers in London. Obviously she knows about her sister-in-law Charmain! "Yeah," she responds, "I think it's great. I think it's about time that Britain recognises its own. We can do it too! And I think we do it well. I enjoy listening to American R&B and gospel but I think it's time that we recognised the fact that there's Christians in England. We have a lot to say and a lot to offer when it comes to music. Musically, my album is very much along the same lines as where I have always been. I love my music to be quite funky. I like listening to acoustic guitars. I wanted to stay in the same trend. I didn't want to change the type of music that I sang and I also wanted to reach people that don't know about God. I wanted them to recognise it and remember me from my past and listen to what I'm saying and think, 'Oh right, there's a new message. What is this message? Oh right.okay."Jesus loves you!"'"

The opinions expressed in this article are not necessarily those held by Cross Rhythms. Any expressed views were accurate at the time of publishing but may or may not reflect the views of the individuals concerned at a later date.
About Mike Rimmer

Mike Rimmer
is a broadcaster and journalist based in Birmingham.
We welcome your opinions but libellous and abusive comments are not allowed.