ERIC CHAMPION is more than a nineteen-year-old blue-eyed soul-gospeller as Tony Cummings found out.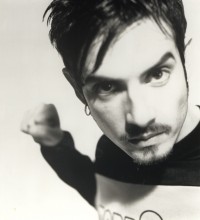 Eric Champion
The last few years has seen a steady proliferation of gospel singers who are white but sing black. These blue-eyed gospel artists have intriguingly been much more adept at fusing the rhythms of contemporary sophisti-soul and pump-it-up dance than their black counterparts. Maybe the inherent conservatism within many black churches have made it easier for white artists like Jon Gibson, Kim Boyce and Tim Miner to evolve spiritual songs with "wordly" strutting dance rhythms. But whatever the reason it's America's white soul gospellers who are currently producing some of the toughest, soulfullist yet dance-floor-relevant gospel.
Eric Champion emerged onto the US CCM scene last year and his 'We Are The Young' album has already been a Christian radio hit with the haunting "Forever Love" almost reaching the number 1. His delicious blend of dance, rap and slinky soul ballads show that this Florida-based artist has all the talent needed to become an international gospel star. And when one considers that the album was Eric's major-label debut and that the singer wrote, played, programmed and produced it all yet is still only nineteen years old, one recognises that this is no George Michael clone being hyped on America's Christian public. Like another black-sounding gospel artist Mylon LeFevre, Eric's musical chops were formulated in a family group singing that intriguing blend of barbershop harmony, hillbilly feel and pure cornball delivery known as Southern Gospel. "I was raised in a Christian home" remembers Eric. "The Champion Family travelled around the United States singing in different churches from the time I was about three years old. We sang gospel music so I've been singing about Jesus my whole life. It was a different style of course, it was the old time gospel music."
By the time Eric was fifteen, the gospel-prodigy had grown confused about God's will. Thinking he didn't sing very well and still unsure of his musical skills the Lord called his family from their home in Florida to help out a church in Georgia. Eric did not want to go. "One day my Mom was praying and she felt she had a word from the Lord for me. She told me that if I went to Georgia with a willing heart the Lord would have a surprise in store for me. Since I was about to turn 16 I hoped it might be a car!"
God had a different surprise in mind. During his first few months in Georgia, Eric began to write songs for the first time. "I was more in tune with the music of my day-secular music - British pop, songs by Stevie Wonder, soul music, stuff like that. During that time there weren't many people using that style of music to convey God and His message. So somehow I knew the Lord wanted to use me in music. I began to develop my keyboard playing and the songs started to flow."
While at the tender age of seventeen Eric began touring playing concerts in small churches and youth fellowships in Florida. He recorded his first self-financed custom-album soon afterwards to sell at these concerts. "I'd made a couple of albums with my family, but the first thing I did myself was called 'When'. A couple of the songs on the 'When' tape eventually made it on to 'We Are The Young'. It was Chris Christian hearing 'When' which gave me the break I needed."
Chris Christian has long been a seminal figure in the world of contemporary Christian music. As well as a popular artist in his own right he was Amy Grant's first producer and has his own label-cum-production-company Home Sweet Home, affiliated to Word/Myrrh. Chris duly signed the talented singer/songwriter and Eric's songs began to get recorded by American gospel artists like Mike Eldred and Truth. But it was Eric's 'We Are The Young' album which really made the Big American Impact.
"I produced it and did all the keyboards and programming. With the exception of the saxophone and the guitar all the instrumentation was me. I know a lot of people are down on computers in music but I felt that if there's real soul in the heart of the guy doing the programming you can capture that. I tried to get the same energy and feel that I had when I first composed the tunes". From the haunting "Forever Love" with a lilting Stevie Wonder-style hook, to the percussive pop-funk rap "Friends In High Places", and through to the gentle soul-swayer "Peaceful" the songs are compelling and soulful. US reviewer Kathleen Ervin enthused "Champion finds his niche in the Jon Gibson, Bryan Duncan - white soul/ R&B sound. Champion's smooth, elastic voice belts out tunes that mix rhythms and religion with dance-pop."
Comments Eric "It's a great compliment to be called a soul singer because I grew up trying to pattern myself after a lot of blues singers and soul singers. I think there is a quality within soul music, with singers trying to convey real feelings you have inside, that people can identify with a lot more."
Eric is a very, very serious musician. But he also perceives that a primary role God has given him is to be a spokesperson for youth. "I understand the many ways the Devil is trying to attack our generation through different problems" remarks Eric sadly "I believe there need to be young people like myself whose voices need to be heard by our generation and let them know there's someone who cares, someone who's tried all the same answers but the thing they found and know for sure is the work of Jesus Christ. I just want to be able to be the light in the darkness, and show people that Jesus is the only answer to the problems we are facing. A lot of my music is pro our generation and pro taking pride in yourself and our generation." Yet Eric's music and message is a long way from the self-obsessed cult of youth of the MTV generation. "The majority of the problems we are facing in this world today are aimed at our young people. What's the average age of the people fighting in the Gulf? What's the average age of the person starting on drugs? Then there's abortion, Aids etc, etc. I see a lot of young people being raised who do not believe in themselves, not thinking they are special and not thinking at all that God can use them in anyway to effect anybody's life. For a lot of times their family situations and the way they're growing up tells them that they're dumb and they'll never amount to anything. While in actuality God knows and sees the special value in youth. In the song "We Are The Young" I try and speak abut that.
"There's a prophecy in the Bible in 1 John 2:14. 'I have written to you young men because you are strong. God's word lives inside of you and you have overcome the Evil one'. And if we believe the Bible and stand on that prophecy we'll realise that God wants to use my generation, and all these problems that have been thrown our way from the Devil we can and we will overcome. So this song is a confession of the reality that we've found in Scripture. That we are young, and we're strong."

The opinions expressed in this article are not necessarily those held by Cross Rhythms. Any expressed views were accurate at the time of publishing but may or may not reflect the views of the individuals concerned at a later date.
About Tony Cummings

Tony Cummings
is the music editor for Cross Rhythms website and attends Grace Church in Stoke-on-Trent.
Reader Comments
We welcome your opinions but libellous and abusive comments are not allowed.