Damian Taylor reports on the long and labyrinthine history of vintage gospel group FAIRFIELD FOUR
Continued from page 1
Just when the Fairfields seemed to have the world at their feet, the three founding group members took turns to leave, with varying degrees of permanence. Rufus Carrethers was the first and also the shortest absentee, having briefly taken a short sabbatical from the group in 1944 to be replaced "temporarily" by Willie Frank Lewis, who himself would stay until 1951. It was Rufus' brother Harold, now also playing piano to accompany the group's harmonies, who became the first of the initial trio to officially leave the Fairfield Four permanently in 1946. This came because of the twin clashes of egos and money but the story is a murky one. Harold, who also doubled as the band's manager, left the group following a final showdown relating to payments over a Sister Rosetta Thorpe performance which the group had sanctioned.
A second permanent departure of the original 1921 line-up soon occurred as tragic events unfolded that would claim the life of another founding member. John Battle was diagnosed with TB in 1946 and gave his final appearance for the group in Birmingham, Alabama. So weak was he in that last outing that he was carried and propped up by his colleagues during the performance. His untimely death in 1947 at the age of 35 led to the steady unravelling of the group just as they were reaching the zenith of their powers. Battle was the member who could keep tensions from simmering over in the group such was the respect the others afforded him. It was he who created the group's by-laws of conduct which were strictly enforced under his guidance. Now he was gone, it was of little surprise that disputes previously kept under control were aired with ever more grievance during the remainder of the decade.
Although the Fairfields had recorded for RCA Victor and Columbia Records in the 1930s their efforts were never released. But with their radio broadcasts making them well known across the US, recording opportunities were now open to them. They settled upon a deal with Nashville-based Bullet Recording & Transcription Corporation. Founded by Jim Bulleit and C V Hitchcock in March 1946, the Nashville firm had attracted million selling R&B singer Cecil Gant to its roster and by April the Fairfield Four cut four songs: "Who Stole My Old Shoes", "Better Leave That Liar Alone", "Don't You Want To Join That Number" and "Where Shall I Go". Rather confusingly, some of the Fairfield Four's recordings were leased to Dot Records, the Tennessee recording company run by Randy Wood. Alongside the original trio, Sam McCrary, George Gracie and an unaccounted Willie Frank Lewis sang on the recording sessions.
Over the next few years this line-up would unravel because of their fractious relationships, with only Sam McCrary remaining from their 1941 field-recordings. By the end of the decade there were two Fairfield Four groups, with Fairfield Four Juniors being created by the time of the second set of song recordings for Bullet later in the 1940s. The reason why the group's line up had irrevocably changed was due to the increasingly prominent Sam McCrary, who drifted from the original values of Fairfield Four to dream up his own southern gospel super group.
1992
George Gracie's departure and Harold Carrethers' severing of ties with the band allowed McCrary to recruit James Hill as baritone who sang on "Don't Let Nobody Turn You 'Round" (given a second recording after the field-recording six years earlier), "Standing In The Safety Zone", "When I Get Up In Heaven" and "Amazing Grace". Hill was born in Bessemer, Alabama, in 1916 and would stay involved with the group in an on/off capacity until his death in July 2000. He brought the group back towards a more jubilee way of harmonising, with his vocals balancing that of Sam McCrary's hard gospel style. John Battle's departure would leave a vacuum over musical direction that would not be filled until McCrary brought in Edward 'Preacher' Thomas in 1949. Born in 1922 Thomas, a tenor from New Orleans, Louisiana, empathised more than any the new direction that McCrary was guiding the group towards. In the post-war years the hard gospel style was at its pinnacle and Thomas, previously a member of the church-wreckers Famous Blue Jay Singers, was able to up the power and passion of the group.
Thomas was joined by a second tenor, Georgia-native Preston York, who during his time in Atlanta had also sung as part of the Reliable Jubilees. His main skill during his brief sojourn with Fairfield Four was in being an excellent musical arranger, able to give the band the direction that it was lacking, particularly after the final original member Rufus Carrethers permanently left to be replaced by Isaac 'Dickie' Freeman in 1948.
Freeman was the man who possibly best embodied the spirit of Fairfield Four despite initially only being part of the group for just over a year. Thanks to the Fairfield Four's 1990s revival and his longevity, Freeman was certainly the most famous Fairfield Four member along with Sam McCrary. This native of Johns, Alabama, left Kings Harmony of Cleveland to become what some claim to be the heaviest basso ever recorded. He was still working with Fairfield Four until his sad death in October 2012. For all his fame and singing excellence - Freeman was a man who pushed bass-singing and vocal experimentation to its limits - it was with a certain irony that the passing of the baton from Carrethers to Freeman culminated in the end of the Fairfield Four's first golden age.
In 1949 McCrary, Freeman, Willie Frank Lewis, Thomas and Hill moved from Bullet to Delta Records, who issued such Fairfield Four 78s as "Dear Lord Look Down On Me", "Saviour Don't Pass Me By" and "In The Wilderness". By 1950 though, a chasm had developed between the older members and the new singers, who had little connection with the Fairfield Missionary Baptist Church. Rather sadly and perhaps almost inevitably, the final fallout was over money. The group had invested most of their earnings into running a funeral parlour business, the Fairfield Four Funeral Home, close to the Fairfield Missionary Baptist Church on LaFayette Street. As the group were preparing to sign a contract with Randy Wood's Dot Records (not that there was much choice in this, Dot had stealthily taken over the Fairfield Four's recordings from Bullet), a disagreement developed that not even McCrary could control. The newer members wanted commitment to embark on extensive nationwide tours, something Dot were keen to see happen, while the older group members found the funeral business a more pressing concern and would not commit to the demands of being in a fulltime touring group.
Things took a turn for the worse in 1949 when the funeral business began to make heavy losses, leading to Thomas, Hill and Freeman resigning from the Fairfield Four. The threesome crossed the state border into Alabama where in Greenville they formed and performed as the Skylarks. After signing to Ernie Young and his Nashboro label, the Skylarks toured the nation before they eventually went into semi-retirement musically and held down day jobs. Hill's musical diversity was matched in his professional career, allowing him to work in different roles, from a Nashville policeman to a supporting film actor via a restaurateur. Freeman meanwhile, spent most of his career working for Nashville City Water Department. Unlike Hill and Freeman, for Thomas there would be no fairy tale return to the Fairfield Four. He died in New Orleans in 1988, a year before the group began the ascent back to their former popularity.
With three of the Fairfields leaving to start the Skylarks, McCrary recruited new members for the group's incarnation for Dot Records. Joining the Fairfield Four were McCrary's cousin Clarence 'Baby' Brooks (baritone), Oakland's George McCurn (bass) and Willie Love, formerly of Detroit's popular Flying Clouds, as second tenor. In 1953 Willmer 'Little Axe' Broadnax joined the Fairfields as a replacement for Willie Frank Lewis (who had joined the Skylarks). Little Axe had been a member of the best selling Spirit Of Memphis Quartet and his gritty vocals ensured the Fairfields really came into their own. Singles like were "Heaven In My View" and "So Many Years (Jesus In Heaven)" were particularly popular with Love's smooth voice dovetailing beautifully with the hard gospel singing of Little Axe. However, this classic lineup of the Fairfields was not to last long. In 1954 Sam McCrary felt a call from God to begin a full time preaching ministry. This was the cue for the group to break up. By this time Willie Love had married Dorothy Coates, the leader of the hugely influential Original Gospel Harmonettes, based in Birmingham, Alabama, while Willmer 'Little Axe' Broadnax continued singing in various ensembles gaining his greatest fame in the early '60s when he replaced Archie Brownlee of hard gospel pioneers the Five Blind Boys of Mississippi. A peculiar footnote is that when Little Axe finally died in 1994 it was discovered that "he" was actually female and had passed himself off as a man during his lengthy gospel career!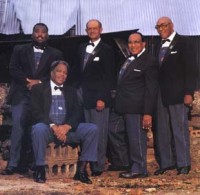 In the mid to late '50s Willie Love, along with singers Thomas Huggins (baritone) and Ben Vaughn (bass), led a semi-official group under the Fairfield Four name. In 1959 one Alan Bubis of Champion Records recorded two singles, "Let Your Will Be Done" and "Lord, You Know", with the ad-hoc group, though only the latter was released.
By the late 1950s, Sam McCrary came out of his self-imposed gospel music retirement. A group from Gary, Indiana, the Silver Quintet, had come to play at McCrary's church in January 1960 and the veteran was mightily impressed. Although the Silver Quintet had recorded tracks for Vee Jay Records between 1956 and 1957, the group were in a state of flux when vocalist Roscoe Henderson departed to join the Five Blind Boys Of Mississippi. McCrary offered the Silver Quintet the chance to sing as part of a new seven-piece Fairfield Four lineup - Clarence Mills and Sam McCrary singing lead, Willie Love (tenor), Joe Henderson (bass) with Huey Brown, David Aron and Willis Williams making up the rest of the vocalists. With help from long-time friend Bill 'Hoss' Allen, a DJ from WLAC Radio, The Fairfields signed to Hy Weiss' Old Town Records. As it turned out, Love departed before the group entered Nashville's RCA Victor Studios to cut their one Old Town single "Memories (Of My Mother)" on the A-side and old favourite "Don't Let Nobody Turn You 'Round" supporting it.
The days of acappella were at an end and new group member Joe Henderson played guitar alongside Bobby Moore (bass) and Buddy Harmon (drums) updated the group's sound. All to no avail, though, and the single sold poorly. Ironically, there was soon success, however, for the Fairfield's Joe Henderson. He was persuaded by Hy Weiss to cross over to pop/R&B and his rich bass voice was heard in 1962 on a number eight chart hit "Snap Your Fingers". Also that year the Fairfield Four's recordings made two years earlier were released on an Old Town album, 'The Bells Are Tolling'. But that too sold poorly (though ironically it is today considered a valuable collector's item). In 1973 'The Bells Are Tolling' was given a new lease of life under the WLAC Radio label in Athens, Georgia, using the billing The Famous Fairfield Four With Rev Samuel McCrary.
In 1975 the death of baritone Harold Carrethers left Rufus Carrethers as the only remaining original member of the Fairfield Four's 1920s line-up. But then, in 1980, an unexpected phone call gave the Fairfield Four a chance to relive their former glories. The group were invited to participate in a Quartet Reunion event in Birmingham, Alabama organised by gospel expert Doug Seroff. With Rufus Carrethers declining to take part in the event, it was left to Sam McCrary, Willie Love, James Hill and Issac 'Dickie' Freeman to represent the group. Guitarist Joe Whittaker was also included in the group's entourage despite him having little or no connection with the Fairfield Four's history up until that point. The concert saw the reformed group in inspired form and as James Hill confirmed to author Bill Friskics-Warren, he had no inkling of where the performance came from. He said, "Man, I don't know what happened, but the quartet just caught on fire again. We haven't stopped singin' since."

We welcome your opinions but libellous and abusive comments are not allowed.