Tony Cummings quizzed the courageous singer/songwriter HELEN JAYNE MCKELLAR
Helen Jayne McKellar
Helen Jayne McKellar is an enormously talented Welsh singer, songwriter and pianist who first emerged onto the scene in 1991 and has, down the years, developed a small but loyal following for her haunting music. Her ongoing struggles with issues of health has meant that she seldom, if ever, plays concerts, while her recordings - an EP in 2009 and a single in 2013 - have been the briefest of reminders of Helen's exceptional talent. Then on 9th April 2018 Helen surprised everyone with the release of a superlative EP 'The Last Minute'. The project has gone on to receive considerable airplay and an enthusiastic response from all who've heard it. Cross Rhythms caught up with Helen at her Berkshire home. We began by asking her how she felt 'The Last Minute' compared with all her previous recorded work.
Helen: Without a doubt this is my best work to date; the songs are stronger and more commercial than my earlier works. The huge talent and expertise of the other singers and musicians involved, not forgetting producer James Welch (who has worked with Jamie Lawson, Jessi J and Bocelli to name but a few) is evident in the final recording. Music industry professionals have been so encouraging to me, and I've been very lucky with the amount of airplay I've been receiving. This EP is fundamentally different from my other recordings because I did not feel under any obligation to create an acceptably Christian offering; I simply wanted to express human emotion, something everyone can relate to, no matter who you are or what you believe.
Increasingly I have been wondering what "Christian" music is. . . Is it music where the lyrics tell a Christian message, or praises God? Or is it simply music created and performed by a musician who happens to be a Christian? For me, music is music - it transcends boundaries. Surely every singer/songwriter wants to share their work with as wide an audience as possible? Yet we feel compelled to pigeon hole it as "Christian" (or anything else for that matter) and immediately make it inaccessible to so many people! That's why I've targeted this EP to the mainstream. I don't want people's prejudice to prevent them from hearing it. It's true that these particular songs are in essence secular, but I felt they were given to me by the Lord and I have been authentic in delivering them. I prayed about the project every step of the way and I wholeheartedly believe the Lord has been behind me in it. He can still touch people through love songs; we all suffer pain, loss, heartbreak at some point in our lives and the many encouraging messages I have received from supporters and total strangers has been confirmation of that. And who knows what songs the Lord might give me for the next record - whatever they turn out to be, I'll be marketing them in the same way.
Tony: Was 'The Last Minute' recorded over a lengthy period of time?
Helen: It took around a year from writing the first song until the recording process was complete. I had a prolific first few months writing on my own, when I went through a crazy phase of placing my piano in the middle of the lounge. I wanted to feel a sense of freedom to create in a large space so the lounge became my studio for a week until the initial demos were recorded. I didn't leave the house for a period of time, I played all day and sometimes into the night which was a bit of a concern to my husband! In fact "Last Minute" was written at around one o'clock in the morning. That evening we had been watching a Sara Bareilles concert and documentary which had inspired me. Doug went to bed knowing that I had a song idea and left me at the piano where I wrote and completed the single 'Last Minute'. The final honing and arranging of the songs came a few months later when Judie Tzuke came to assist me at my house.
Tony: How did Judie get involved with the project?
Helen: When I decided I was going to commit to a new EP project, I felt I wanted to be mentored by someone I respected musically, who could encourage me and help hone the songs. I knew that to identify with this person, it would have to be a strong woman. I had two people in mind, whose music I had enjoyed and respected over the years - Judie Tzuke and Kate Bush. I prayed about this, and soon after I wrote to Judie to ask if she could help me. Imagine my delight when she agreed! We met her initially after seeing her in concert, and she then spent time at my home working on my song ideas. It was a bit surreal, but we had great fun and very productive days resulting in four co-writes, two of which appear on 'The Last Minute'. You'll have to wait for the next EP for the others.
The real highlight for me was being with Judie and [her daughter] Bailey as we created the backing vocals, and the most exciting moment was to hear Judie re-record verse three of "Ladies Night" (in a lower key) for my new cover version. She sang it just as well as on her original version of 40 years ago! We'll be releasing this as a single later in the year. The other song I loved working on with Judie was "You've Come Home" from the co-writing of it at my home to seeing it come together in the studio. Vocally we echo/reply to each other with the lines "Don't you worry. . . you're gonna be safe now. . . don't you worry. . . you've come home."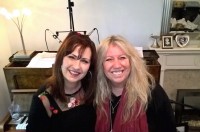 Helen with Judie Tzuke
Tony: What are your two favourite songs on the project, and what are their themes?
Helen: It was amazing to work with Judie on this project and I wanted to pay tribute to her influence by covering one of her songs. I had two in mind, but eventually chose 'Ladies Night'. It fitted in so well with the other tracks and had never been covered before. Judie gave me her permission and even agreed to do a guest vocal on the recording! The original track was recorded in the late '70s so I wanted to bring it right up to date musically. James came up with a fresh, ambient synth sound and the track evolved from there. I did the vocal early on, in one take. I felt completely engaged with the song at that time and James and Doug both agreed there was a kind of magic to the vocals that I recorded. Judie sings verse three and she had offered to dig out the original master tape of the song so this could be sampled, but in the end we all felt it was more fitting that she did a brand new vocal, which she did and it sounds lovely! What is also interesting is that the drums were programmed by Jude's son-in-law Matt Racher, Bailey's husband.
A lot of the songs are kind of sad in theme but the EP takes you on an interesting journey. I thought long and hard about the order of the songs and it ends with, in my opinion, the most uplifting, positive song "Always By Your Side", a co-write with my husband. The music is very laid back and has a cool vibe. Some of the lyrics go like this:- "I've never met anyone so brave/Don't you give up/You'll find the peace you crave/So just hold on the dawn is almost here and on that day the answer will be clear." Then the chorus is musically very hooky, "You don't need to tell me that you're feeling fine. . .'cos the pain's so clear, it's written in your eyes/You don't have to hide/We're always by your side." Doug was with me every step of the way throughout the recording process. He drove with me to every studio session and sat patiently with us, supported and encouraged us as executive producer throughout the long project. It really was a team effort.
Tony: What sticks in your mind about the recording sessions?
Helen: I enjoyed working with James who was always enthusiastic about my songs and his interpretation was constantly inspiring. We gave him a lot of creative freedom and he came up with something that sounds both unusual and commercial at the same time. The days where we worked with the band - Sam Tanner (keys), Richard Brook (drums), Pat Davey (bass) - were so much fun, even though they worked their butts off they made it seem easy. They are not only brilliant and highly creative musicians but also great people to be around and such humble guys. We were working on the record in December, so at the end of the sessions we got together round the studio kitchen table eating mince pies with brandy cream and mulled wine and had a kind of Christmas celebration together. In January the snow arrived, but we still all made it to the studio.
I have to say "You've Come Home" is the song on the EP that means the most to me. It was written for a friend I was concerned about who was struggling with bad memories of a past traumatic period in his life. But obviously it can be interpreted in many different ways which is good for the listener. It has had some airplay already even though it hasn't actually been released as a single. I love the bells at the beginning and the kind of haunting production that then builds. James Welch is a genius at interpreting my songs with such unique and interesting sounds. I loved everything he did production-wise and he was always enthusiastic despite a personal tragedy two months before our project could complete. We were glad to be able to pray for James throughout the recording and mixing process. There were some delays for various reasons, one being I got sick in between sessions but I was determined not to give up. Only God knows how hard it was for me and why it now means so much to finally have this EP completed. I would often do a day in the studio then be wiped out for days in bed recovering afterwards. That's the nature of Myalgic Encephalitis/Chronic Fatigue Syndrome but it was worth every bit of pain to achieve the end result.

We welcome your opinions but libellous and abusive comments are not allowed.