Wednesday 17th September 2014
Lindsay Williams reports on Florida-based worship leader and songwriter JUSTIN JARVIS
Justin Jarvis
Such is the kudos of a release on Jesus Culture Music that any worship leader achieving such a thing is almost bound to make an impact on the international Church. The release on 30th September of the album 'Atmospheres: Live' by Justin Jarvis brings to the spotlight a humble yet anointed songsmith and worship leader who describes himself as a "local church guy" who also happens to write original music for his congregation each week. Jarvis has overseen and continues to direct the music and creative culture of The Harbour Church in Fort Lauderdale, Florida, but is now being lauded by artists like Kim Walker-Smith, John Mark McMillan and Leeland Mooring.
No one was more surprised than Justin when he received a phone call from Kim Walker-Smith, long time frontwoman for Jesus Culture and the president of the movement's record label, called to ask him to join Chris Quilala on tour with the idea that they would record Jarvis' sets for a live album. It would be the singer/songwriter's first tour and his first full-length record for a label. Said Jarvis, "It's not that I didn't want to be travelling, I just didn't want to push those doors open on my own. I'm excited because I feel like God's opening a whole new world to me. If I know anything, I know God's opened the doors and he's made a way. I only have him to thank for that."
Jesus Culture was a natural fit for Jarvis' entrance into the music scene, as he forged a friendship with highly-respected producer Jeremy Edwardson (Michael W Smith, Jesus Culture) years prior when Edwardson came to Florida to help record an independent project for Harbour Church. Soon after, Jarvis was asked to contribute to Jesus Culture's 'Emerging Voices' compilation. He knew the relationship was special from the beginning, but he had no idea what God was orchestrating. "It was a pretty cool thing, because it was a lot more than a business transaction," Jarvis commented. "It just felt like God's up to something with this relationship, with this friendship. [Jeremy] was just really excited about what was happening in our church."
As a songwriter, worship leader and church planter, Jarvis places great emphasis on helping people become all God created them to be in the places where they live and work, cultivating an environment of organic evangelism that places the day-to-day life of the believer into the larger context of God's epic narrative. Continued Jarvis, "Our heart is just really focused on regular people carrying Jesus into their sphere of influence. We really want to see regular, everyday people empowered with Jesus, his love, his Word, his spirit [and] his power in whatever sphere of influence they find themselves in. Whether you're a cashier or a banker or a lawyer or a teacher or a chef or you work at a church; whatever you do, you're taking the presence of God and the power of God and the love of Jesus into that sphere, and you're giving it away to people."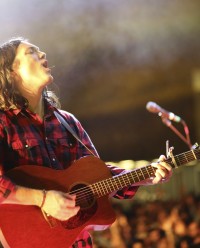 Jarvis acknowledges that his church shares a parallel vision with the Jesus Culture movement that makes their partnership seamless. He said, "[Jesus Culture's] out there telling kids, 'Hey, go do what you love to do; go be what you want to be, and take the power and love and presence of God into that sphere with you'. When I heard them saying that, I was like, 'Maybe the Holy Spirit's up to something with this relationship even though I'm on the other side of the country.'"
That's why it was easy for him to view this unique touring opportunity as an open door. During his two-week run with Jesus Culture, Jarvis shared the stage with Chris Quilala (guitar), Jeffrey Kunde (guitar), Ian McIntosh (keys), Josh Fisher (drums) and Brandon Aaronson (bass) who all acted as his backing band. The resulting live album, produced by Edwardson, pushes the boundaries of standard live worship recordings. While some of the 10 original tracks on 'Atmospheres' - all written by Jarvis and spanning over 60 minutes - were anthems he has been leading for years at his church, three songs are brand-new, meaning he hadn't even had time to "road test" them with his own congregation. Yet, the project is so cohesively woven together sonically and lyrically, listeners will have trouble believing this was Jarvis' touring debut.
Of the album's theme and the title track Justin explained, "The whole concept of 'Atmospheres' is just that tension between the encounter with God that deposits something in you and then the sharing of that with others in the day in, day out. Wherever we go, our lives are gateways for the love of God and the power of God in and through us. The Holy Spirit in us will shift the atmosphere, and we'll leave an impact wherever we go."
The swelling soundscapes on 'Atmospheres live up to its sweeping title with large, bold anthems big enough to fill arenas and conjuring comparisons to Coldplay, The Killers and Arcade Fire - all band's who have influenced Jarvis, who began playing guitar and leading worship in high school. Growing up in Alabama, Jarvis sang in chorus starting in elementary school, but it was during his pivotal high school and college years that his musical preferences were shaped. As a teen he was inspired by artists who had the ability to add spontaneity to their sets in the middle of their live performances - like Counting Crows and Dave Matthews Band. Observed Justin, "I think it's powerful the effect arena rock has on people on such a massive live scale. There's something in that sound that touches us. We'll gather tens of thousands at a time and listen and sing, just because we love it and it moves our hearts."
Jarvis' penchant for indie rock and the depth of his theology is evident from the album's opening guitar riffs. The gripping lead cut, "Take Heart", based on John 16, reminds believers that faith in God does not exempt you from life's hardships. Commented the singer, "That song is a really important song for me, because I think people need to hear hope in the context of trouble. You don't really have real hope without real trouble." Also rooted in Scripture, the powerful "Heaven's Light" comes from Isaiah 58 and serves as Jarvis' self-described "first modern hymn." "It's about Jesus in us and through us. As we go deeper in relationship with him, he is both the light we look to and the light we shine on others. He sets us free, teaches us how to trust him, and gives us grace to overcome by his Spirit."
The closer "Born Of God", a song which Chris Quilala recorded for the most recent Jesus Culture record, is an unabashed retelling of the Gospel culled from Isaiah 53. Stated Jarvis, "Jesus was like us. His love and humility and the power of his choice to really come and embrace the world - it's crazy. A baby in the arms of a teenage girl - just submitting himself to that, to a childhood and an adolescence and learning the craft of his father and being in a body that wasn't overly impressive; yet his life here proclaimed the arrival of God's Kingdom on earth. His life tore the veil for every person to know God. That wasn't some big spiritual experience alone, it was a life. It was a day-by-day, morning, noon and night life that he lived."
Continued Jarvis, "We have encounters with God that mark different parts of our journey through life. God gives them to us so that they become catalysts for our everyday. An encounter with God in a moment leaves an impact, but that impact is realised in its fullness when we carry what God gave us into everyday and give it away to the world around us."
With 'Atmospheres', Jarvis hopes each song extends pieces of the hope and life and love that he's experienced through his relationship with Christ. Justin admitted, "I think there's a lot of faith, a lot of hope, a lot of deep theology in the record that I want people to catch so that they're ready to believe God for anything. I really want the songs to open up encounters with God that touch people's hearts, take them deeper and leave them changed. I hope the songs give people confidence in what Jesus has done for us so that we can live the life he's called us to live - as sons, as daughters - that the songs will inspire people to believe Jesus and act on his love and his power."

The opinions expressed in this article are not necessarily those held by Cross Rhythms. Any expressed views were accurate at the time of publishing but may or may not reflect the views of the individuals concerned at a later date.
About Lindsay Williams
Lindsay Williams is an American journalist.



Reader Comments
We welcome your opinions but libellous and abusive comments are not allowed.