Tony Cummings charts the rise and rise of Nashville-based singer/songwriter MAT KEARNEY
Mat Kearney
Even in the unlikely event that you're not a regular listener to Cross Rhythms radio, where the haunting acoustic pop rock number "Nothing left To Lose" by Mat Kearney has been on the playlist for many a long month, chances are you'll be pretty familiar with the song. The video has got a lot of airings on MTV while the song has been used in the soundtrack of hit medical soap Grey's Anatomy. So who is this 28 year old singer/songwriter whose acoustic pop craft seems to mix the sounds of Coldplay's Chris Martin with the acoustic of Ryan Adams, takes in a bit of Beck-like rap and even looks a bit like comedian Dave Gorman? The Eugene, Oregon native recently spoke to CCM magazine.
Mat grew up in a Christian home, where his mother was a pastor. "My folks were really encouraging in music appreciation and they were incredibly encouraging of creativity in writing and literature. All of my strong memories as a child involve music. On Sundays, to get us out of bed and get us going in the morning, my Dad would blast a Paul Simon record or Whitney Houston's 'I Wanna Dance With Somebody.'
"My parents met in Hawaii, they were these hippies who got engaged two weeks after they met, and married six weeks later. During that Jesus Movement thing (in the '70s), that's when faith became a real important part of their lives. They went to this really early, emerging church in Eugene, where a lot of those types were showing up. So I grew up in that non-denominational Jesus movement environment, where faith was very much a part of that other world. Eugene was very different than, say, the Bible Belt, it was more wholistic. I never waded through a theology where you have to separate from the things you like in the world, compartmentalizing my love for rock and roll, and my love for God, or my love for women. It was OK to experience the Spirit of God in all of that, which, I think, is how it was supposed to be."
Kearney first left Eugene, Oregon to play soccer at Chico State University, the notorious school that was once dubbed the No 1 party school in the nation. Kearney, who occasionally sold weed in high school, fitted right into university's wild ways before eventually hitting rock bottom. "I guess I lived it up and did what everyone said you should do in college," he recalled. "I discovered the depth of depravity, the bleakness of that lifestyle. It just wasn't working. I finally started understanding there must be more to life." It was at this point where Kearney had a life-changing encounter with Christ. "God found me when I was at my lowest point. That was the first time in my life when I really felt like I understood who Jesus was - it was more than just knowing about him, I felt like he met me in that time and place."
Kearney began embracing the local music scene that he described as a lot of "Dave Matthews' hippies." The singer, who actively participated in hip-hop culture as a teen, soon found himself fusing his vast influences into a revelatory new acoustic hybrid. During this same period, Kearney started studying poetry in college and writing journals of deep prose about life. When he finally brought the two worlds together, Kearney forged a songwriting style that was distinctly innovative with a lyrical and emotional depth that kept it from being novelty.
Around this time, Kearney met producer Robert Marvin (Stacie Oricco, Toby Mac), who immediately wanted to work with the new artist. Later, when Marvin moved to Nashville, Kearney decided to come along for the summer. While there, the two continued making music. He told CCM, "I moved to Nashville with four songs. By the end of the summer, all these independent labels like Gotee Records, had offered me a deal. Toby Mac came into our studio, as did a lot of other music business types who just started showing up. We kept getting offered deals to sign to these labels, but I was like, 'I've got four songs; I'm not ready to make a record.' I waited, and started working, and took my time.

"I started playing songwriter nights at places like 12th & Porter, where you'd find Nickel Creek, Mindy Smith or Duncan Sheik. I'd get up there, and I was just learning how to play these songs. It was at the same time humbling and really encouraging. I remember once, Mindy Smith was walking up and she says, 'That was really cool,' and I was like, 'Well, you're Mindy Smith, and you're really cool.'"

Kearney avoided signing to a Christian label because he wasn't making music primarily for the Church. "I paid for 'Bullet' myself and recorded it Robert Marvin. We licensed it to Inpop. Growing up in Oregon, I didn't have this genre experience, this industry specific expectation that if it's this one thing, it's not going to be listened to over there. I didn't grow up with music divided into 'Christian' and 'secular.' Music wasn't as categorised. It was either good, or true, or pure, or it wasn't. There are good and bad things about that, I'm sure, but mostly it's good."
'Bullet' with its fine songs like "Trainwreck", "Renaissance" and the classic "In The Middle" got US Christian radio airplay and good CCM sales. But Mat wasn't comfortable with the limitations of the Christian market. As he explained to cMusicWeb.com, "Well, I never made a record to be in the Christian market. So when I made my record it was to exist in all of the markets. I grew up not really listening to tons of Christian music and if I did it was in the context of all the other music I listened to. So when I made the record I definitely had plans and visions and dreams. When I went to Inpop I said, 'Let's work on the Christian side but I am also going to sign a general market deal.' I did not know how or what I was doing. My take is that it is natural. For me it just feels like exactly what I am supposed to be doing. My faith is a part of who I am and the music I make. But it has to exist within the world that does not necessarily believe what I believe. Just like we walk into Starbucks every day and order from people that don't agree with us and eat chicken that probably isn't Christian chicken. I think that it is just fitting for me and what I am doing and it seems to make sense that it is working in both markets."
Mat continued, "I don't know if I exactly know what Christian music is. I know what a Christian who makes music is. I don't know how to draw the line of what is Christian or not Christian. For me, my faith is a huge part of everything I do and it is a huge part of all the music I make. So therefore, the music has my Christianity in it. But I do not know if the notes and the chords - going from C to G to D - makes it Christian or not. I understand there is a standard that people want to hold and they don't want things that are heretical and disagree with their faith to be considered Christian. So for me, there is no difference because the record I made that works in the Christian market is the same record Columbia picked up and said they want to release. And non-Christian people that don't agree with me and people [of] all kinds of walks of life say, 'Wow. We really like this record, we think it is good music.' They may not agree with my views or what I stand for. But they acknowledge it as good music and it is something that they think will work. For me, there has been no separation. It has not really been any different."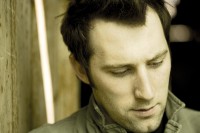 Mat's holding out for a mainstream record deal finally paid off for the determined singer/songwriter. He explained to Music Today how he came to sign with Aware Records. "[Booking agency] CAA tracked me down a booking agent. The people at CAA were the ones who brought John Mayer to Aware. The president of Aware, Gregg Latterman, came to a show in Chicago, took me to the backroom and said, 'I love what you're doing. I want to sign you. We'll put an offer together this week.' So it just happened really fast."
Mat went back into the studio and with Robert Marvin produced some magnificent new songs such as "Undeniable", "Nothing Left To Lose", "Crashing Down" and "Can't Break Her Fall". Other gems from 'Bullet' were also remixed and the "new" album 'Nothing Left To Lose' released to the mass audience in 2006 with Inpop (Fierce! in the UK) still handling the Christian marketplace. "Undeniable", sent to Christian radio as a download, was, rather ironically, a successful song on US Christian radio. "It's a song about God and people and love - it's about life," he said. "It's totally vertical and all of that at the same time. I wouldn't pin it down and say it's just about a girl; it's definitely about my faith. I wrote 'Undeniable' about this kid. We were hanging out with him, loving on him and encouraging him. We invited him to be a part of the recording session. He was about 13 and going through this crazy time; they were tearing down his school. They were tearing down this old building and building this beautiful school in its place. He was going through these trials, but there's this beauty from ashes story in his life."

Still, there's not a lot of clarity in Kearney's songs of poetic yearning - is it a girl or God for whom he'd "take a bullet"? Which does he mean when he sings, "I will wait for you"? But Kearney's not sure he needs or wants to say what all these references mean definitively. "It's a funny thing," he said. "C S Lewis said that romantic love is what proved to him that God existed. So I think that sometimes there's a healthy blurring of lines between the love a man feels for a woman and the love that we experience for God. That's why the Song of Solomon exists (in Sacred Writ); it's God's way of showing us his love, by putting people that you love on earth."

The opinions expressed in this article are not necessarily those held by Cross Rhythms. Any expressed views were accurate at the time of publishing but may or may not reflect the views of the individuals concerned at a later date.
About Tony Cummings

Tony Cummings
is the music editor for Cross Rhythms website and attends Grace Church in Stoke-on-Trent.
Reader Comments
We welcome your opinions but libellous and abusive comments are not allowed.