Friday 26th February 2010
Tony Cummings reports on the emergence of Bangor-based worshippers the REND COLLECTIVE EXPERIMENT
Rend Collective Experiment
When one considers the tidal wave of contemporary worship albums which today pour out on the Church, it is very rare for a new name in the CD racks to attract widespread excitement. But that's exactly what has happened with the debut full length album by Northern Ireland's Rend Collective Experiment. A&R man at Survivor Records, Adrian Thompson summed up the buzz about Rend when he enthused, "This is the freshest and most exciting sound in worship probably since Delirious? kicked in. Rend Collective Experiment are precisely at the point where today's music culture meets worship - I suppose the musical equivalent of what people like Rob Bell and mark Driscoll are trying to do with Church."
Not so much a band as a bunch of friends collectively wondering how to make sense of the conundrum of life, God and community in and around their native Bangor the personnel of Rend is likely to vary from recording to recording and gig to gig. The producer of the 'Organic Family Hymnal' album is Collective member Gareth Gilkeson. Gareth has quite a history in Irish Christian music. He was once half of a dance music duo G&G (who enjoyed a Cross Rhythms Radio hit with the song "Time"). Then Gareth joined a pop rock band Numinous, who nearly broke through into the mainstream. But nothing in Gareth's musical past was as revolutionary as Rend, who've taken the honesty of Elbow, the surges of Sigur Ros, the passion of Celtic soul and the off kilter inventiveness of Sufjan Stevens into the worship music arena. Gareth spoke to Mike Rimmer on Cross Rhythms' Rimmerama programme about the Experiment. "We started praying and seeking God about 2001, just a few friends. We wanted an authentic outworking of our faith and felt that we would just see what happened. People just started gathering around us and we had just over 100 people, musicians and artists, bank workers and teachers and together we tried to figure out our faith."
So where did the unusual name come from? Gareth continued, "We called it Rend because in two places in the Bible it says to 'rend your hearts and not your garments' which is, 'don't put on a show but be real and authentic'. Also in Isaiah, 'Rend the heavens and come down,' so a connection with God and an authentic response from us; and Experiment because nobody knows what we're at really, do we? We are all just experimenting with life and go on with it. So there is the name."
Gareth was asked how many musicians participate in the Collective. "It depends how many people come to our gigs. We just like to think that each gig we will get another 500 people and we'll stick them in the band! There's probably about 15 of us who are in the collective; there are four of us (Gareth, Chris Llewellyn, Will Heron and Patrick Thompson) who are there all the time, we write the songs and work together, maybe that's like our immediate family, and then outside it is the rest of our family. It's mostly because we don't think the Christian music and worship music should be about individuals but about a body, it's about a body and a movement of people and that's what we package and we bring to the rest of the world. It's us as a group of people on a journey."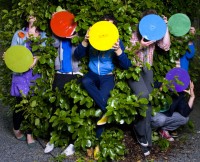 So, how did this collective of journeying, worshipping people develop? "It developed from a group of people trying to do Church for people who didn't like Church or didn't like Christians. We found ourselves meeting weekly and just bringing people. We did stuff in pubs and things like that, just an organic sort of environment. That's why we called our first recording the 'Organic Family Hymnal'. Everything that we do is not forced, but is something that is growing in an environment that is natural. Rend is an actual movement. We then came to the point where everyone decided that we should go and invest in our individual churches and that's the point we got to about three years ago. Then the Collective actually came out of that and that's when we made a decision that we wanted to package what God was doing and has been doing [and bring it] to the rest of the world."
Two EPs, 'Organic Family Hymnal' and 'Organic Family Hymnal Part II', were released independently with the latter being singled out as one of 2009's 20 Best Albums Of The Year by Cross Rhythms. But it is re-recordings of the songs from those EPs for Survivor's 'Organic Family Hymnal' full length album which has launched Rend Collective Experiment into Christian retail. Explained Gareth, "The album is about giving people something that can help them know God better and that's why we love Survivor/Kingsway, their heart really matches up with us. Recording the album was exciting, but it was really hard work finishing the album. It took a good six months. We made a decision to do it ourselves, so I produced it and we recorded it in a castle and in all our different houses because we didn't want it to be what we would call factory processed, going through big studios and having all the best of gear. We wanted to do it a lot more organic. But that made a lot harder work. The castle was Castlewellan Castle, which is near the Mourne Mountains. As you know, it's not what you know, it's who you know. There is a lovely chap called Andrew and I rang him up one day and said, 'Hello, I'd like to record in your castle, when is it free?' and he said, 'It's free these dates,' and I said, 'Great'. So, he was brilliant, they looked after us really well and they let us go wild."
With the release of 'Organic Family Hymnal' on 18th January 2010 the praise has been profuse. Cross Rhythms' Peter Timmis wrote about the album, "Lyrically the group skilfully manage to express the joy of a deep personal relationship with God without falling into cliché and create a rousing modern worship album."
Gareth explained what the album and the whole Rend Collective Experiment were hoping to achieve. "It's about helping people connect with God in ways that they find real. We wanted to write songs that made sense to us, ourselves, where we would find that we were communicating with God, that we were breathing him in, that we were also giving him praise in a way that was natural. That's not to be negative about other worship music because we love what other people do. But for us we wanted to do something that was authentic and that would come from the way we work. And that's what we want for other people, people who find worship difficult, people who maybe have got plugged into the same routine of songs and find a deeper connection with God difficult sometimes, whether in a congregation or individually. We hope that there will be songs that take people to a place. . . You can get used to stuff and start to treat it with familiarity and we just wanted to being a breath of fresh air to what else was going on."
Gareth continued, "With the Collective it's not a performance. It's difficult, because we put worship bands in an awkward position when we put them on a stage and as soon as something is on a stage with lights people will go into entertainment mode and will take a step back. We hope as we progress as a band we can help people become part of what we do and not be 'entertained'. It's not just worship bands' fault, but also us as the Church's fault that we are happy to take a back seat and not get involved in worshipping God. Maybe it's because we don't have a voice, I'm not sure. That's what we are working through, that's what we are experimenting with. We don't want people to give a shallow response, or the minimum effort, but we want people to connect and not just in congregation but on their iPods when they are on the train or wherever that is, to actually respond and not just be entertained."
Gareth is very aware that the marketing push currently behind Rend Collective Experiment could have a detrimental effect on the purity of the Collective's vision. "It is up to us to guard our hearts and not to get caught up in any idea that we are 'worship stars', which is a bizarre concept and definitely not a good thing at all. Having said that, I don't really have a problem with marketing or people finding out about us; it's all to do with the band's heart. Record companies need to promote you and all that stuff and that is partly business. But what comes alongside that is the ministry and helping people to connect with God. A few years ago I found the whole idea of worship and business a difficult thing to take in, marketing bands, photo shoots, radio promo, etc, when first and foremost it's all about Jesus. But we are not ashamed of marketing and promoting what we believe in, perhaps not us as individuals or pushing anyone up there to be a rock star, but promoting what we believe in which is Church, community and knowing God in a way that demands everything. That's what we are promoting and I'm not embarrassed about that."
'Organic Family Hymnal' has some extremely powerful songs, none more so than "You Bled". Commented Gareth, "It came from a point of awareness of our own faults and our own issues then getting to a place of simplicity. In the middle we take the saying from the kids' song, 'Yes, Jesus loves me'. I felt when we first started doing it that it was a bit simplistic for those who are slightly more cynical and 'cool'. It was a bit weird for them. But we came to the point where we thought, 'This is really it, Jesus loves me, this is the simplicity of what our faith is and we don't need to dress it up'."
Another of the album's high points is "Exalt". Explained Gareth, "It's coming from a point of 'I don't know but you might'. Sometimes when we go into worship we come up with so many walls and the first verse is just letting them drop and just saying to God, 'We can't hide from you.' Then the chorus, 'I exalt you, you're the colour of my world,' that just does it for me. Life is grey but with God in our lives it becomes full of colour. The chorus is the important part where we are talking to the Lord, when we are exalting him. Sometimes in some worship songs we get distracted from that. But in this song that's what we focus on."

The opinions expressed in this article are not necessarily those held by Cross Rhythms. Any expressed views were accurate at the time of publishing but may or may not reflect the views of the individuals concerned at a later date.
About Tony Cummings

Tony Cummings
is the music editor for Cross Rhythms website and attends Grace Church in Stoke-on-Trent.
Reader Comments
We welcome your opinions but libellous and abusive comments are not allowed.