Sam Hailes met up with Chris Llewellyn, lead singer of Irish folksters REND COLLECTIVE
Cross Rhythms has a good track record in supporting British grassroots ministry which rises from local church involvement to international recognition. We were the first radio station and internet magazine to play Cutting Edge/Delirious? and write about them and the first to do the same with The World Wide Message Tribe. Now it's happened again. When we first gave airplay to and wrote about Northern Ireland's Rend Collective Experiment (as they were then called), few outside Bangor had heard of them. Now they are one of the hottest "acts" in Christian music and one with a reasonable chance of making the UK pop charts with their next single. For our second article about the band, we sent freelance journalist Sam Hailes to speak to Chris Llewellyn.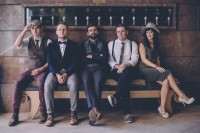 Rend Collective
I'm less than five minutes into my interview with the lead singer of Rend Collective, Chris Llewellyn but already he's quoting Leviticus. "It's the one book of the Bible most people get to every year in their reading plan and it's the one that destroys their reading plan," Chris says, before adding "but actually if you look at it, it's a series of really serious commands to celebrate. God does that for us because he knows that we gravitate toward negativity. We naturally gravitate towards cynicism and we need to be reminded to celebrate. I guess that's a large part of the heart that we have to get people back into that place of receiving joy."
We're speaking about 'The Art Of Celebration', Rend's third studio album. The release marks a new season for the Irish collective. Until now, the band have been preaching about a "rootsy, authentic church", advocating for a way of doing church that emphasizes honest community living. To use Chris's words, worship "doesn't have to be perfection. It can just be this oddity." But now the Collective are transitioning. No longer are they describing what a church community should look like. "We think we've said that," Chris explains. "Now we're saying let's be a family and let's be a celebrating family."
Stomping tunes like "Build Your Kingdom Here" and the band's unique cover of "Be Thou My Vision" (complete with banjo) have screamed "folk revival" and resulted in numerous comparisons with Mumford & Sons. Admits Chris, "For the last couple of years it's looked a lot like the bottom floor of the Titanic. And that's cool. Our live shows have that vibe about it from the whole folk music revival thing. But we want to put it across that there's something deeper going on. It's about pursuing celebration and joy. There's so much that comes across to rob that but the joy of the Lord is our strength and we cling to that. Having played so much live over the years we've been really rethinking who we are and what it is that we do. For us the thing that has come across is that we like folk music but we're not really so much a folk band as we are a celebration band."
So will 'The Art Of Celebration' move away from a folk feel? Responds Chris, "A lot of people know us from 'Campfire', which was a folk album because you can't plug anything in on the beach so it had to be. All of our albums have been a mish-mash of different genres. We haven't tried to change the formula. This is our third studio album in the vein of 'Organic Family Hymnal', 'Homemade Worship' and elements of 'Campfire'. This is the first time where we've taken an album title or concept and tried to let that drive how we approach the album. At this point it would be like trying to abandon a limb if we were trying to abandon folk music. It's who we are as Irish people and it's also who we've become in the worship scene. It would be self-defeating to totally leave that behind but also we want to keep moving forward."
Chris argues folk music is stuck in a "stagnant teenage phase". This has led to the band combining their current style with other genres (including synth pop) in a bid to not only give the record a 2014 sound, but one that will sit well in 2015 too.
Chris didn't know the song "Build Your Kingdom Here" from their 'Homemade Worship By Handmade People' album would become the international worship hit that it has, so he's reluctant to predict the band's next big hit. But he has been encouraged to see the band's latest single "My Lighthouse" (which was a favourite at last summer's Soul Survivor and Momentum) connect with fans. "You always meet people who are in that time in their life where they need to cling to something. It's important in a worship band that you give people something to gravitate toward and hold on to. 'Lighthouse' has been that for us. My favourite song is 'More Than Conquerors'. I feel like that's going to be an important song for the Church it's a real cry of victory. There's a lot of unique content in that song that hasn't been spoken out a lot in worship over the last while."
A few days before speaking with Chris I'd heard a rumour that the band's label had played "My Lighthouse" to the people at Radio One. It had apparently gone down very well. Could Chris confirm this? "I can confirm our record label is very keen to push us down a secular road with that particular track. I think that's a lot of fun." Chris pauses, seemingly unsure on whether to carry on. After a few seconds he begins, slowly but surely, "The thing I find a bit cringy about it. . ."
He pauses again before announcing, "I'm just going to use that adjective, I couldn't think of a better one. I just wouldn't want anyone to think that we're one of those bands in the mid '90s who really wanted to cross over and were in the Christian scene because they couldn't do it in the secular scene and just really wanted to be the Spice Girls. For us, we're a worship band because we like leading worship. Our mission and our vision is about leading worship. It's not about making music or having singles."
While the UK has welcomed the Collective into the Christian music scene with open arms, the US has exploded with near-hyperbolic enthusiasm and adoration toward the Irish singers. Rend may be big in the UK, but in America, they're huge. Is that the Irish factor? Says Chris, "I don't know what it is. Honestly, when I reduce it down the only thing I can see is God's favour and blessing over us. When you go to Nashville you realise 'I'm probably in the bottom 10 per cent of singers and guitarists that are standing in this room' and yet we get to walk away and people really feel like they've engaged in something useful and worthwhile. People gravitate towards a story. We all have enough music. None of us even listen to the best music that's available to us. We'd probably listen to Mozart if that was why we listened to music but it's not. It's for story and connection. We've been blessed with messages that resonate with people."
The band has spent much of the past few years in the US touring. With Chris recently married and now living in an American home, have the band officially moved? "It depends who you talk to!" Chris says. "As far as touring schedule goes if you stay in the UK you've got three months of the year where you can tour. We've had to decide to either find real jobs, and none of us are qualified to do anything else, or to come to the States and tour the other nine months. Patrick doesn't think we've moved. I think we've moved and Gareth and Ali aren't sure. It won't make any difference to our presence in the UK.
Continues Chris, "Our favourite time of the year is always Soul Survivor and Momentum and then going back to Ireland and doing a couple of one off shows. For us M&S sandwiches and M&S by the road. That's what I'm talking about! Motorway service stops with an M&S and a Costa, it's unbeatable! That's what keeps calling us back, if not our families."
But joking aside, the band's time in America hasn't been plain sailing. As I delve deeper into their time Stateside, Chris says quietly, "We've never talked about it before." The story starts at the beginning of 2012. After much thought and prayer, the members of the Collective believed it was right to go to America and tour for a year in a country where they wouldn't be able to afford a home. Comments Chris, "There was a lot of confirmation in each of our individual prayer lives. We couldn't work out how it was going to go. All we had was three months of dates on the Rock And Worship Roadshow and then the promise of maybe some afterwards." That year the band was paid $600 every six weeks. "I'm telling you, that's not enough to go around and play," Chris says. "We couldn't afford hotel rooms. People hosted us all the time. We were searching down the seats in our van trying to find money for McDonalds. . . I think people thought we had left the UK and were living the high life in the States.
"Honestly, living at my parents' house and having a part time job on top of doing Rend was way more financially beneficial than going to the States. By the end of that year we were desperate to continue the ministry and we would have at all costs but we were certainly talking to Adrian [Thompson] who has been the Rend Daddy all the time we've been together and he knew we were struggling and needed a way to make significantly more off our sales."
2013 was the year that would transform everything for the band. Integrity released the band to self-publish their own live record, 'Campfire'. Rend were able to take 100 per cent of the profits, which has allowed them to settle and "live like normal people." Chris hints that Gareth and Ali are particularly happy about this, as Ali recently gave birth to the couple's first child, Arthur.
Meeting and occasionally touring with the American Evangelical Church's giants (Rob Bell, Lecrae, Louis Giglio and others) has meant Rend Collective's perspective and even their prejudices have been altered. "I think we left Ireland to begin touring with one massive set of assumptions of what church ought to be. We were part of the big crusade for something smaller and we haven't changed that but we had a lot of bitterness about mega church and other expressions of church that weren't our idea of five guys hanging out and talking about faith. That was all we knew and we thought we knew better than everybody else. But travelling around gives you this breadth of understanding. The guys who run the mega churches are better people than I am and they love people. They do community together it just doesn't look like the way you do it. The Church is all about unity but it's not about uniformity. It's a beautiful thing when you have people who really don't think the same things about God coming together and trying to work out the real truth. All of those people we've had an amazing time with and we've [realised] how little we know."
Having constantly toured for many months, the band is currently enjoying a well-deserved break. The madness is sure to kick-in come March when 'The Art Of Celebration' is finally released. But in the meantime Chris has been "learning how to be married" and catching up on music he's missed over the past 12 months. "I've been doing one of those things I do every year which is listen to all the stuff that was cool in 2013 now that it's all been curated for me! I've been really loving Vampire Weekend. I really like pop music. Miley Cyrus' 'Wrecking Ball' is sometimes heard in our house. Maybe it's my wife who puts it on and maybe it's me, I don't know," he grins before cheekily adding, "The only thing we never do is put the video on!"
We laugh before I ask if the Collective still have anyone they want to tour with. Chris mentions his musical hero David Crowder, "one of his favourite artists" John Mark McMillan and Ryan O'Neal from Sleeping At Last before revealing some fun facts about MercyMe. "The MercyMe guys have more fun on the road than anyone else I've ever encountered. They're rigorous about this Art of Celebration thing! They're having celebrations every day. They travel with scooters in the back of their vans and go places all day. They know what they're doing. Our problem is as Irish people we tend to create these little insular communities. So as soon as we get to know somebody we want to be best friends with them and never want to leave them. We've toured with Tenth Avenue North on and off for the past two years. It's getting to the stage where it's not helping either of our careers in any way! It's probably slightly destructive but it's making us so happy on the road that it's worth it! They're coming with us on the road to the UK now."

The opinions expressed in this article are not necessarily those held by Cross Rhythms. Any expressed views were accurate at the time of publishing but may or may not reflect the views of the individuals concerned at a later date.
About Sam Hailes
Sam Hailes
is a Freelance Journalist and Social Media Manager based in London. He loves to write about everything from popular music to Middle Eastern politics. You can follow him on Twitter @samhailes.
Reader Comments
We welcome your opinions but libellous and abusive comments are not allowed.