Tony Cummings gets the lowdown on Hastings rock rappers SAVING STRIKE
Saving Strike
The South East coastal town of Hastings is the homebase of Saving Strike whose bombastic rock rap fusion caught the ear of Cross Rhythms Radio last year when their track "Get Up" got mucho airplay. Clearly getting the lowdown on the band is overdue so we tracked down singer and guitarist Matt Barnes to deliver the Saving Strike story. Matt began by filling in some early history. "Eddie Rose was the bassist and I was the singer and guitarist in a band which disbanded in 2009. We felt God was calling for us to carry on taking the message into our town through music, but we wanted to try something that was a bit different, a bigger sound, something that maybe involved rapping. We called on our friend Chris Gowing who wanted to play bass and then all we needed was a drummer. Eddie and Chris went on a search for a drummer and found Grant Peters at a local church on a Sunday morning and they asked him if he wanted to come to a practise and everything came together. We practised at Grant's church and got three songs down in our first two practises which we still play now. So the line up was Eddie rapping, me singing and playing guitar, Chris on bass and Grant on drums."
From the start fans have been tying themselves in knots trying to describe Saving Strike's sound, as Matt admitted. "People have attempted to compare us to all sorts of different artists, some of which are bit weird; someone called us the new Delirious? once. . . that was funny. But if we were to try to put our finger on it, we'd say it was rap/rock. Perhaps that's a bit of a strange answer, as a lot of people say that music like that is dead, but we'd say that it's just evolved. We bring an element of punk rhythms and heavy beatdowns to it, so it's a bit of a different sound from your normal 'rap/rock' band like Linkin Park, Limp Bizkit, etc, but all the characteristics still remain."
After gigging around and making it to the national finals of 2010's Gospel Rock talent search, the band decided to record a single, "Get Up". It wasn't an easy experience, as Matt recounted. "I had my first car crash on the way to the studio and loads of circumstances came up which meant we nearly didn't record the track. I think the song really reflects our attitudes leading up to the recording when it talks about obstacles in our way and pushing through, and in that respect, the song holds a lot of personal meaning to us. The song was a real defining point for us as far as our sound and writing maturity is concerned. Eddie based the song on Romans 3:23-24, how we will always fall short and can be so easily discouraged; the bridge is us saying to God 'nothing I do will ever be enough' and God's direct reply is 'Get up, get up and keep trying', which for us is a really powerful message to be bringing to both the Church and the mainstream community."
After playing Greenbelt 2011 the band decided to record a four song EP, the wonderfully titled 'Saving Strike And The Pogo Of Doom'. Explained Matt, "The title came from an interview we had with Detonation Magazine's Ben Cook at Greenbelt. We were just off stage and in our last track, 'Munch Bunch', we got everyone to get down and jump up. He said, 'Oh yeah, you got them doing the pogo of doom there.' We all knew what each other was thinking, and it only seemed right to call it that, and it has now become a feature in all of our shows."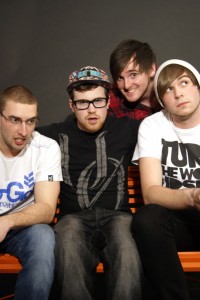 The EP was engineered and produced by Alex Greig, the renowned frontman of Malokai. Matt enthused, "Alex's contribution was amazing! He's an awesome guy and completely understood what we were trying to do with our music. After recording with him for the 'Get Up' single we knew he was the guy to record with. He helped to push us in the right direction, refining our sound and making us better musicians and songwriters in the process."
One of the tracks on 'Saving Strike And The Pogo Of Doom' is a song the band have been performing live for a couple of years. Matt explained the origins of "Munch Bunch". "We wrote it in a time where we were writing more aggressive music, so we needed a breath of fresh air to our sound, and that's exactly what 'Munch Bunch' gave us. I asked Eddie to write a happy song; he said, 'Well, how?' and so I told him to just think of flowers and bunny rabbits, later to find out that he had actually put it in the song! But the song itself is all about spreading some love, just like Jesus did. He knew how to have some fun and enjoy life. It says in John 10:10 that Jesus came to give life, so we can live at its fullest. The song's full of cheeky hooks and loads of bounce which just describes what we're like as individuals perfectly."
Another standout is the song "One13". Said Matt, "'One13' was written in reflection of this modern culture of relationships which are there for a quick thrill. We wanted to challenge that. The song was written to give God's view on relationships and how love is something special. The song takes reference from 1 Corinthians 13 (hence 'One13') and just expresses how love is so amazing. We loved how it sounded after it was recorded. It's definitely one of our favourites from the EP. The solo was a great touch too, really took us back to our roots."
So what does Matt think the future holds for these enthusiastic purveyors of rock rap? "I am getting married and moving soon so things will be changing, and at the moment we have another member lined up, so watch out for a new, fresh sound from Saving Strike coming out in 2012! As a band, God has been teaching us about working with each other and being patient as we develop at different paces. He's also teaching us how to be sensitive to him moving when we're playing our set, like when it's appropriate to bring in the Gospel and just be open to what he's got to say."

The opinions expressed in this article are not necessarily those held by Cross Rhythms. Any expressed views were accurate at the time of publishing but may or may not reflect the views of the individuals concerned at a later date.
About Tony Cummings

Tony Cummings
is the music editor for Cross Rhythms website and attends Grace Church in Stoke-on-Trent.
We welcome your opinions but libellous and abusive comments are not allowed.