Wednesday 1st January 2014
Tony Cummings reports on drummer extraordinaire Sheila Escovedo, aka SHEILA E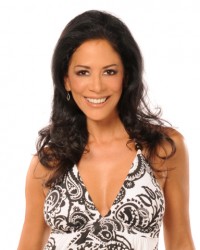 Sheila E
Sheila Escovedo is known to her legion of fans as Sheila E and is a Grammy nominated singer, drummer and percussionist who has worked alongside such luminaries as Billy Cobham, Lionel Richie, George Duke, Ringo Starr, Beyonce and Jennifer Lopez though of course it's been her work with Prince which has brought her fame and acclaim. With her 'Icon' album Sheila has released her first solo project in 12 years and with its dazzling mix of Latin, pop, R&B and funk it shows that Sheila has lost none of her creative edge.
Sheila was born on 12th December 1957 in Oakland, California. She was hugely influenced by her father, Pete Escovedo, then band leader of the group Azteca. While watching him rehearse, she started banging on conga drums at the age of three. At the tender age of five, with 3000 audience members watching, the little girl was invited on stage by her father to play a solo. After an overwhelming response and feeling of heaven on earth, Sheila told her dad that she knew exactly what she wanted to do. She was going to be a percussionist. While in high school, Sheila played with her father's band, appearing on two of his albums. Soon after, she met Prince and was quickly thrust into the spotlight.
On the Religion Today website Sheila spoke about her early spiritual journey. "I was raised Catholic and only went to church because we had to. I actually gave my heart to the Lord the first time when I was 18. I was playing in George Duke's band and one of the singers was driving me to a meeting and I was crying, just stressed out. There was a bunch of stuff going on and I said, 'You know what? This is crazy.' She said, 'Look, if you just give your heart to the Lord, everything will be fine.' And I thought, 'You know, it's not that easy.' She said, 'No, really, really.'
So we prayed in the car. I went into the meeting and she came back and picked me up. I actually felt better, relieved, and we just talked. We were out on tour at the time. When we came back, I was doing session work in Los Angeles, and there were a lot of Christians, very famous people in the secular mind. And I saw how they acted and I said, 'I don't want to be a Christian because the things that they are doing are so wrong.' I felt I was better off not being a Christian. I was very discouraged because of how Christians were acting and because, back then, 'the thing' to be or become was born again. It was like a fad, you know? So, I just got turned off."
Prince met Sheila E at a concert in 1978, when she was performing with her father. After the show, he met her and told her that he and his bassist "were just fighting about which one of us would be the first to be your husband". The two eventually joined forces during Prince's 'Purple Rain' recording sessions. She provided vocals on the B-side to "Let's Go Crazy", "Erotic City" in 1984. Though taken under Prince's wing, she proved to be a successful artist in her own right. In 1984 she scored hits with "The Glamorous Life" (number seven on the Hot 100), and "The Belle Of St Mark" (number 34), the latter an NME Single Of The Week.
Sheila and Prince
In 1985, Sheila released 'Romance 1600' and scored another hit with the track "A Love Bizarre" (number 11). She was also nominated for an American Music Award and a Grammy for "The Glamorous Life". Sheila E recorded two further albums during the '80s, 'The Glamorous Life' and 'Sheila E' and appeared in four films, Krush Groove with Run-D.M.C., LL Cool J and Blair Underwood in 1985, Prince's concert film, Sign "O" The Times in 1987, The Adventures Of Ford Fairlane and Chasing Papi in 2003.
During the Sign "O" the Times, 'Black Album' and 'Lovesexy' periods of Prince's career (including the Lovesexy World Tour), Sheila E served as his drummer and musical director in his backup band, dubbed The New Power Generation not long after her departure in 1991.
Her years with the eccentric superstar had left her totally exhausted. Sheila explained, "I went to Japan with my band to do a tour and when I came back, my neck was really bothering me. I was stressed out and totally exhausted, mentally and physically. I went to get acupuncture and they punctured my lung accidentally.
That really turned me upside down, because I was so used to being able to do whatever I wanted to do. It just knocked me down. At first, I didn't even know. I was walking around for three days mixing my record and I kept saying, 'Something is wrong, I just can't breathe,' and I almost passed out. One of my managers back then, whose sister worked in a hospital, said, 'You better go get some X-rays.' I went and they determined my left lung was 80 per cent collapsed. They told me, 'You're lucky to be alive - you could have died.' I was so scared. I stayed in the hospital about a week, and mentally, that shut me down. I've been through a lot in my entire life, my life has been up and down, but that just really messed me up. I thought, 'Man, I'm not invincible,' you know? 'I'm not in control. Lord, please help me, what am I going to do?' When I got out of the hospital, about a week later, I flew back to Minneapolis. While I was there, I was taking medication and it made me really sick. It was making me lose weight. And I had happened to turn around to sneeze, and my back went out. I fell to the ground and my legs gave out. I couldn't walk, so they had to carry me around, and I was temporarily paralyzed for two weeks."
The excess of Prince's lifestyle has been well documented. Sheila commented, "I had left Prince's band anyway because I really felt his direction was wrong, I was uncomfortable. I was changing and I knew something was missing, but I didn't know what. I knew that my life had to change and I didn't want to live that way anymore or be in that environment, where it was always so negative. It was just wrong. So anyway, when my body shut down, I couldn't walk. I had to fly my doctor in from Los Angeles into Minneapolis. He stayed there to work with me, but it took a long time, and plus the medicine was making me sick. I got to the point where I was 85 pounds. I was thin; I couldn't eat. My cousin was spoon-feeding me. It would take me 20 minutes to eat a spoon of mashed potatoes because my body had no energy. I actually thought I was going to die. My body shut down, I shut down, I was really scared. It was then that I decided, 'You know what, Lord? If you just give me another chance, I'll do whatever you want me to do.' I got the Bible and I started reading and I kept it on my chest. I slept with it and never took it out of my hand for weeks. I had been stuck in the house because I couldn't get up. And I was afraid. Fear had overtaken my body. I was afraid to get in the elevator to go downstairs because I thought that I was going to die, that something would happen if I left my comfort zone.
"Finally, I got in the elevator and got downstairs and I walked outside. I hadn't been outside in a month. As soon as I walked outside, I saw this crack on the ground and I bent over and touched it. I just cried. Then I went over and I touched the grass and I just couldn't believe the feel - to touch and feel grass. Then, I walked over to a tree and I just hugged the tree. I looked up at the sky and it was so blue. I laid on the grass on my back and said, 'Lord, look at all these wonderful things you've given us that we just take for granted. I thought that I needed this and I needed that, but I only need you.' That was the turning point."
Sheila continued, "After that day, God started revealing so many things to me. He showed me why I was the way I was. Our pastor told us that we had to do some studying and everyone had to take a turn teaching Bible study, which forced us to really dig deep. It was at that particular time that God showed me so many things. It was overwhelming. I had put so many things in the back of my head and didn't realise why I was doing certain things. I finally figured out that I was raped at five by a babysitter and molested by cousins and neighbours next door. I remember one time, being at the neighbours' house, and the little boy put glue in a bag and had me sniff glue. Then they'd just, you know, mess with me. I had thrown all that away; I just hid everything in the back of my mind. Another thing, I never wanted a telephone in my bedroom - and any kind of alarm clock had to be really silent - low volume and barely enough to wake me up. The Lord showed me that I didn't want anything to wake me up because that was always the time, when my parents left and I was sleeping, that the guys would come and wake me up and do whatever they needed to do. And I just laid there. Remembering all that blew me away, because I didn't even know why, when something woke me up like a phone, it would really startle me.
"Also, after I accepted Christ, I started calling people and I said, 'You know what? I'm sorry that I did this or that. I'm really sorry.' And he had me continue to call and I'm still apologizing, 10 years later. I wanted to be a good person. It's not that I did anything bad because I wanted to - it was like I was forced to in a way, just to fight back."
Underpinned by her new-found faith, Sheila continued to work hard. She performed three stints, 2001, 2003 and 2006, working with Ringo Starr and his All-Starr Band while in 2000 and 2001 she recorded two jazz orientated solo albums, 'Rights Of Passage' and 'Heaven'. A natural musical eclectic, in 2009 Sheila took an unlikely step into country music with "The Glorious Train" single, working with producer, singer and songwriter John Rich. Three years later she was headlining at the Playboy Jazz Festival at LA's Hollywood Bowl. However, finally Sheila has returned with a new solo album. The Quietus website asked Sheila why there was such a huge gap between 2001's 'Heaven' and 2013's 'Icon'. She responded, "I didn't realise it had been that long. I'm so busy all the time, I didn't even notice. I'm always performing, playing, producing, writing, directing. My life still goes on, whether I do a record or not. Which is a great blessing. But in the midst of writing my autobiography, which is due out next year, I started noticing that some of the stories could also be songs. So I did the record towards the end of writing my book, which is how it ended up becoming what it is. I thought, 'You know what, this is a great time to put a record out. And let's see, when's the last time I had a record? Wow, 12 years ago! That's a very long time. . .'"
One of the guests on 'Icon' is Prince. Sheila spoke about Prince's contribution on piano and vocals on "Leader Of The Band". "We re-recorded it with my family in Los Angeles, and it was initially going to be on the family record [The E Family's Now & Forever], then we decided not to, and I saved it for this one. Which was perfect, because being leader of the band is something I learned from my dad. I've been watching him my entire life, and he's a fantastic, amazing leader."
Sheila spoke about her forthcoming autobiography. "Initially it was going to be called From Pain To Purpose, but we changed it. It's part of my testimony. We have a team of 30 or 40 or 50 people, and we travel around the world as Christians and artists and musicians. And part of my testimony is that I share. Not just at regular concerts, but in churches or communities. And part of my testimony is that I was raped when I was five years old, by a babysitter who lived upstairs. So, through that pain, music helped me to heal. I needed to share that story with anyone else who'd been through that in their lives. I started to realise, when I'm sharing, that in a room of 20 people, there's probably 15 or 17 people who have been abused or molested or raped, in some kind of form, mentally, spiritually or physically. When Lynn Mabry and I started Elevate Hope, and we started looking at the numbers of kids who had been abused or killed by someone close to them or related to them, and it's staggering."
Perhaps the most striking credit on 'Icon' is for the "executive producer" - God. Sheila commented, "Why I say 'God' is because without him I am nothing. All things are possible through Christ. And for me, the change happened early on in my life, but I wasn't really realising how God is so amazing. I thought I was in control, but once I got sick, my lungs collapsed, my legs gave out on me, I messed up my back. . . You think you're invincible but you get to a place where, I thought I could jump off a building or jump out of a plane without a parachute and land on my two feet, and I found out that wasn't the case. And you realise you're not in control, and realise who has created you to be who you are. The gift that he had given me, which was music and art, and the ability to go around and share that, I don't take that for granted. And because of that, I give him all the glory and the praise. I can't take credit for what he has given me. This is how he has created me."

The opinions expressed in this article are not necessarily those held by Cross Rhythms. Any expressed views were accurate at the time of publishing but may or may not reflect the views of the individuals concerned at a later date.
About Tony Cummings

Tony Cummings
is the music editor for Cross Rhythms website and attends Grace Church in Stoke-on-Trent.
Reader Comments
We welcome your opinions but libellous and abusive comments are not allowed.