THE KATINAS, from American Samoa, were in London recently. Mike Rimmer took the chance to chat with James Katina.
My first experience of Sam, Joe, James, John and Jesse Katina was in the early '90s when they recorded as The Katina Boyz for Maranatha! Music's youth label Arcade. The Katinas are now men and, signed to Gotee Records, have released five albums and found a niche with their commercial R&B gospel sound. The Katinas' latest album, 'Roots', is out now. The title would suggest that the band have gone back to their musical roots. But have they? "I would say what you hear on the record is very much a broad spectrum of our influences growing up," James explains. "When I say 'broad' I mean exactly that. Even on the islands, we grew up listening to a lot of black gospel, R&B, pop music...and I think our sound over the years has kind of fused a lot of those genres to become what it is today. I think the 'Roots' record really best represents who we are as a band."
Their previous album, 'Lifestyle', was a live worship recording at their church in Nashville. At a time when loads of artists were recording worship albums, wasn't there a bit of bandwagon jumping taking place? James has heard that question a lot and he shares, "The truth of the matter is that the way we started was singing in dad's church. Our dad was very musical and he taught us how to play music and how to sing. But the church is where we got our start. We were basically the worship band. So that's always been a part of who we are. Even in our shows today, you won't get a complete Katina concert without the worship aspect of it. We thought it was just the right time for us to do it, we just wanted to."
 
While we're talking about 'Roots' I mention their time as The Katina Boyz. James laughs and responds, "You DO have a long memory!" After the album on Arcade, the brothers had their eye on a mainstream deal and hunted for the opportunity. The real story has never been told in the UK before. Between 1991 and '93, they made friends with gospel duo BeBe and CeCe Winans. BeBe helped them to pitch at labels and although the band was based in Seattle, they flew to New York to shop a deal. James explains, "Our intent was to do our gospel music but get it onto mainstream. So we met with every major mainstream label you can hear about, everyone from Motown, to Virgin, to Columbia. The last label we met with was Arista. At the time, Clive Davis was running it. We sang 15-20 minutes of our Christian gospel songs and right after I remember, Clive Davis comes up to us and said 'Congratulations! I loved what I heard and I want to work with you. I want to sign you.' This was a multi-million dollar deal that we had signed! So over that course, from 1992 to '93, we just prayed about moving to Nashville and of course we did that in May of '93.
Arista Records asked the group to lay low. They got nine-to-five jobs and wrote songs. James remembers, "They wanted to bring us out to compete with Boyz II Men and Jodeci. Their intent was for us to be that kind of band for them, for their label. Slowly but surely what we saw happening was that they were wanting to change our direction. That was the one fear that we had! So we would send them songs and they would send it back saying 'You know, those are good but we need hit records. If we're going to recoup the millions that we're investing in you, we need hit records.' So they started sending us songs. One of the songs that they sent to us was a song titled "Sleeping With The Angel". I won't go into the lyrics of it but basically I'll just say that, if we had sung that material, our dad would have flown from Samoa and beat all of us!! It was totally against our standards."
He continues, "We were in a real battle because as young guys, we were faced with millions of dollars right in front of us! It came down to a decision and the bottom line was we had to say like Joshua said, 'You know what? As for me and my house, we're going to serve the Lord.' We called Clive Davis back and said, 'Clive, thank you for your million dollar contract but we just can't do this. We're not going to compromise.' It was the hardest decision we ever made but it was really the best decision that we made."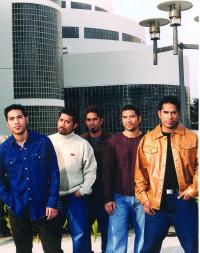 Very soon afterwards, Gotee Records signed the group and four albums later, they are even more focussed on their roots both musically and spiritually.  "We had really sought God and asked for direction. We signed with Gotee because we felt like it was the right fit."
The group's choices to turn their back on millions of dollars have had implications for the direction of their ministry and their lives. In these days when many bands are chasing the mainstream contract and we sometimes see gospel singers compromise when they turn to R&B, James Katina is clear that God led them in the best way. He reflects, "It really makes me thankful for the grace of God, because if it wasn't for the grace of God, we probably would have just allowed our flesh to take over and who knows where we would have been today?"

The opinions expressed in this article are not necessarily those held by Cross Rhythms. Any expressed views were accurate at the time of publishing but may or may not reflect the views of the individuals concerned at a later date.
About Mike Rimmer

Mike Rimmer
is a broadcaster and journalist based in Birmingham.
Reader Comments
We welcome your opinions but libellous and abusive comments are not allowed.