Friday 31st December 2010
Tony Cummings reports on up and coming rock trio from West Sussex, WE ARE JONAH
We Are Jonah
We Are Jonah are a West Sussex-based three piece whose attention grabbing debut album 'I Saw A Stranger Take A Dead Man's Place' produced the Cross Rhythms turntable hit "Treason". The band consists of Dan Lank (singer/guitarist), Tom Robson (bass) and Mike Hussain (drums). Mike Rimmer interviewed the band recently for his Rimmerama programme and began by asking them about their name. Said Dan, "We are not a Jonas Brothers tribute band! I've read somewhere that on the Day of Atonement in Jewish tradition everybody gets together in the synagogue or in the temple and they read the book of Jonah all together. Then they all basically affirm themselves with that and say 'We are Jonah' - all yell out together 'We are Jonah'. And I thought that's an interesting concept, it's quirky and it's something we agree with as well."
The origins of We Are Jonah go back to Dan and Tom's previous band Shortfall (whose 'Limited Edition Demo' was described by Cross Rhythms as "a four song EP bristling with gutsy energy"). We Are Jonah were formed in the summer of 2009 and after gigs around Sussex and Hampshire the band had a chance to go into a recording studio "to see where some recording time would take them."
Dan spoke about the group's approach to lyric writing. "We're not the sort of band that mentions Jesus by name loads, we're not too obvious, we just want to write songs that are challenging to people. Some of that will hopefully be in the Christian world, people who are already Christians, and hopefully some of that will be in the mainstream, playing pubs and clubs, mainstream radio stations and see what God does with it really."
Tom added his thoughts, "We're not trying to hide what we believe or in any way cover it up, or not make it clear. What we're trying to do is get people to ask questions about the lyrics, to ask questions about the songs rather than impose exactly what we believe onto people through our songs. I'd much rather people were challenged. They may not agree with the take we have on things but if we're getting them to ask questions about what we're writing then they are thinking about it for themselves, they are connecting not just with us but with what's going on in their hearts. The tracks on the album are not church worship songs but 'Something Beautiful' for example comes clearly from Romans 8:28. It's all about how even in our darkest time and the hardest places God can turn it to something beautiful. So it's not a church worship song in a conventional sense."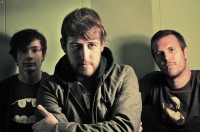 There is a song on 'I Saw A Stranger Take A Dead Man's Place' which is all about asking questions. Dan spoke about "Do You Feel Free". "It's talking about where do we find our freedom. I kind of visualized in my head a couple of people that I was singing it to and asking that question. Where are the places you're looking for freedom at the moment? Are they places where you're really going to find it? Or are you finding freedom in things that are just going to lock you up? So that's what the heart of that song is. To be honest I think there's a real power in songs and what I hope with that song is that maybe someone's going to listen to it and just get that "Do you feel" free stuck in their head and think am I free? Where am I? Switchfoot are great at things like that - songs like 'This Is Your Life' - 'Are you who you want to be?' Asking a question like that can be incredibly powerful. You never know who's going to end up hearing that and what's going to end up changing for them."
Added Tom, "It's in a very deliberate place on the album; it comes right in the middle - track six. So the final lyric is 'Do you feel free?' The whole album hinges on that question. All the way through it asks questions but the very last verse turns it round and says 'when he gives himself away he makes you free; do you feel free?' And it fades to that. I think that was what we had in mind at the very centre of the album. That's not very obvious but that's what's in our hearts."
When 'I Saw A Stranger. . .' was released Dan wrote a press release where he took the unusual step of explaining the motives behind We Are Jonah. "Oddly enough, I need to explain why we're not in a band. We're not in a band to try and change the world. We're not in a band for girls, gold and glory. We're not in a band to be 'the next anyone', or to 'push musical boundaries', or even to be on the radio. It's not that those things are bad. It's just not the centre of what we do. We're in a band because every now and again a song connects with someone. A song makes sense in a way it never has before, maybe even takes on a meaning far from that for which it was written. But for that person, the song is theirs. That moment, that's why we do what we do."

The opinions expressed in this article are not necessarily those held by Cross Rhythms. Any expressed views were accurate at the time of publishing but may or may not reflect the views of the individuals concerned at a later date.
About Tony Cummings

Tony Cummings
is the music editor for Cross Rhythms website and attends Grace Church in Stoke-on-Trent.
We welcome your opinions but libellous and abusive comments are not allowed.