Wednesday 28th November 2012
Tony Cummings caught up with the rock team from Maryland, WILLET
Willet
One of the surprise visitors to the UK this summer were a rock band from Westminster, Maryland, Willet. The four-piece made their lightning visit to Blighty to minister at various evangelistic events organised to connect with the international crowds who'd come to Britain to watch the Olympics. Willet were a major success and reports came through that dozens of commitments to Christ were made. As it turns out, the band, consisting of brothers Jeremy (vocals), Justin (guitar) and Jordan (bass) Willet together with drummer Matt von Herbulis, aren't fresh faced newcomers to music ministry but have spent seven years touring the world as rock music evangelists, releasing six albums and performing close to two thousand concerts.
After being raised in a Christian home with years of music lessons from their father, the three brothers started Willet in 2006. Their first recording was a cheap and cheerful release called 'Sometimes A City Needs A Bomb EP'. Said Jeremy Willet, "We made some copies and went on the road. Then we came out with a full length album. That one's called 'Virus', a concept project about HIV-AIDS in Africa. That was because in 2007 we had travelled to Ethiopia as a band and adopted a community of children - about 1,000 kids that lived in extreme poverty. We came back and wrote a whole album about what we saw and what the Christian Church's response should be. 'Virus' was not what people expected to hear for a band's first full-length record. It was a concept project. But it really let people know where we stood with our ministry: this is who we are, this is what we're about, and this is who we stand for. We're kind of thankful that we started that way, because it set the foundation for where we are now."
With the release of 'Virus' Willet went full time. Explained Jeremy, "We were able to raise a lot of support by selling records on the road and online - digital was just coming out pretty heavily. We make our living being on the road all the time, about 200 concerts every year; a majority are in the United States, but some now internationally."
Right from the off Willet have had a passion to take the Gospel to places such as Ethiopia, Mozambique, Uganda and Haiti. American evangelicalism has been criticised for being too much about personal regeneration and not having built a social dimension. Jeremy thinks that's a fair criticism. He commented, "One thing that we're specifically called to is that we see these needs around the world and then we come back to the United States, where we have multi-million dollar church buildings, lots of programmes within the church to help Christians that live in the United States. All of those things are okay in some sense, but we were having this tension of seeing kids starving to death in east Africa and coming back to these palaces. We just felt like maybe we can encourage the Church - not try to call them out but just encourage the Church to say, 'We can be a part of this solution'. We've seen the Church respond in a really healthy way that says, 'Maybe we can sacrifice some of our things that we've been blessed with here in America to help those less fortunate around the world'. That's been our voice the past few years. We go one child at a time. We do child sponsorship through some great friends at Food For The Hungry; we started our own non-profit organisation called The Hunger Strike that started by responding to the east Africa famine that broke out last August. We're coming up on 100 thousand meals being funded and packed and shipped over, which is pretty exciting, especially for an independent band: we're going to our fanbase around the United States and we're saying, 'This is the need that we see and we're asking you to help'. They've responded in a great way. We need to see more and more Christians that are willing to live out their faith in a tangible way. I believe Jesus gives us specific instructions when he says, 'Whatever you do unto the least of these you're doing unto me'. That to us is great encouragement, because we believe in worshipping God not only through song, but with our hands, feet, our finances, and our time."
In 2009 Willet released a Christmas project, 'Willet Snow On Christmas? Vol 1', and 'Somewhere In Between'. Jeremy explained the latter as being "one disc rock songs and the other acoustic worship songs. This was a transition piece for our band. We started out as a pretty heavy rock band, then we were transitioning into writing songs for the Church, congregational songs, because we love to see the Church involved in worshipping God through song."
Jeremy described Willet as being worshippers "on and off stage." He continued, "When we have the opportunity to lead others in worship, we take it very seriously. We grew up in the church, and we grew up worship leaders. When our albums were coming out and we went heavy rock, people were stunned by that, because we used to be the praise team leading worship Sunday morning. So this two-disc collection came out in the middle of our career and it highlighted both. It showed that we can still write heavy rock songs, and here's acoustic worship songs. They were recorded very quickly, on our own - not a lot of production. When we put them out we began to see more opportunities within church to lead worship. This allowed us to reach more people within the congregations - not only to worship God, but also to share our message about what we were doing around the world."
In 2010 another full-length, 'Teeth Of A Lion, Fangs Of A Lioness', was released. Said Jeremy, "The track 'Repent' was based on Joel Chapter One, where he's talking about generational poverty [and how it] keeps getting passed down. This is something we see all the time in international communities. You can really see in this record where we start to come out of this heavy rock into more of an adult contemporary sound - but we're still on the balance beam a little bit. We decided, 'If we're going to come out with another album it's got to be different, and it's got to go up a level'. We were on tour, we met a guy named Aaron Gillespie; he was the drummer of Underoath and the lead singer of The Almost. We got to talking backstage - not even about the music - we were talking about missions. He learned that we needed a producer for our new CD. We were talking to every single producer in the United States - the keyboardist for Third Day, all the guys down in Nashville that cost way more money that we'll ever have."
Jeremy continued, "With us being independent, we were self-funding. We did a Kickstarter and allowed our fans to be a part of making the CD, which was pretty cool. We talked to Aaron Gillespie and we said, 'Here's the situation: we need a producer we can trust on a spiritual level and a musical level'. He came back and he said, 'I don't produce albums for others, but there's something different about your band, something that I feel a connection to - so let's do it'. The next few months were spent sending demos back and forth; the first 25 he rejected and said, 'They're not good enough. I don't believe you in these songs.' Aaron was really influential in helping us discover what our sound is today. He combined some elements of rock with this congregational worship sound that we were dabbling in: he found a way to mesh that together, and what has come out of it is a very passionate rock sound where you still have the anthemic choruses, but a worshipful spirit to it. 'Love On The Outside' has been received very, very well.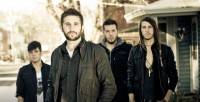 "We decided that we wanted to give the EP away on a pay-what-you-can basis for the entire year 2012. We did not want to charge people to hear the Gospel of Jesus. All the songs are about Jesus and what he's done in our lives; we were really excited for people to hear about him. We put it online through a page called NoiseTrade.com. It allows people to type in their email and zipcode and download the album for pay-what-you-can. The majority of people did it for free, but some people donated, and we used that money to get here to the Olympics to perform and share the Gospel here. In addition, 'Love On The Outside' was made available pay-what-you-can at all of our concerts, so people would show up, hear the music - if they liked it, they could grab a CD for free, or they could donate to help us get to the Olympics. We watched as God allowed us to move over 7,000 records in the past six months, which is fascinating at a time in music industry when no-one is selling records."
Even after years of touring, Willet have retained their passion for ministry. Said Jeremy, "We're in a different situation every night - we go from festivals to clubs to youth groups. I will say this: we always clearly present the Gospel. We explain why we're on the stage: it's not to elevate us above the crowd, it's because God has given us this opportunity to use our voice for him, because he saved our lives, he radically changed us, and he can do the same to those that are there to listen. We believe that there's nothing we can say on stage or pray on stage that will make someone raise their hand or come forward and receive Jesus in their heart: we believe that's the work of the Holy Spirit. Our part in that is just planting that seed and hoping people within their communities - pastors, youth pastors - can really connect with that person who's ready to make that decision, and make disciples."

The opinions expressed in this article are not necessarily those held by Cross Rhythms. Any expressed views were accurate at the time of publishing but may or may not reflect the views of the individuals concerned at a later date.
About Tony Cummings

Tony Cummings
is the music editor for Cross Rhythms website and attends Grace Church in Stoke-on-Trent.
We welcome your opinions but libellous and abusive comments are not allowed.