Please note: this artist is either disbanded or deceased.
1977 Jesus Music Album:
Salt - Beyond A Song
More info
Kanye West: The superstar rapper announces that 'Jesus Is King'
Tony Cummings reports on the extraordinary developments in the career of KANYE WEST

[11.11.19]
Dusty Marshall: The Arizona-based rapper denouncing the American Holocaust
Tony Cummings spoke to emcee DUSTY MARSHALL about his hard-hitting 'American Holocaust' album

[02.08.19]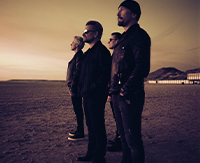 U2 Live At The O2 Arena
The O2 Arena, Thursday 29th October 2015 concert review by John Cheek

[04.12.15]
Sleeping Giant: Releasing 'Finished People' while screaming to the heavens
John Derry spoke to Thom Green of radical hardcore ministry team SLEEPING GIANT

[02.07.14]
Salt Of The Sound: Evocative, ambient music for the soul
Tony Cummings quizzed London-based Ben and Anita Tatlow, otherwise known as SALT OF THE SOUND

[11.11.13]
Artists database
Artist ID: 22655

Style: Jesus Music
Approach: Ministry
Country: United Kingdom




At Cross Rhythms
we are constantly working on our artist and music database to make it as complete and comprehensive as possible. However sometimes we do not have full information for an artist and on occasion there may be omissions or mistakes. If you think that there is a problem with this entry, please help us by emailing
admin@crossrhythms.co.uk
.