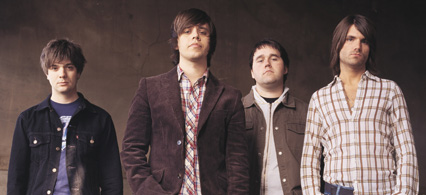 Please note: this artist is either disbanded or deceased.
The Elms: Rock 'N' Roll Truth
With some of the loudest, brashest rock music heard for years, America's THE ELMS are in the ascendant. Tony Cummings spoke to the band's Owen Thomas.

[29.04.03]
2002 Rock Music video:
The Elms - Truth, Soul, Rock & Roll
Read review
The Spirit Of Rock And Soul: Numbers 981 to 990
The latest part of the ongoing series chronicling, in no particular order, the greatest 1001 recordings made by Christian artists

[24.08.17]
David Crowder Band: The full history from 'Can You Hear Us' to 'Remedy'
Tony Cummings chronicles the fascinating musical and spiritual journey of Texas radicals the DAVID CROWDER BAND.

[21.06.07]
Sanctus Real: 10 Questions answered by the Ohio-based rockers
New rock band from Toledo, Ohio, SANCTUS REAL give their responses to the famed quizmaster.

[29.04.03]
Artists database
Artist ID: 8416

Style: Rock
Approach: Ministry
Country: United States




At Cross Rhythms
we are constantly working on our artist and music database to make it as complete and comprehensive as possible. However sometimes we do not have full information for an artist and on occasion there may be omissions or mistakes. If you think that there is a problem with this entry, please help us by emailing
admin@crossrhythms.co.uk
.