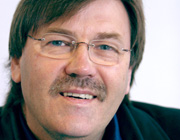 Chris Cole FRSA
I have been thinking lately about the need we often have to put our personal feelings and opinions aside, for the sake of others. Whether this is for our families, our communities or society as a whole, it is a choice that we all have to make, and our political leaders are no exceptions.
The political landscape in the UK has recently seen a huge shift, with the formation of the first coalition government for 70 years. This coalition will require some genuine laying down of agendas in order for it to work, as did similar governments during the Great Depression and World War 2, when all parties agreed that party politics should take second place to more serious issues.
Whilst the circumstances surrounding the present coalition are different to those 70 years ago, they are not all that different. We are facing global economic difficulties which are affecting many countries adversely, and look as though they may affect us here in the UK even more in the coming months. We're all going to need to submit our preferences for the sake of the 'bigger picture'. The old-fashioned term for this was 'pulling together'.
It will take courage and character on the part of politicians to face up to unpleasant realities with a resolve to put the wellbeing of our communities and society above party politics.
On an individual level, this kind of character is evident in the lives of many people today who give of themselves for the benefit of others. The laying down of personal ambition for the sake of others is the very nature of real love, and is summed up in the Bible in the letter Paul wrote to the early Christian church in Rome nearly 2,000 years ago: "Be devoted to one another in brotherly love. Honour one another above yourselves" (Romans 12v10).
As a Christian, I believe that the strongest motivation in the world is God's love, demonstrated in the life, death and resurrection of his Son Jesus Christ. This love, which Paul wrote about, will override selfishness and personal ambition in any of us.
Love, not just romantic love but the compassionate, determined love of a Mother losing nights of sleep nursing her sick child; and the courageous love of a soldier risking his life for his friends; or the simple, enduring love that makes the commitment of a marriage last for decades, is what is needed by and from us all. This love is not the exclusive property of those of us who call ourselves Christians, but I do believe that real love, however it is expressed, comes ultimately only from God.
We should hope that the coalition leadership that we now have in this country will be effective in the days ahead. The Bible encourages us to pray for our leaders. I believe that for those of us who profess a Christian faith this means our political leaders as well as spiritual leaders. They will require courage to be able to put their long fought-for and firmly held party political beliefs to one side, as they seek to steer the nation through stormy waters.
And it's not just our leaders who have to shoulder this burden - we can all play a part in this. Some events impact on us all, and the global economic crisis is one of those. We might need to lay aside our own political preferences and feelings and allow our leaders to lead well, supporting them wherever, in good conscience, we can.
Just like the political parties, the various church denominations can also have strongly held and differing opinions on matters which seem a little unimportant to someone looking in. However, they too are able to work together for the greater good of their communities, and often do, pouring thousands of hours of voluntary service into their local communities in Plymouth.
Thankfully, by God's grace, we all have the opportunity to 'mine' the character of love for ourselves and let it shape our decisions and actions for the good of our families, our communities and even our nation.
This article was originally published in the Plymouth Shopper, a group of 7 localised community newspapers produced by Cornerstone Vision, reaching 62,000 homes every month in Plymouth. Each edition carries positive news stories and features, and provides local businesses, community groups and organisations with a very localised media platform to reach their own area.

The opinions expressed in this article are not necessarily those held by Cross Rhythms. Any expressed views were accurate at the time of publishing but may or may not reflect the views of the individuals concerned at a later date.
About Chris Cole FRSA

Chris
is the Founder of Cross Rhythms. He is also a partner in the Christian marketing company
Cornerstone Vision
and part of the Directorate for
The Word In Action
. Chris with his wife Kerry have also planted a church called Cornerstone in Plymouth.
Chris and Kerry speak at a number of national conferences on Christian lifestyle, marriage and culture.
We welcome your opinions but libellous and abusive comments are not allowed.