Oppression and discrimination against Christians has increased during Covid, says Release International, which has launched an appeal to help Christians suffering during the pandemic.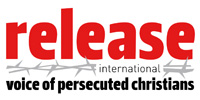 Release International
Many Christians have been denied food and relief aid and excluded from support systems during lockdown. They have been abandoned by families because of their faith and refused relief by governments and NGOs.
At the same time, several countries have stepped up persecution against Christians. One of the worst offenders is China, where Christians have been arrested for holding prayer meetings online.
'The situation has got much worse for many Christians during lockdown,' says Release International CEO Paul Robinson.
'COVID-19 is having a devastating impact on the lives of many poor Christians. In places hostile to the faith Christians are experiencing increased hardship.
'Food is now in short supply. They are unable to work and can't earn, and support is being withheld because of their faith. Their cries for help are being ignored by local charities who are distributing food packages only to families of other faiths. We can't afford to delay. These Christians need our help.'
In Algeria, many Christians are suffering badly in the lockdown. There is no social security in the country or government support.
Release partners there say: 'Many Christian families have had to stop work because of the lockdown and have lost their income. They have been rejected by society and their families as a result of their faith. The demand is huge.'
In the words of one persecuted Christian from Afghanistan: 'Covid-19 is just another difficulty to deal with.'
For Eritreans fleeing persecution, lockdown meant they were barred from refugee camps and unable to get support from UNHCR. Those struggling include Christians imprisoned for their faith for up to ten years, who have suffered trauma behind bars.
Release partners say some of these Christian refugees now face continuing discrimination in the camps because of their faith.
Many have been disowned by their families for converting to Christianity, so receive no support. And they refuse to resort to crime to get the money and supplies they need.
In Pakistan, where many Christians live in poverty, the situation is especially hard for converts from a Muslim background.
The only form of social security is family support. And here too Muslim families often withdraw support for family members who change their religion.
Release partners say: 'These individuals have been rejected by society and their families as a result of their faith.'

We welcome your opinions but libellous and abusive comments are not allowed.