Sudan abolishes apostasy law 'freedom in the air'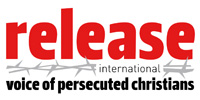 Release International
The abolition of Sudan's controversial apostasy law has been welcomed by Release International, which serves persecuted Christians around the world.
Sudan scrapped the law that punishes Muslims who change their religion following pressure from human rights groups. Release has long been calling for religious freedom in Sudan.
The new laws passed in April came into effect last week. They overturn laws that were in direct violation of the Sudanese constitution, which allows freedom of religion and worship.
Justice Minister Nasr al-Din Abdel-Bari declared: 'We [will] drop all laws violating human rights in Sudan.'
'This is excellent news and a significant move towards religious freedom in a country where Christians were routinely persecuted,' says Paul Robinson, the CEO of Release International. 'Friends of Release describe it as a "miracle".
Freedom
Last year, street protests in Sudan overturned the dictatorship of Omar al-Bashir after 30 years in power. 'When the regime was overthrown we saw a window of opportunity - a moment for change,' says Paul Robinson. 'Release called for full religious freedom to be restored to Sudan.'
Christians in Sudan have suffered immensely for decades. Their churches have been demolished, leaders arrested and property seized. For years it remained illegal to convert to Christianity, and students faced arrest for even discussing their religious beliefs.
Under the former Islamist government Muslims who converted could face the death penalty.
In 2014, Sudan sentenced Meriam Yahia Ibrahim Ishag to death for marrying a Christian man.
Meriam was born to a Muslim father, but raised in her mother's Christian faith and said she had been a Christian all her life. But because her father was a Muslim it was alleged she had committed apostasy from Islam.
Under Islamic law, marriages between Muslim women and non-Muslim men are forbidden. Meriam was arrested after one of her relatives claimed she had committed adultery by marrying a Christian man.
A court ordered Meriam to abandon her Christian faith, but she refused. She gave birth in jail and was eventually released on appeal. Meriam finally managed to escape Sudan on an Italian government plane.
The regime also imprisoned a Release partner, Petr Jasek, for attempting to gather evidence about church destruction and Christian persecution. He was accused of spying and thrown into a cell with members of Isis.
His story is told in a new book, available from Release: Imprisoned with Isis.
Strict Islamic laws have been in force since the 1980s. Islamist practices that have been repealed include public flogging.
'The direction of travel in Sudan was towards ever-tighter Islamic law and restrictions on religious freedom,' says Paul Robinson. 'Today that direction of travel is being reversed. There is freedom in the air.
'Opposition is to be expected and there is the risk of a backlash by hard-liners. Pray that freedom will win the day and that Christians will have a stronger voice under the new administration. Please pray also that the government will return the many Christian and Church-owned properties that have been seized.'
Release International's partners in Sudan are providing food packs, along with water and medical aid and Bibles in the Nuba Mountains.
Large numbers in the region were killed and displaced by war waged by the former government of Khartoum. Government planes dropped bombs on Release partners trying to deliver medical aid.

The opinions expressed in this article are not necessarily those held by Cross Rhythms. Any expressed views were accurate at the time of publishing but may or may not reflect the views of the individuals concerned at a later date.
About Release International
Through its international network of missions
Release
serves persecuted Christians in more than 30 countries, by supporting pastors and Christian prisoners, and their families; supplying Christian literature and Bibles; and working for justice.
View all articles by Release International
We welcome your opinions but libellous and abusive comments are not allowed.