The Chinese authorities have been using the Covid-19 pandemic as a cover for stepping up their persecution of Christians. Bob Fu, of Release partner China Aid, described the continuing clampdown on the church, under cover of the coronavirus.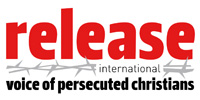 Release International
Bob Fu: So the virus, as we all know, started from Wuhan, China, and unfortunately the Chinese government is not only trying every way to take advantage of the virus, by increasing the crackdown against the Christian churches, but also has actually accelerated some of the particular campaigns, such as the forced demolition of crosses against those, even government-sanctioned churches.
Q: Can you give us some other examples? We heard, for example, the church called Donghu Church, which is an official church that has been demolished. That was demolished over Easter.
Bob Fu: The church had been the largest government-sanctioned church over there for the past decade or so. Suddenly, was forced to be destroyed, totally. On Easter Sunday. And of course, at the same time that not only that church, but actually the church in Hunan province was a house church, was also totally banned by the local authorities, and the church is using a house, that house was totally levelled by a bulldozer.
Q: So they destroyed a private home which is being used as a church?
Bob Fu: That's right. And many pastors were even rounded up for sharing the gospel to those victims of the coronavirus for distributing facemasks on the street. And for organising online prayer, the pastors and Christians would be harassed, arrested and detained.
Q: And we understand they have also been clamping down in some areas on online church services. Of course, if you can't go to church, you're left with having to innovate - thank goodness for the technology - but how widespread has it been in China that online services have been prevented?
Bob Fu: The online church services have been totally prohibited, according to the regulations and laws. So in Shandong and in Beijing, the capital city of China, the local government issued strict regulations, basically totally forbidding any, even prayer meetings, any church service online. It explicitly said, even during the coronavirus pandemic, that no online church services, prayer meetings or anything constituting a religious service is allowed.
And one Chinese Christian from my own hometown province, Shandong, he called for a nine-day fast and prayer for the victims of the coronavirus. And on the seventh day he was detained by the state security officer for organising unauthorised illegal prayer service online. And so he was detained for 24 hours.
Q: This is just for calling for prayer over the coronavirus he was detained?
Bob Fu: Yes.
Q: So can you clarify - this ban on online church meetings, does this also apply to official state-approved, state-sanctioned churches?
Bob Fu: Yes. This total ban applies to all the churches, including the government-sanctioned official churches. So there's no church service.
Q: What is the justification they are using for that?
Bob Fu: The justification is based on the February 1, 2018 new regulation on religious affairs, and also there is a pending law called the regulation of cyber religious affairs. And certainly, the local government is taking advantage of this pandemic, by forbidding these online service, and prayer meetings. They are declared this unauthorised and certainly it is illegal to organise this.
Q: So, let's be clear, for a long time churches that met within houses without state approval were considered to be illegal and underground, and those ministers were rounded up. Now we have a ban on online church services, whether official church services, or not, all church services online - banned. And the latest we see is an official church, a state-registered church, Donghu, has been demolished. Does that mean there is now any difference between the underground church and the official church in China, when it comes to persecution?
Bob Fu: When it comes to persecution, there's really no difference, the Chinese government in executing this crackdown strategy.
Q: So you have outlined what the Communist Party may want. What do you think God is doing in China?
Bob Fu: Certainly, inevitably, there will be a bigger revival under this political suppression. Whereas, we all know, according to the research by the Purdue University, the number of Chinese Christians will have increased to at least 224,000,000 by 2030. And if the persecution is increased, according to the current trend, I think that number of Christians will be reached even earlier than 2030. So, I think the Lord is really laughing at these persecutors. He is telling them: have you learnt the lesson from history? Have you known that my way is beyond your way, my road is beyond [anything] you can desire or imagine? I will let you know how my people will double and triple the number in China, despite your persecution.
Q: Is anything else you'd like to add?
Bob Fu: I want to add just one thing. The global persecuted church, especially the persecuted church in China, are very thankful for the continuous prayers, for the campaigns, from the free world. The organisations, like Release International, like ChinaAid, our partnership together is making a difference to not only comforting those who are persecuted, but specifically and practically sending the practical support, that I cannot expose, due to the danger to them, to those families and prisoners. So, they are very, very, grateful. I have received many, many messages and letters. The way they responded by sending facemasks to our free world and to thank us, is a vivid response of the body of Christ. If one part is suffering, the whole body suffers, so they are with us. So I want to communicate that message.


The opinions expressed in this article are not necessarily those held by Cross Rhythms. Any expressed views were accurate at the time of publishing but may or may not reflect the views of the individuals concerned at a later date.
About Release International
Through its international network of missions
Release
serves persecuted Christians in more than 30 countries, by supporting pastors and Christian prisoners, and their families; supplying Christian literature and Bibles; and working for justice.
View all articles by Release International
We welcome your opinions but libellous and abusive comments are not allowed.