Read Chris Cole's comments on the controversial TV broadcast on BBC2 of 'Jerry Springer the Opera'.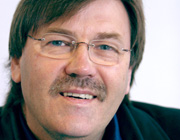 Chris Cole FRSA
In a strange way, the BBC has achieved something quite remarkable. They have managed to unite and activate a vast majority of Christians almost overnight. The BBC has received over 45,000 complaints and this figure was officially declared before the broadcast. It could be conservatively considered that this figure is much higher. Normally, the BBC would receive 80,000 complaints a year, not over a weekend.
After watching the programme, I can only conclude that this theatrical performance, which has been playing to packed audiences for three years in the West End, is a morality play for secular humanists. With lines like "it's so easy to occupy the moral high ground, it's a lot harder to occupy the moral low ground." A song with the chorus "energy is pure delight, nothing is wrong and nothing is right" fortifies one of the final statements which expresses the sentiment that there are no absolutes between good and evil.
I also discovered a new term being introduced which mentions the phrase, Judeo-Christian Mythology. Combine the message of this production with over 8,000 expletives and the blasphemy of the Trinity, and then a genuinely offensive TV programme has been aired against the wishes of a considerable number of TV licence payers.
Well perhaps this is a time when the Biblical promise of 'everything works for the good for those who are called according to His purposes.' comes into focus.
Without a doubt the BBC has managed to provoke the Christian community and many Muslims into protesting outside BBC studios across the country.
In his song 'Lovers in a dangerous Time', Bruce Coburn writes a lyric which says, "Nothing of any value comes without some kind of fight, you've got to kick at the darkness till it bleeds daylight." A spiritual militancy has been birthed in the Church through this circumstance and hopefully that passion will destroy the passivity which has for so long dogged so many Christians in the UK
Overall, I believe the Christian community can turn this event to advantage. First of all what is the fuss all about.
The philosopher, Voltaire said that I may fundamentally disagree with what you say, but I'll die for your right to say it. Freedom of Speech is crucial for the transparency and accountability needed for a healthy and civilised democracy.
Jerry Springer - The Opera as a theatre production is not the issue. The same production being aired on television is the issue.
Recently, I attended a meeting at the DCMS with many other Christians and interested groups, including the 'humanist society', about changes that Ofcom would bring to the communication and broadcast industry. One of the subjects discussed was the terms in the Broadcast codes of 'taste and decency' being changed to 'harm and offence'. This is a term that could eventually lead to legal prosecution for those who fall foul of its interpretation.
Well, over 45,000 members of our society have been harmed and offended through this broadcast. Can we take the BBC to court? No, but we can use this opportunity to stay united and discern what God is saying to us in these times.
The Christian community must wake up to the media battle ahead to ensure that 'our voice' is heard. The BBC, with over 78 years of excellent public service broadcasting, is now governed by a secular humanist agenda and it is time that Christians learn to become more pro active and join forces in terms of Church and media. Like it or loath it, media affords real influence in conveying ideas, opinions and philosophies into the hearts and minds of millions of viewers and listeners. The Church must wake up to its responsibility to engage in a new apologetic regarding Church and media.
It is important that we do remember to 'not curse the darkness, but light a light in the darkness.' And this is a great opportunity for all of us to get behind the united work of Christian Broadcasters through the work of the Christian Broadcasting Council. A conference from 11th to 13th November 2005 in Stoke-on-Trent will address these issues which will increasingly impact the freedom that our Judeo-Christian Faith has established in our nation.
Go to our website www.cbc.org.uk and book for this decisive conference. Your voice is important to God.

The opinions expressed in this article are not necessarily those held by Cross Rhythms. Any expressed views were accurate at the time of publishing but may or may not reflect the views of the individuals concerned at a later date.
About Chris Cole FRSA

Chris
is the Founder of Cross Rhythms. He is also a partner in the Christian marketing company
Cornerstone Vision
and part of the Directorate for
The Word In Action
. Chris with his wife Kerry have also planted a church called Cornerstone in Plymouth.
Chris and Kerry speak at a number of national conferences on Christian lifestyle, marriage and culture.
View all articles by Chris Cole FRSA
Reader Comments
We welcome your opinions but libellous and abusive comments are not allowed.