Radio presenter, pastor and Chief Executive of Cross Rhythms, Chris Cole, explains the title for this year's Cross Rhythms SW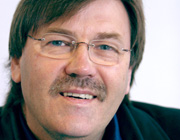 Chris Cole FRSA
"There's a table in the wilderness/Where the blind can see and the poor possess/Where the weak are strong and the first ones last/There's a table in the wilderness/When you search so hard for the promised land/But the earth won't yield to your blistered hands/And you hang your head and you wipe your brow/And you shout it out..."
Personally, these are more than simple sentiments from a song recorded by Russ Taff and later Soul Mission with Tata Vaga. To me these lyrics (and the rest of the song) epitomise God's heart for this nation and what he is endeavouring to 'earth' in his Church through the refreshing of his Holy Spirit. I'd even go as far as to say that I believe these words are prophetic. That is why Cross Rhythms has named this year's festival after the title of this song.
Whether we agree or disagree with the Toronto Blessing or Rodney Howard-Browne it is fair to say that something very powerful and spiritually evident is happening within the UK Church. I have few if any real reservations about this move of God's Spirit. I know that these spiritual 'manifestations' are certainly causing some controversy and in some cases distress. But in my opinion I believe that even this raging controversy to be very healthy. Why? Because in the words of a prophecy on a widely circulated ministry tape by Ian Andrews, "God wants his Church back".
You and I are his Church, of course. Here in Britain, in 1995, too many of us are dependent upon Church structure for our security instead of Jesus Christ himself. In some cases we've even made our theology and our church practice into an idol. So, over decades in Britain, despite renewed calls to evangelism, despite the charismatic renewal, despite a whole heap of works and initiatives, which seem to be momentarily, halting the decline, the Church in Britain has become weak and immature. God wants us, I believe, to return to our first love.
That is why so many backslidden Christians are being affected by this move of God. They sense that this current outpouring is more than a charismatic phenomenon, which makes an idol out of God's manifestations. This outpouring is from a God who understands the weakness of our humanity and our inability to get it together with God without his grace and love being in abundance. Our theology, doctrine and self-righteous spirituality is nothing but filthy rags in comparison to the real presence of Jesus Christ himself. People are struggling with this move of God because religious structures are being dismantled and those who possibly for the best 'religious' intentions are trying to structure God's Church are feeling incredibly threatened. The structure God wants to put into place is one of genuine, sincere powerful love. God wants a Church where the appreciation of another brother or sister, is from a heart perspective, similar to that of Christ's perspective for his bride, and not, as we see so often among our churches today, mistrust or infighting. Somebody once said that taking offence is just as sinful as giving offence. This current outpouring is, I believe, a move of God for those with the heart, will and courage to allow God to break them in the very essence of their being.
Biblically, we can only be changed at our roots in the desert experiences. Yet we want our theology to embrace the comfort of our spirituality bankrupt western culture. Yes, there are pleasures at God's right hand. But these pleasures are different from the pleasures that God encourages us to fight against within our own lives. We misunderstand the beauty of God leading us through the desert of real faith as he did his son. Jesus had a charismatic experience after being baptised by John. He moved in the power and love of the Spirit, however, after having his Human Divine sonship established in the desert. That sonship, which was total submission to the will of his Father, was achieved through temptation by the Devil and testing by the Father. Christ overcame the world in his heart. He wanted nothing but his Father's will. The temptations of money, power and wrong intimacy as fulfilment were overcome by Christ in the desert. Through him we can overcome ourselves if we're prepared to walk the same path. This move of God's spirit is an encouragement from the Father to follow the Son into the desert of real faith and learn to overcome the world. This is what God will be ministering at this year's Cross Rhythms festival. I hope many of our readers and listeners will be able to get to Okehampton to receive some aspect of this.

The opinions expressed in this article are not necessarily those held by Cross Rhythms. Any expressed views were accurate at the time of publishing but may or may not reflect the views of the individuals concerned at a later date.
About Chris Cole FRSA

Chris
is the Founder of Cross Rhythms. He is also a partner in the Christian marketing company
Cornerstone Vision
and part of the Directorate for
The Word In Action
. Chris with his wife Kerry have also planted a church called Cornerstone in Plymouth.
Chris and Kerry speak at a number of national conferences on Christian lifestyle, marriage and culture.
View all articles by Chris Cole FRSA
We welcome your opinions but libellous and abusive comments are not allowed.