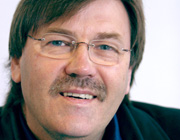 Chris Cole FRSA
There's an emphasis in the local media on changing the perceptions of us older folks towards the younger generation. I'm all for that, because the central message of the Christian faith is the love of Father God, towards His wayward, unruly, disobedient children (that's you and me).
At Easter, we remember that the loving obedience of Jesus Christ to His Father led Him all the way to the cross, where he died for wrongs he did not commit, (the Bible says He took the punishment for your and my sins, for every way in which we don't measure up to God's standard of real love).
And this Easter, 2,000 years later, Christians all over the world will be celebrating the resurrection of Jesus which followed His crucifixion, paying the price for all of us to come into that wonderful relationship with Him and His Heavenly Father, and to live lives of love through the power of the Holy Spirit.
This new life is for everyone, not for people who are 'good enough'. The fact is, we're all imperfect, we all get it wrong and we all need forgiveness. It is sometimes said that a 'minority of young people spoil it for the majority'. Jesus also came for that minority, and His love is as much for them as anyone. In fact, I believe it is only the love of God that can truly change a human heart and cause us to become more loving ourselves. Jesus said 'I have not come for the righteous, but for sinners'. In other words, we need a dose of humility to realise we're all in need of the change that His love can bring.
The church is not exempt from needing to see young people in the same way as God does. In the Sixties, thousands of young people found a faith in Jesus during their hippy days; they were the delinquents and drop-outs of their day and they found a life-changing relationship with God. But, as Aussie reverend John Smith said, 'the Church judged them for the length of their hair and the fact they had no shoes on their feet'; and so in some ways we put up barriers to a generation, and we missed out on the enthusiasm for life that they would bring.
That is a mistake we should not make again, and Cross Rhythms, with its roots in that youth culture and the excellent contemporary Christian music that it generates, has a passion to reach our young people without alienating them by judging or dismissing their culture.
For our broken society to really experience healing, the Bible teaches that we need a turning of hearts from fathers to children, and from children to fathers. Relationships are two-way (at least). Father God, as I said last month, deeply affirmed His Son Jesus during his life and ministry on earth, saying more than once that He was 'well pleased' with Him.
And Jesus, the best example of a Son that has ever lived, said that his actions were those he had seen His Father doing, and His words were those His Father had told Him to say. (I am paraphrasing, from the Gospels). In Jesus' relationship with His Father, that obedience borne out of love brought the power of heaven to earth to transform lives and deal with our selfishness like nothing else ever could.
Let's celebrate the fact that there is a move to view young people positively and to counter the negative stereotypes that we sometimes accept without thinking; but let's also follow Jesus' example, and honour our Fathers and Mothers too. Then we can truly hope and pray that God will come and heal our nation, which heaven knows has enough troubles that need healing.
This article was originally published in the Plymouth Shopper, a group of 7 localised community newspapers produced by Cornerstone Vision, reaching 62,000 homes every month in Plymouth. Each edition carries positive news stories and features, and provides local businesses, community groups and organisations with a very localised media platform to reach their own area.

The opinions expressed in this article are not necessarily those held by Cross Rhythms. Any expressed views were accurate at the time of publishing but may or may not reflect the views of the individuals concerned at a later date.
About Chris Cole FRSA

Chris
is the Founder of Cross Rhythms. He is also a partner in the Christian marketing company
Cornerstone Vision
and part of the Directorate for
The Word In Action
. Chris with his wife Kerry have also planted a church called Cornerstone in Plymouth.
Chris and Kerry speak at a number of national conferences on Christian lifestyle, marriage and culture.
We welcome your opinions but libellous and abusive comments are not allowed.