Thursday 1st October 2009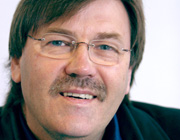 Chris Cole FRSA
Recently, we heard of a Christian nurse from Exeter, who is facing disciplinary action for simply wearing a necklace on which hung her confirmation cross. Under duress, she accepted an offer of redeployment to an administrative post, and has instructed lawyers to file an action at the Employment Tribunal for discrimination.
Shirley Chaplin, 54, having served as a nurse for nearly 30 years, was threatened with disciplinary action after refusing to remove a necklace bearing a cross - a symbol of her deeply felt Christian faith. Despite wearing the cross ever since studying to be a nurse, bosses at The Royal Devon & Exeter Trust Hospital ordered her to remove the personal item, deeming it a breach of uniform policy and a health risk to her and to patients.
Mrs. Chaplin claims the demand to remove her cross has nothing to do with health and safety, but is an infringement of her human rights, and that of being able to express her faith, which has been her foundation and strength for nearly 30 years of serving members of the public through nursing. Mrs. Chaplin informed managers that necklaces were worn by other members of staff and the Trust had promoted the hospital in photographs where staff were wearing jewellery, and many staff wore visible medialert chains.
Mrs Chaplin said: "This blatant piece of political correctness amounts to the marginalising of employees' personal human rights, a blanket 'secularising and neutralising' of the NHS intended to stop Christians from expressing their faith in the public services of the NHS." On September 21, the nurse was told she either accepted redeployment to a non-nursing role or face the sack.
I expect this debate will raise its head again and again, as we now seem to live in a society where the foundational Christian values of freedom of expression are being seriously undermined, ironically in the name of 'religious tolerance' by the 21st century religion of secularism. Let's pray that common sense will prevail, and even more stringent and discriminatory legislation will not be passed in the name of 'freedom' which actually acts against the freedom of people to express the very beliefs that motivate actions of service and compassion.
Just for the record, the cross has not always been the main symbol of the Christian faith. For the first three hundred years after the death and resurrection of Jesus Christ, it was images of the resurrection that dominated Christian art. The hope of new life, the power of the forgiven life made available by the death of Jesus, depends on the fact of his resurrection, which put an end to the rule of death and legalistic religiosity and replaced it with grace.
No wonder this hope, the resurrection, formed the bedrock of Christian imagery during the centuries when the Gospel was at its most influential in bringing life to so many people. Maybe we should start to wear jewellery and paint pictures that depict this hope - after all, destroying evil and giving abundant life to us was the purpose that led and sustained Jesus through the awful journey of the cross.
Unless and until we have some new art, however, the cross is an important symbol of faith to people like Nurse Chaplin - can it really be, in our liberal and enlightened times, that someone wants to stop the good news that it points to, being freely expressed?
This article was originally published in the Plymouth Shopper, a group of 7 localised community newspapers produced by Cornerstone Vision, reaching 62,000 homes every month in Plymouth. Each edition carries positive news stories and features, and provides local businesses, community groups and organisations with a very localised media platform to reach their own area.

The opinions expressed in this article are not necessarily those held by Cross Rhythms. Any expressed views were accurate at the time of publishing but may or may not reflect the views of the individuals concerned at a later date.
About Chris Cole FRSA

Chris
is the Founder of Cross Rhythms. He is also a partner in the Christian marketing company
Cornerstone Vision
and part of the Directorate for
The Word In Action
. Chris with his wife Kerry have also planted a church called Cornerstone in Plymouth.
Chris and Kerry speak at a number of national conferences on Christian lifestyle, marriage and culture.
We welcome your opinions but libellous and abusive comments are not allowed.