A Pastor at Chicago's Jesus People USA and the frontman for the Resurrection Band, GLENN KAISER here probes the desire to remain anonymous.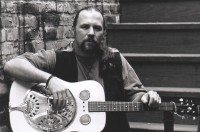 Glenn Kaiser
Something comes up fairly often in my line of work. It's called "anonymity". One dictionary on my desk offers the following meanings for "anonymous": 1) without any name acknowledged as that of author; 2) whose name is withheld; 3) without individuality.
As I sat down at the computer this morning, I overheard a discussion between writers in the office concerning an anonymous letter written to one of them. It was critical, not very well thought out and in the end offered no positive solutions (biblical or practical) for what the anonymous individual considered wrong.
I then opened the latest issue of Cornerstone Magazine and read a book review regarding a woman who had experienced real problems in a non-Christian communal experience in the early 70s. The reviewer mentioned that the lady had eventually visited a church congregation and found 'something more' in the anonymous congregation.
In my opinion, anonymity is neither automatically good nor bad. There are times in life when it is quite appropriate. One might be considered "anonymous" when sitting in a lecture hall or church listening to a teaching. As we think through the issue, we might question and reason according to the Bible, experience and so on, before speaking or even openly questioning a matter. "There is a time to speak, and a time to refrain from speaking," as Ecclesiastes says. In such a situation, we may be quite anonymous.
But there are times when anonymity is wrong. A trained physician who happens upon a road accident where he or she can help and where no other doctor is available would be judged very critically were they to chose to anonymously stand by and watch the victim die.
The sad fact is, due to basic selfishness, or at times plain fear, many Christians refuse to take risks. Risking our opinions, our reputations, etc, may be so potentially expensive that we just do nothing.
There are certainly good reasons to withhold input into a situation, and I alluded to some earlier. If one isn't trained, or has little in the way of skills, gifts and experience in an area, one may only add confusion and turmoil to an already difficult event. Yet, there are plenty of those who sit idly by and allow great suffering to continue - because they prefer the relative "safety" of anonymity. I say relative, because Jesus said that when the Holy Spirit came, he would bear witness to individuals on the issues of sin, righteousness and judgment. The Bible also mentions the issue of conscience. On these two points alone, one is never "safe" in reality.
On the other hand, if a person truly believes that the sacrifice of Jesus Christ on the cross fully paid the debt for their sin, risk-taking and the possibility of mistakes can be seen in a new light. God either orchestrates or allows various circumstances to come our way every day. We can begin to realise them as opportunities for witness, and see them as agents of God for working spiritual growth (maturity) in us.
If there is a need in the Church today, is it not for maturing Christians whose focus is more on God and others than on themselves? Alas, when one decides to remain anonymous, one chooses to hide. Jesus never did anything out of sinful pride nor to receive cheap acclaim from men.
While there were times when he withdrew from the crowds to be alone with his Father, he never shirked from opportunities to witness the love and reality of God; to help, heal, proclaim and enter into the sufferings of those he loved. His only motive was love, not self-promotion, or protection.
I think it would do us good to consider from time to time whether we are truly living lives of love, faith and sacrifice or simply hiding from opportunities to lay our lives down for Jesus and others. Though the world wants to hide, it is in serious need of those who won't. In God's power and strength - not from any source of our own - let us refuse to remain anonymous.
God hasn't remained anonymous. Neither can his children.
As always, the Lord has the last word: "'Can a man hide himself in hiding places so I do not see him?' declares the Lord. 'Do I not fill the heavens and the earth?' declares the Lord." (Jer 23:4)

The opinions expressed in this article are not necessarily those held by Cross Rhythms. Any expressed views were accurate at the time of publishing but may or may not reflect the views of the individuals concerned at a later date.
We welcome your opinions but libellous and abusive comments are not allowed.