Looking for the big profile Christian work can sometimes be an unproductive and unbiblical preoccupation. Chicago pastor and Resurrection Band frontman GLENN KAISER ponders this thought.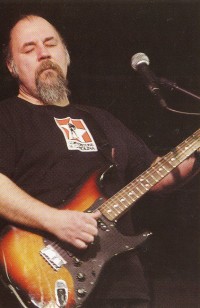 Glenn Kaiser
God the Spirit comes as a "still small voice" (1 Kings 19:11, 12) AND like a "rushing wind" (Acts 2:2). The Lord manifests himself in powerful acts such as parting the Red Sea so that the Hebrew children walked through on dry ground (Exodus 14:22) yet also in powerful yet seemingly unbroadcast healings (Matthew 8:4). My point is not that God does not do "big things", nor that he won't or doesn't call us, his people, to do great things (John 14:12) today in the name of Jesus. He in fact says the opposite in his Word. But we must be careful that the message we are preaching and teaching is balanced in a biblical, practical sense.
My conviction is that far too many Christians are more disciples of their culture than Jesus. If that culture is American or typically Western, the big thing is what people have been told to do and expect. Too often, a life of simplicity or giving one's self to humble tasks isn't considered the "destiny" to be sought for the "spiritual" or "mature" Christian.
I reject such rubbish outright for several reasons.
I have already quoted a few verses in the Word of God that speak balance to the issue, but put frankly, it would do us all good to "be faithful in little", that in "due time" (a Bible study can be done on that aspect of this as well!) if it is the plan of God, he may - if He chooses - use us in more responsible ways and he will then entrust us with "much".
Again, it is not the responsibility and love of the work that many of us seem to clamour for, but the recognition that the "big deal" would seem to garner for us. This is simply not Christ-centred, but me-centred living. Sacrifice often means taking the "lower place", the place of servanthood, which is in fact a good way for the average Christian worker to end up in more rather than less obscure places.
Verses like "He must increase and I must decrease" (John 3:30) being trustworthy with someone else's work (partnering, learning the cost of service) before you get your own "gig" (Luke 16:12) come to mind.
Too many people are confused and condemned to "performance" in terms of "bigger numbers equal success" in terms of how many people came to believe, how big was the offering, what big thing was accomplished for the Kingdom. Is it only the big things God does that bring him glory?
Some have been led to believe that their real value, worth and purpose are only realised or validated by a big accomplishment. It has certainly been taught in various streams of the Church that every person, certainly every Christian, can and should if they have genuine faith do big things for God.
While I understand some of the biblical underpinnings of the teachings given in this area, and agree that people should be encouraged to dream, prayerful dreaming, acting on God's Word and solid, biblical guidance is often given a back seat to self-motivated works that the Holy Spirit never led.
All Christians make mistakes, actually sin, choose to do things the Holy Spirit did not call them to do. The fact is that we must think, pray, seek the Lord in his Word and basically take responsibility for our actions, especially to the degree that our actions affect more people "to whom much more is given..." (Luke 12:48).
For many folks, "destiny" and "dream big" teaching is a genuine stumbling block because their "ship" never comes in. They rarely if ever get the "big payday" that preachers, teachers and authors have promised. Many are then rebuked for supposed sin or a "lack of faith". The fact is, being simply and daily faithful according to God's Word often looks anything but "successful" in the eyes of men.
We need to consider that people are sometimes mistaken or mis-directed, perhaps missing God's timing. But too many tell the "common" and "typical" Christian they have sinned for lack of faith.
There are most certainly people who are not challenged to get up and go. There are also those who haven't been warned to take time to pray, carefully search the Word of God on the issue of a particular work or ministry area before running out the door on a "mission".
There is no absolute in terms of specific service for all time and all believers. God-given gifts or his Spirit trains and raises us up for service in various ways. We may be used in (humanly speaking) "big" ways, or it may seem that God uses us in quieter, less "impressive" ways. My advice is that each of us take a deep breath, pray, seek the counsel of the Bible and then solid, godly people who have exhibited great character in Jesus and not the "big" anything!
Let's take care to not condemn and rebuke Christians who aren't doing what on the surface might be termed "successful". In God's Kingdom, being faithful is being successful. Whether or not we see huge amounts of visible "fruit". Church history is full of stories of unheard of missionaries who died before any "results" could be seen. Years later, huge things happened as a result of their lives - obscure while they lived.
Brother Lawrence is a famous example of this very thing.
Having said all of this, in my own lifetime (rather short in terms of all God has done) I could point to huge "success stories" in terms of souls won, believers discipled, people on the mission field and churches established. Yet I am absolutely certain that God fully accepts, loves and welcomes each and every Christian into his heavenly Kingdom on the basis of grace and not works, just as it is 7 with me.
God chooses as he will, and unfortunately, we have sometimes demanded he choose us as we will. Some will be called to a "big" thing for God. Others may be called to do an important work in his Kingdom that isn't quite as high profile or obvious and God should be equally praised for that!
Don't sit in your house day after day in misery because you don't think you have a place in his service. At the same time, don't set yourself up for misery and despair by measuring your "success" in spiritual service by the "size" or "numbers". If anything, measure it by love and obedience.
As always, the Lord has the last word: "And Samuel said, 'Has the Lord as much delight in burnt offerings and sacrifice as in obeying the voice of the Lord? Behold, to obey is better than sacrifice (and) to heed than the fat of rams.'" (1 Samuel 14:27)


The opinions expressed in this article are not necessarily those held by Cross Rhythms. Any expressed views were accurate at the time of publishing but may or may not reflect the views of the individuals concerned at a later date.
We welcome your opinions but libellous and abusive comments are not allowed.