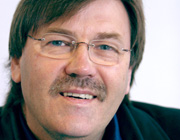 Chris Cole FRSA
Whether we like it or not, we're all going to have to make a few sacrifices somewhere along the line, in order to get our nation out of the hole it is in financially. The 'austerity budget' that George Osborne laid out on June 22nd in the Commons has already imposed some of that sacrifice upon us all.
There will be the usual howls of protest from some, and roars of approval from others, as these measures pass through Parliament. That's party politics for you. But underneath it all, I think every politician, and everyone in the country, agrees - we have to do something and it has to be quite drastic, in the face of crisis on the scale we are now seeing in our economy.
So, we'll do the British thing, and put on whatever the 21st century equivalent to the 'wartime spirit' is. Hopefully. Unfortunately, many commentators doubt whether the current generation has what it takes to 'man up' (they're talking about all of us who have grown up 'soft' in the unprecedented peace and wealth of the last 60 years).
I'd agree that we seem to have lost something of backbone and the sense of living for something bigger than ourselves. An evening watching our TV is enough to convince me of that.
But I cannot help hoping, and believing, that this generation can make a difference in our luke-warm, largely uninspiring society. It's not just the older generation who (thankfully) laid down their lives for us in WW2. Plymouth is a military city, and almost daily we hear of young men (and women) who are risking and losing their lives in warfare in Afghanistan.
Whatever we think of it politically, when the rubber hits the road they are fighting for a cause greater than themselves, whether it's a war on terror or simply risking life and limb for their comrades in arms. In the theatre of war they are discovering that with rights comes responsibility, and they are learning it in a very tough way.
The economic situation back home also has our leaders almost on a war-footing, encouraging us all to pull together and take personal responsibility financially for the sake of our friends and families and our nation.
That responsibility, or ability to respond, is a weight carried by every mature man and woman. Our leaders can make superb governmental decisions, but if we as individuals don't take up our own responsibility those leadership actions will probably have no lasting effect. We're in this together, and it will take courage to work our way out of it, together.
We have to work hard against the commonly accepted, but ultimately worthless, values of self-gratification and the general sense that 'human rights are the most important thing'. Without responsibility to guard them and guide them, our ideas of 'human rights' are little more than a disguise for selfishness and 'me first' - really, it's childish, as any parent will know.
'Fight Club' was a '90's movie and book, and it had a memorable quote that summed up one aspect of that kind of thinking: We're the middle children of history.... no purpose or place. We have no Great War, no Great Depression. Our great war is a spiritual war. Our great depression is our lives.
We are now living post September 11th, and post credit crunch. The world has changed beyond all recognition from the 'do as you please and make a living' days of the '80's, '90's and early '00's. The disenchantment, cynicism and purposeless typified by the movie 'Fight Club' should surely now give way to something better; character and determination, community spirit in the face of a commonly shared hardship.
We have a war (on terror, like it or not); we have the looming threat of a Great Depression akin to the twenties and thirties (or worse). Hopefully the hardships we face will create a sense of purpose and destiny, a sense that we do have a place and a role to play in the bigger fight that we are all now facing - the fight to preserve a hopeful future for the next generation.
2,000 years ago one Man took manhood to its ultimate extreme, fought (and defeated) torture, death, and Hell, all in the cause of something other than Himself - to give eternal Life to you, and me, and our children. Jesus is my hero, and I pray that His example of unconditional love will shape all our decisions as we face the months ahead.
This article was originally published in the Plymouth Shopper, a group of 7 localised community newspapers produced by Cornerstone Vision, reaching 62,000 homes every month in Plymouth. Each edition carries positive news stories and features, and provides local businesses, community groups and organisations with a very localised media platform to reach their own area.

The opinions expressed in this article are not necessarily those held by Cross Rhythms. Any expressed views were accurate at the time of publishing but may or may not reflect the views of the individuals concerned at a later date.
About Chris Cole FRSA

Chris
is the Founder of Cross Rhythms. He is also a partner in the Christian marketing company
Cornerstone Vision
and part of the Directorate for
The Word In Action
. Chris with his wife Kerry have also planted a church called Cornerstone in Plymouth.
Chris and Kerry speak at a number of national conferences on Christian lifestyle, marriage and culture.
We welcome your opinions but libellous and abusive comments are not allowed.