Thursday 1st February 1996
In a godless society people don't believe in nothing, they believe in anything observes Australian apologist John Smith.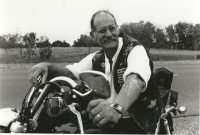 John Smith
Have you ever looked desperately in the wrong place for a desired object? Sometimes such a search can be merely humorous. In days when I had more hair, when I had lost my comb and was under pressure to fulfil an appointment -I (like so many others caught in similar situations) searched the bedroom, the bathroom and the office only to be utterly embarrassed to be told it was on my head in my hair.
But sometimes a misplaced search can be tragic or even fatal, such as when searching in the wrong location for a lost child. Misdirected searches and misguided expectations abound in this age and they too are fatal to the human spirit, both personally and socially.
A wise observer of human affairs once said, "When people don't believe in God, they don't believe in nothing - they believe in anything." In the absence of a substantial faith, a cohesive belief system and sense of ultimate meaning, the frantic search to find a satisfactory self locates itself in the most bizarre places. On the Tube in London recently, I watched a woman intensely reading a paperback offering recovery of marriage and love through exotic and expensive crystals. During the 60s, a search for post-Christian spirituality through marijuana and speed led thousands of my generation 'up the garden path' to broken and confused psyches and depleted focus and responsibility.
Departure from the time-honoured values of personal and social moral values, uncompromising absolutes external to our own self-needs, has certainly not brought the 'dreamed of social Utopia. The departure from the more tribal subordination of our own wants to the needs of the family, the clan and the tribe, has led us in a search through a maze of social theories to create a better world. We have been searching in the wrong places.
How did we ever believe that expert social analysts, government agencies and political legislations could replace the love of parents, siblings and friends? The search for a solution to homelessness was clearly shown recently when an Australian commissioner for human rights pointed out how we'd failed to recognise one fact: there would be no homelessness if we loved and committed ourselves to our kids.
If the local community of real life neighbours cared for the kids who are abandoned - even in the crumbling ethos of today's family life, every kid could find a surrogate family. How many "professionals" open their personal lives and homes to the clients the political system pays them quite reasonably to monitor and give welfare service delivery?
Two millenniums ago Jesus said, "Except a man be born again, he cannot see the Kingdom of Heaven." In other words, in humanity's search for a just and fulfilling society, we need to recognise that the answers are not to be found in changing politics or social theories, but in transformed hearts revitalised by faith and love.

The opinions expressed in this article are not necessarily those held by Cross Rhythms. Any expressed views were accurate at the time of publishing but may or may not reflect the views of the individuals concerned at a later date.
We welcome your opinions but libellous and abusive comments are not allowed.