Thursday 15th December 2005
In collaboration with Cross Rhythms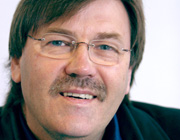 Chris Cole FRSA
Plymouth is to get a totally new style radio station. Ofcom today (December 15th) announced that it has awarded a five-year community radio licence to Spirit of Plymouth FM, who expect to start broadcasting within the next 24 months.
Station Manager Chris Girdler said: "Our broadcasting output will be designed to appeal to everyone in the community, focussing on community life in the city. The station's output will be founded and shaped by Christian values.
"According to the 2001 Census, nearly 75 per cent of people in Plymouth described themselves as Christian, so the new station will have wide audience appeal."
Radio programming with a Christian ethos is not new to Plymouth. More than 20 years ago a contemporary Christian music programme began broadcasting on Plymouth Sound and lasted for more than 15 years.
The man behind that programme was Chris Cole, who is now the Chairman of Spirit of Plymouth FM.
Chris said: "In 1983 I approached Plymouth Sound with the idea of doing a regular programme with a radically different approach to the traditional weekly 'religious slot'.
"What started as a 30 minute slot grew to a one-hour programme every Sunday evening called the Cross Rhythms Experience. The show got excellent ratings and is still remembered by many people in the city."
Chris and his wife Kerry, who live in Peverell, were the founders of Cross Rhythms, the multi-media organisation which includes broadcasting, internet and festivals.
Founded in Plymouth, Cross Rhythms is now located in Stoke-on-Trent and was itself awarded a five-year community radio licence earlier this year.
Chris Cole said: "The award of the licence in Plymouth is the best Christmas present I can think of. It is so fitting that the city that first hosted Christian contemporary music more than 20 years ago is to get its own dedicated, community based Christian radio station."
Spirit of Plymouth FM will employ a small full-time team of broadcasting specialists and will recruit volunteers from across the community to help run the station.
The licence has been awarded to the Cornerstone Christian Fellowship, a family group affiliated to Church of the Nations, an international network of evangelical churches. In addition a Board of Reference drawn from church and community leaders will also be established to ensure that the needs of the Christian community and the people of Plymouth are catered for.
Spirit of Plymouth FM will work in close collaboration with Cross Rhythms in establishing the transmission and technical infrastructure as well as assisting in programming, training and promotion.
Said Jonathan Bellamy, Cross Rhythms CEO: "We are thrilled with this close collaboration and partnership between Cross Rhythms and Spirit of Plymouth FM. In Stoke-on-Trent, over the last 4 years, we have established a model for Christian radio that can truly relate to and engage in the life of the wider community. Our desire has always been to help other initiatives to develop this model in their cities and Plymouth is the first of these."
Commenting on this new model for Christian radio, Chris Girdler said: "In our conversations with Ofcom it was very clear that they were impressed with the model of radio that Cross Rhythms has developed in Stoke-on-Trent, and we are confident that it was the strength of the Cross Rhythms support for our venture that has helped make our bid successful".
Reflecting on a vital characteristic on this new model, Chris Cole said: "Social gain is one of the key objectives for community radio stations. The Christian community in Plymouth is actively involved in many areas of social need, such as drug and alcohol rehabilitation, homelessness, family breakdown and much more besides. We will be highlighting and promoting this vitally important activity."
Rev Roger Williams, Chair of Christians Together in Plymouth said: "We are delighted to hear the news of the licence success. We very much look forward to working with the Spirit of Plymouth FM team and to the launch of this community station. It is excellent news for Plymouth."

The opinions expressed in this article are not necessarily those held by Cross Rhythms. Any expressed views were accurate at the time of publishing but may or may not reflect the views of the individuals concerned at a later date.
About Chris Cole FRSA

Chris
is the Founder of Cross Rhythms. He is also a partner in the Christian marketing company
Cornerstone Vision
and part of the Directorate for
The Word In Action
. Chris with his wife Kerry have also planted a church called Cornerstone in Plymouth.
Chris and Kerry speak at a number of national conferences on Christian lifestyle, marriage and culture.
View all articles by Chris Cole FRSA
Reader Comments
We welcome your opinions but libellous and abusive comments are not allowed.