From his own life experience Chris encouages us on in our Christian walks.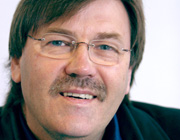 Chris Cole FRSA
I am currently going through an extraordinary process with The Lord. In many ways it is painful, but also extremely liberating. I have experienced painful moments before with God, especially when I was converted in 1981, but we need to ask the question as Christians, do we always benefit from the process? I can often look back and genuinely thank God for taking me through those difficult times because they strengthened my character, not that I fully appreciated it at the time because trust is so much the key factor here. Neither am I particularly unhappy (if that is the right phrase) or negative about these painful life issues I'm going through because I have come to realise that painful encounters are the only way to grow and mature especially when you're endeavouring to relate to God as Father. Often these difficult times are the only way that we can truly find the security of a perfect fathers love. Even Christ Jesus learnt His obedience through suffering, which is a much needed revelation to regain again in the Western Church if we are ever to cultivate the courage and love needed to encourage each other in these times.
Personally, the painful process is this. Life issues. How can I become all that I need to be for the sake of my family? How do I keep Cross Rhythms going as a ministry as we pass through our 'Red Sea' experience? How do I contend with the fact that I'm not the best father in the world and have a tendency to beat myself up as a failure? How do I deal with the feelings of hopelessness and despair that rest upon my shoulders more often than I care to mention? Do I really know the difference between the 'voices' of the flesh, the devil and God? What are we broadcasting as good news through our media anyway? Can I truly lay down my life for the sake of the gospel? Do I really trust God?
To answer these questions I need to cultivate a life of true faith to know the answers. It is possible to have the ears and eyes to hear and see what the Father is telling us through His Son and Spirit for our life journey. Like I said, these are nothing but the life issue questions that we all are forced to ask as pilgrims in this wonderful and frightening experience called the Christian Life. I must also say that like The Lord of the Rings, this is a better life with God than without Him. I know I'm going to heaven because I've already been to hell as the song says.
I mentioned a key word earlier and it was trust. You see faith is made up of two components for Christians. The first is belief. A belief that God is everything He says He is in Christ Jesus. The second is trust, which motivates you to expend your very life force on the pursuit of God and the belief you hold so deeply. In the Lord of the Rings we see a journey that will only succeed when we learn the art of disempowerment. If you want to find your life you must lose your life. All of us need to throw our ring of selfishness and sinfulness into the lake of fire, which will in turn destroy those aspects of our lives which empowers the dark forces to feed upon our negativity and rebellion.
Let me leave you with this one thought of why it is important to fight the fight of real faith and build character. The eternal is a real experience and its' reality is greater than the seventy years you've got down here on this planet. As a Christian author once said we are spiritual beings having a human experience not the other way round. The eternal is what you're working for in true faith and will determine how and where you spend eternity. Don't let the god of this world deceive you to the true spiritual realities that are self-evident and are coming in greater measure, both as light and as dark.

The opinions expressed in this article are not necessarily those held by Cross Rhythms. Any expressed views were accurate at the time of publishing but may or may not reflect the views of the individuals concerned at a later date.
About Chris Cole FRSA

Chris
is the Founder of Cross Rhythms. He is also a partner in the Christian marketing company
Cornerstone Vision
and part of the Directorate for
The Word In Action
. Chris with his wife Kerry have also planted a church called Cornerstone in Plymouth.
Chris and Kerry speak at a number of national conferences on Christian lifestyle, marriage and culture.
View all articles by Chris Cole FRSA
Reader Comments
We welcome your opinions but libellous and abusive comments are not allowed.