Wednesday 10th February 2010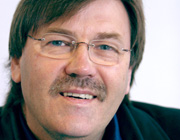 Chris Cole FRSA
Prayer. Everyone has heard of it; many people practice it. Christians, Muslims, Jews - even professing atheists, in a time of crisis, have been known to pray!
For many of my generation, The Lord's Prayer was something you just knew, even though you did not remember how you knew it. It was said in school, maybe at home now and then at bedtime, it was also heard on the radio, occasionally on TV and of course, at church on those times when we were dragged in, usually for Christmas or Easter. We just knew it, like we knew that Sunday meant Sunday roast, and all the shops were shut that day.
But in 2010, where does prayer fit in to our secularised, 7 day a week lifestyle? Well, let me quote a couple of praying people: firstly, Corrie ten Boom, who learned some things about prayer in a Nazi concentration camp in WW2, where she was sent for hiding refugees from harm: "Is prayer your steering wheel or your spare tyre?". Think about it - is prayer there for emergencies when all else fails, and life goes flat? Or is it there for everyday use because we need direction, and to keep us on the road?
The second quote comes from John Bunyan, famous as the author of Pilgrim's Progress which he wrote whilst in prison in the late 17th Century. He said this: "In prayer it is better to have a heart without words than words without a heart."
It's not how much we say, but where our hearts are at. God wants the honesty of our hearts, he wants us to talk to him with no 'show', no fear, no pretence or attempt to be anything other than ourselves.
If you'll let me get a bit mystical here, I believe the Christian faith is a love affair with God, and prayer is the language of that love affair, from the heart. You don't talk to your wife, or boyfriend or girlfriend or husband with 'proper' language and at a distance, not expecting them to talk back - you engage with their hearts at a deep level, and find some real joy in doing so.
Nowadays, millions of praying Christians all over the world practice prayer often, not just in set times and ways (which is fine) but also in the car, at work, in the shower, in fact anywhere that they find themselves.
There are loads of ways to pray - if you're into the internet you can go to the Cross Rhythms prayer rooms, which many of my friends in the 'facebook-generation' find really helps them talk with God, as it's how they communicate with their friends anyway.
Jesus himself showed us not just how to pray, but what attitude we should have in our approach to God. Let me quote a bit of the Good Book here, from a modern translation called 'The Message': "People brought babies to Jesus, hoping he might touch them. When the disciples saw it, they shooed them off. Jesus called them back. "Let these children alone. Don't get between them and me. These children are the kingdom's pride and joy. Mark this: Unless you accept God's kingdom in the simplicity of a child, you'll never get in."
God doesn't want us to have 'proper' prayers or a fully formed theology or loads of church experience in order that we can come to him in prayer. He just wants us, just as we are and not as we should be.
If you've learned the old fashioned version of the Lord's prayer, that's great - think about it, ponder on it, and look a little bit deeper into it with a heart open to God. I'll finish with a modern version of the Lord's prayer, again taken from 'The Message'
Our Father in heaven,
Reveal who you are.
Set the world right;
Do what's best- as above, so below.
Keep us alive with three square meals.
Keep us forgiven with you and forgiving others.
Keep us safe from ourselves and the Devil.
You're in charge!
You can do anything you want!
You're ablaze in beauty!
Yes. Yes. Yes.
Bible quotes from The Message. Copyright © 1994, 1995, 1996, 2000, 2001, 2002. Used by permission of NavPress Publishing Group."
This article was originally published in the Plymouth Shopper, a group of 7 localised community newspapers produced by Cornerstone Vision, reaching 62,000 homes every month in Plymouth. Each edition carries positive news stories and features, and provides local businesses, community groups and organisations with a very localised media platform to reach their own area.

The opinions expressed in this article are not necessarily those held by Cross Rhythms. Any expressed views were accurate at the time of publishing but may or may not reflect the views of the individuals concerned at a later date.
About Chris Cole FRSA

Chris
is the Founder of Cross Rhythms. He is also a partner in the Christian marketing company
Cornerstone Vision
and part of the Directorate for
The Word In Action
. Chris with his wife Kerry have also planted a church called Cornerstone in Plymouth.
Chris and Kerry speak at a number of national conferences on Christian lifestyle, marriage and culture.
We welcome your opinions but libellous and abusive comments are not allowed.