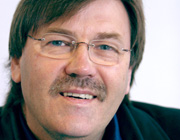 Chris Cole FRSA
Fathering is an issue that can be very difficult to discuss in our culture, as so many people nowadays have a negative perception of fathers, either through not having a father around, or having an abusive father. Fatherlessness seems to be an epidemic all over the 'developed' world, and the statistics on the negative outcomes for families with broken fathering can be very sobering reading. There is a deep cry in the human heart for the love of a good father.
It is in the light of this that I want to encourage our readers that there is an incredibly good Father for all of us to find - God himself. I appreciate that just calling God 'Father' can be a problem for many people, because of their own experiences. Unfortunately, many people today simply have no idea what affirmation and validation from a good Dad is like. However it's clear that Jesus Christ had a tremendous loving relationship with God as his Father, and his Father thought the world of him. 'You are my Son, whom I love; with you I am well pleased' is just one affirmation recorded in the Good Book from Father God to Jesus his Son. The Bible also tells how to meet with this loving, heavenly Father; Jesus said 'I am the way and the truth and the life. No one comes to the Father except through me'.
Rev Mark Stibbe is a man who has a deep understanding of the Father heart of God, and he shares honestly and vulnerably from his own experiences as he ministers to people, helping them meet God's fathering in a personal and very real way.
I recently had the privilege of interviewing Mark for my Art of Living Show on Cross Rhythms Plymouth He said something that struck a chord with me: "Whenever I minister I tell my own story of brokenness because people are looking for reality. We are all wounded healers, we're all works in progress and we all have a story." Mark was orphaned, along with his twin sister, when he was a baby. Because he shares honestly and authentically from his ongoing experience of healing from the brokenness caused by this abandonment and fatherlessness, people are able to connect more easily with the message of the love of Father God. He also shares about the mothering nature of God, bringing healing to emotional wounds in that area too, but it is in the area of Fathering that he mostly ministers.
Mark places a lot of emphasis on fatherlessness being a cause of some of our social ills. "We are reaping the whirlwind of decades of fatherlessness," he says. "In our society today we have boys with guns and girls with babies, and both on drugs, and the number one reason for this is absent fathers or abandoning or abusive fathers." This may be a 'politically incorrect' viewpoint in the eyes of some, and I know there are many wonderful single mum's who love their children passionately and courageously, but I have to agree with him from my own experience of pastoring many folk during the last 30 years, and seeing healing and transformation come to deeply wounded people when they encounter and become established in the love of Father God, and go on to become better fathers and mothers themselves than they ever dreamed would be possible.
This article was originally published in the Plymouth Shopper, a group of 7 localised community newspapers produced by Cornerstone Vision, reaching 62,000 homes every month in Plymouth. Each edition carries positive news stories and features, and provides local businesses, community groups and organisations with a very localised media platform to reach their own area.

The opinions expressed in this article are not necessarily those held by Cross Rhythms. Any expressed views were accurate at the time of publishing but may or may not reflect the views of the individuals concerned at a later date.
About Chris Cole FRSA

Chris
is the Founder of Cross Rhythms. He is also a partner in the Christian marketing company
Cornerstone Vision
and part of the Directorate for
The Word In Action
. Chris with his wife Kerry have also planted a church called Cornerstone in Plymouth.
Chris and Kerry speak at a number of national conferences on Christian lifestyle, marriage and culture.
We welcome your opinions but libellous and abusive comments are not allowed.