Does every cloud have a silver lining? With the church in numerical decline, is there a positive side to that? Chris unpacks his thinking.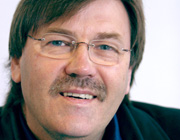 Chris Cole FRSA
I believe it is important for those of us who profess Christ to ask ourselves at 'such a time as this' whether much of our spiritual experience and understanding concerning life and our Church communities has really fully worked for us. This is a relevant question when it comes to matching up our talk with the walk that scripture encourages us to live out on a day to day basis. Is it possible to walk a naturally supernatural life? Over the years many Christians who started out so well have either shipwrecked their faith or been side lined through the pressures of life either inside the Church or outside those walls. Many who started out so well are now disillusioned. Why?
Remember you only get disillusioned when you're looking at an illusion. The only one to really keep your spiritual eyes on is Jesus Himself and those who can genuinely father you in true faith.
Are there the role models in the Church demonstrating leadership worth following? I'm referring to those Christians', regardless of gender, which are really on fire for God. Let us hope and pray that our present leadership will not be religious, but will be authentic and genuinely empowered spiritually to walk the talk. We need leaders who possess a real fathers' heart to truly set the captives free. Our nation needs leadership which reflects the heart of David and not Saul at this time.
During the past months I have spoken to various church leaders from virtually all the major denominations, including charismatic Catholics, regarding the state of the Church in the UK. Their concern focuses on the many Church going members who aren't attending Church meetings anymore. Many of the discussions I have 'on air' with local ministers in Stoke-on-Trent during my own radio programme on Cross Rhythms called the 'Art of Living' confirm these observations, but other conversations I've had at Conferences or private conversations held over the phone also confirm how widespread these local observations are, nationally.
In his book 'Changing World Changing Church' Dr. Michael Moynagh documents this
Trend of numerical decline within the Church well and with an attitude, I believe, of balanced optimism. You see we are losing members from our church meetings every week, but every crisis holds the potential for dangerous opportunity. In 1979 the Church going population was 5.4 million and in 1999 it was down to 3.7 million. 1,000 young people are still leaving the Church every week and where there is growth it is mainly through transfer growth (people moving from one church to another). The optimism of Dr. Moynagh is based on a sense that God is much bigger than our perceived problems and perhaps He is encouraging us all to examine what we mean by Christian community and how it all works.
I share Dr. Moynaghs optimism for the future because of two things.
The first is the eternal sovereignty and faithfulness of God Himself and the sense that God isn't looking for success in quite the same way you or I are encouraged to view success. Whether we are in a season within the UK of numerical growth or decline, the issue for all of us is faithfulness.
Secondly, the fact is that there is global growth of Christianity which isn't 'transfer growth'. On September 11th the world changed spiritually and religiously. Many of us were encouraged through these events to see the world from a much more global perspective. At the time of writing this we all wait to see whether war begins again in Iraq. North Korea is sabre rattling through its nuclear programme. The Middle East, Jerusalem and religious conflict has propelled us into a world view where we cannot deny the new pressures and insecurities which face us all on this vulnerable planet. Many missionaries from various cultures are coming to the UK for 'such a time as this'. Books written by Christian ethnic leaders such as Walle Babatunde 'The Fall of Great Britain' clearly outline the concerns of many of these mature missionaries coming to our shores. We need to listen to these brothers and sisters who are part of the international Christian Church and where estimates put conversion rates to the Christian faith, globally, between 200,000 and 400,000 daily. In her speech this Christmas the Queen did mention an interesting phrase about a religion in renewal. Perhaps the powers that be are seeing the writing on the wall as well. As a wise man once said the only thing that is constant is change.
Gideon faced a similar dilemma in his time. He asked the Lord in Judges 6 verse 12 - 13.
...And the Angel of the Lord appeared to him and said to him. The Lord is with you, you mighty man of (fearless) courage. And Gideon said to him. O sir, if the Lord is with us, why is all this befallen us? And where are all His wondrous works of which our fathers told us, saying. Did not the Lord bring us up from Egypt? But now the Lord has forsaken us and given us into the hand of Midian..
As God's Holy Spirit has moved upon the many Traditions within the UK over the past 30 - 40 years doesn't it strike you as strange that we should be in a time of numerical decline? Not really if we discern the season that we are in. Our battle isn't a carnal struggle, but like Gideon will require a truly authentic spiritual response to the times we find ourselves living in. How many of us have attended 'Pentecostal, faith or charismatic' meetings seeking God's favour or healing for our brokenness. Many of us have been touched by God's Spirit over the years, but this experience alone has not produced what many have been seeking. What we should have all been seeking was a desire to allow His work to be so perfected in us that... a true intimacy with The Father would be so cultivated by radical discipleship that it would produce a love affair worth dying for.
Man cannot impart this kind of passion to a believer. This is a work of the Holy Spirit, Himself. You see we have so focused on the Lordship and Sovereignty of Jesus Himself that we have forgotten that He Himself came from The Father to reveal The Father; to die and be resurrected in order to buy us back and lead us home to the Father. "I am the Way, the Truth and the Life, no one comes to The Father except through me." said Jesus. Our destination is the 'Heart of the Father'. "I do nothing other than that I see my Father doing." said Jesus. We need to ask ourselves are we seeking God for an experience or a life of abandoned submission which will produce mature discipleship and faithful holiness born out of the understanding and revelation that a Christian's life is full of purpose and destiny. It is often more about who lives in us than who we are in Him.
Cross Rhythms has certainly been powerfully blessed as a ministry over the past two years. Our website demonstrates our activities and growth. At the heart of all our activity is the fact that we are a ministry organisation raised up to reach our own culture. At our festival in 2003 called 'Gideon's Heart' there will be a desire to build with all those who don't fear the future and who have a desire to know their God. Who like Gideon realise that intimacy with God is the very essence of true spiritual warfare.
Come and join us this year if you're ready for the spiritual times ahead. The future is glorious and exciting. It is the stuff that J R Tolkein wrote about in the Lord of the Rings. It is the eternal battle for love over hate; goodness over evil and courage over fear. Come and join us because you and Jesus are a majority. Come and be inspired by true love in order to be truly equipped.
Keep praying and we'll see you there.

The opinions expressed in this article are not necessarily those held by Cross Rhythms. Any expressed views were accurate at the time of publishing but may or may not reflect the views of the individuals concerned at a later date.
About Chris Cole FRSA

Chris
is the Founder of Cross Rhythms. He is also a partner in the Christian marketing company
Cornerstone Vision
and part of the Directorate for
The Word In Action
. Chris with his wife Kerry have also planted a church called Cornerstone in Plymouth.
Chris and Kerry speak at a number of national conferences on Christian lifestyle, marriage and culture.
View all articles by Chris Cole FRSA
We welcome your opinions but libellous and abusive comments are not allowed.